Designed in partnership with FlameCraft and offered exclusively by Woodland Direct, the all-new Quadro Gas Fire Pit exudes cool, contemporary style with its modern square design, smooth chamfered corners, and luxe concrete finish.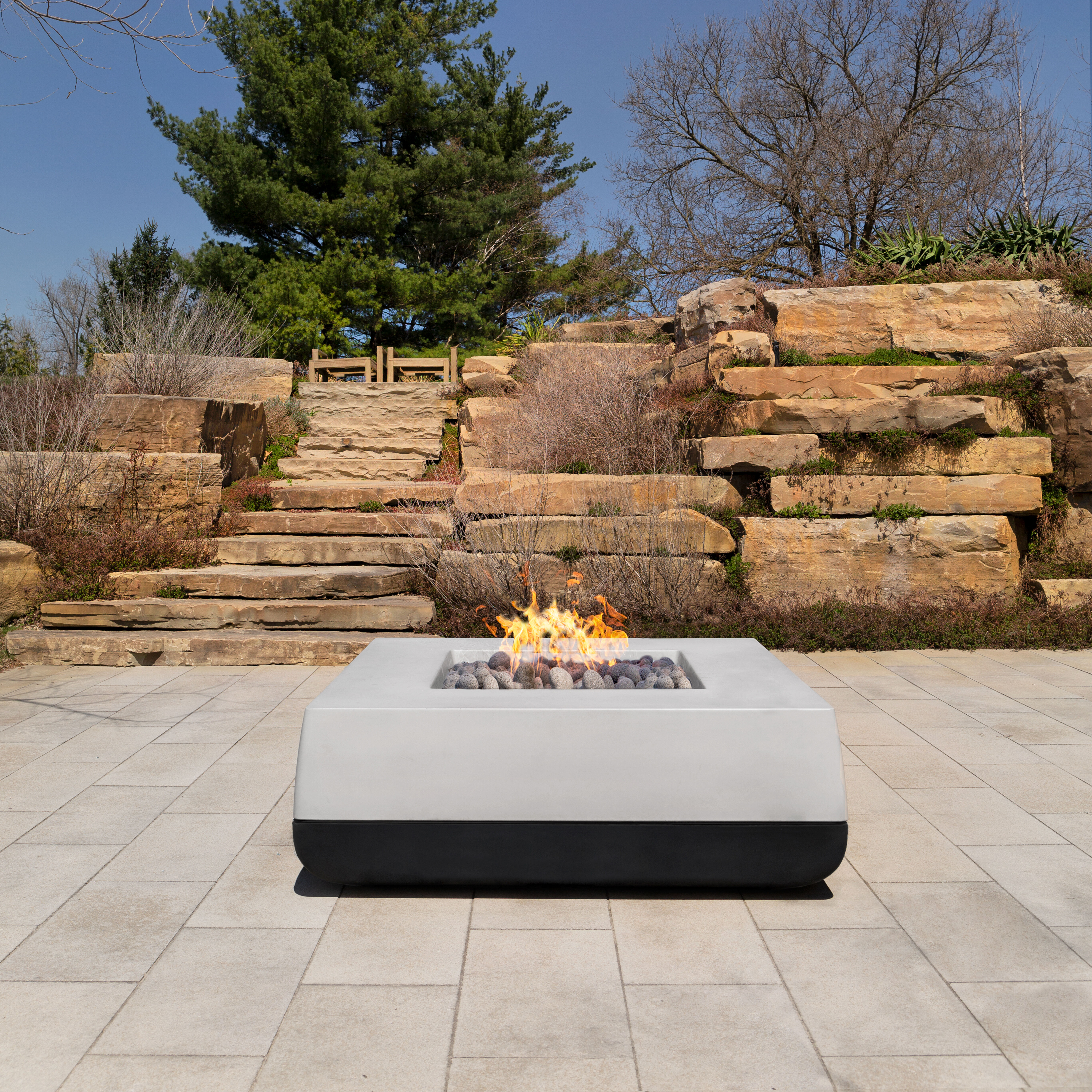 From a fully customizable exterior to supercharged flames and convenient controls, explore the high-end features that set the Quadro apart from any other fire pit on the market.
Innovative, Interlocking Design
The Quadro's lightweight, two-piece, interlocking design allows for easy transportation and quick, hassle-free assembly.
You won't need any special tools or expertise to build your brand-new Quadro. Simply move the bottom piece to your desired location, place the top piece directly over the bottom, and connect the included notches together.
The bottom piece of the Quadro also includes four screw-in leveling feet, so you can safely install your fire pit on uneven ground. Featuring a patented concrete design, the leveling feet are easy to replace and come color-matched to the base of your fire pit.
To adjust the leveling feet, twist each screw by hand or use a socket wrench to tighten them into place.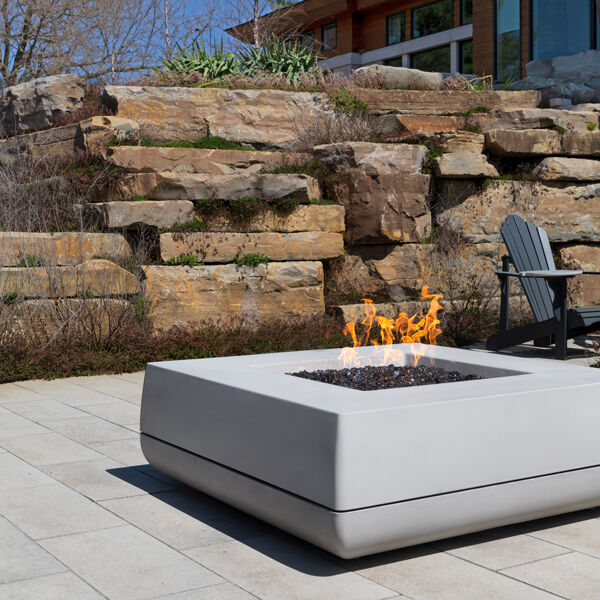 We want your new focal point to arrive in mint condition, which is why the top and bottom pieces of the Quadro and the burner system are packaged securely into three separate boxes.
Your burner system will arrive fully assembled with a flexible hose and key valve already attached. All you'll need to do is place your burner system into your new Quadro and hook it up to your Natural Gas line or Propane tank.
Sustainably Handcrafted in California
Showcase hand-crafted American artistry in your outdoor space with the Quadro's clean, contemporary shape and customizable concrete finish. Its revolutionary design outlasts harsh weather conditions in any climate, so you can enjoy your Quadro for countless seasons.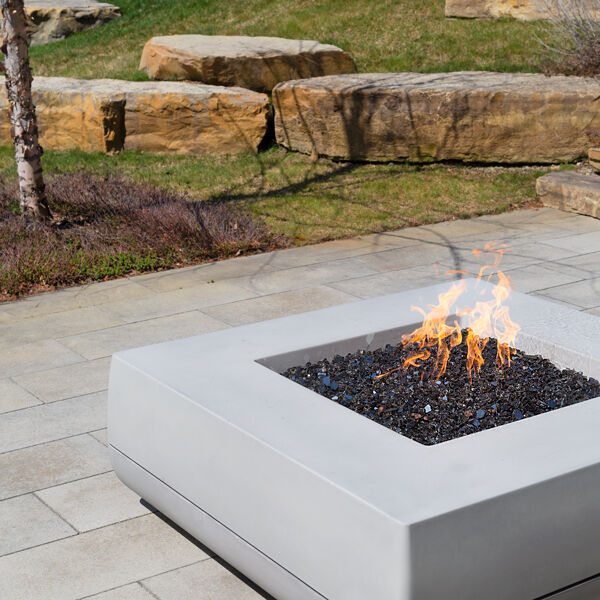 High-performance, glass-fiber reinforced concrete shell
Handcrafted using the latest Ultralightweight Cement Technology
Sustainably made with a proprietary blend of more than 40% recycled materials
Abrasion, Impact, and UV-resistant finish
Low thermal absorption properties keep the concrete shell cool to the touch
Meets ASTM standards for strength and safety
The Quadro's substantial 48-inch design effortlessly warms large residential backyards and spacious commercial venues, like hotel courtyards and restaurant patios.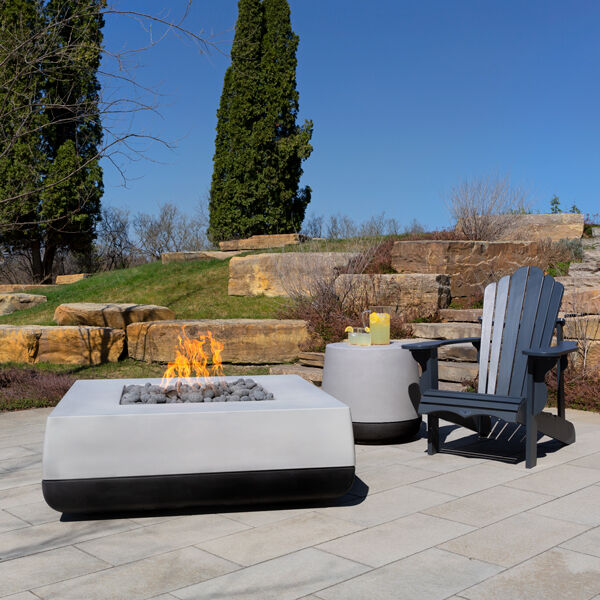 Once you've found the perfect size, you can customize your Quadro by mixing and matching six top and bottom finishes. Create a chic, two-toned fire feature that complements your décor, or go with a solid color scheme for a traditional look. With 36 possible color combinations, it's easy to design a look you love!
Accent your Quadro with your choice of smooth, rolled lava stones or a bed of sparkling fire glass media in seven vibrant shades, or stick with the included lava rock for a classic burning display.
Reliable Warmth, Effortless Control
Ideal for customers who love to host large gatherings, the Quadro is equipped with an 18-inch, Penta-shaped Torpedo burner, which creates an even flame pattern for a soothing, campfire-like effect.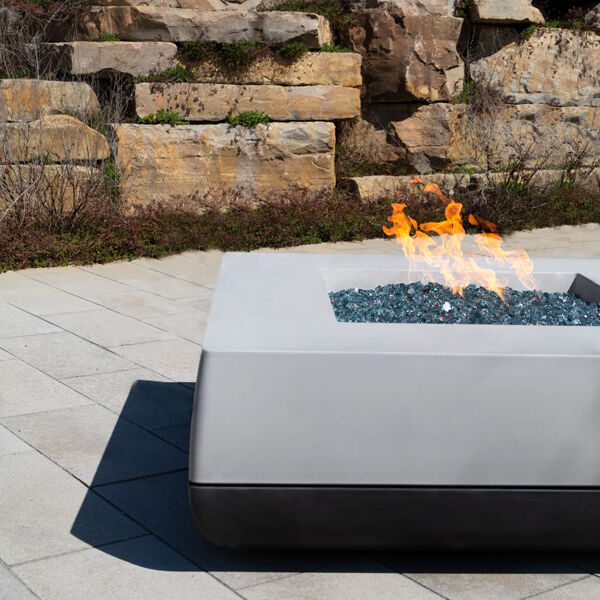 The Torpedo burner's tactical, commercial-grade stainless steel design outlasts even the harshest elements and features raised ports to supercharge your fire and maximize the heat output. Each strategically placed port is welded to the burner, eliminating visible threading, where water and other debris can collect.
Ignite your Quadro manually with a standard match-lit burner system, or upgrade to HPC's Electronic Ignition (EI) System for easy operation.
With the HPC EI System, you can choose from two user-friendly control options, including an On/Off remote or a Hi/Low remote. It also features integrated Bluetooth technology, which lets you operate your fire pit from a smart device or home automation system. For quick, manual operation of the EI system, you can hardwire your Quadro to a timer and add an optional On/Off wall switch.
Make sure the fire is never left running while you're away with an optional 2- or 12-hour automatic shutoff timer and protect your commercial property from fire hazards with an emergency stop button.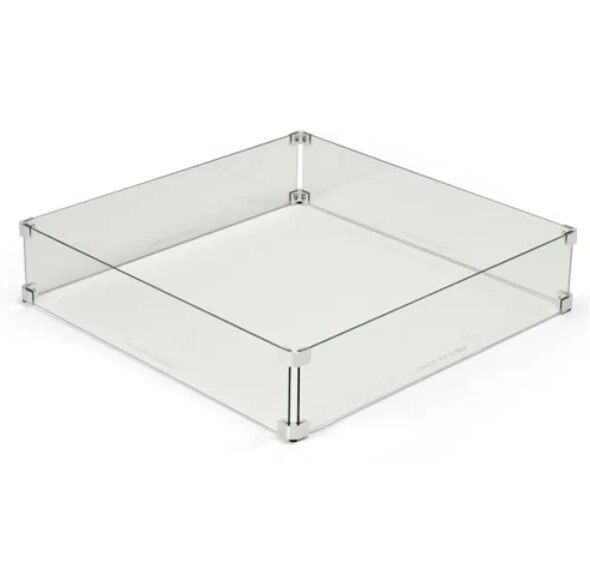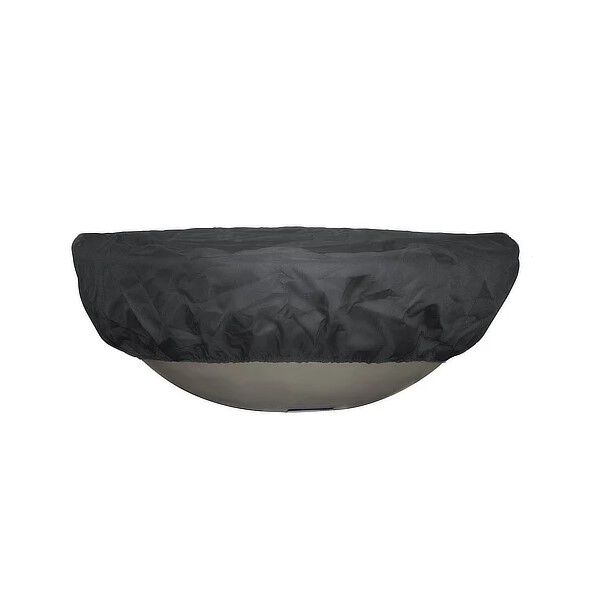 Preserve your Quadro's incredible flame presentation on windy days with an optional glass wind guard, which wraps around the perimeter of the fire pit opening.
We also offer an optional weatherproof cover for your Quadro to protect the finish and burner system when you aren't using it.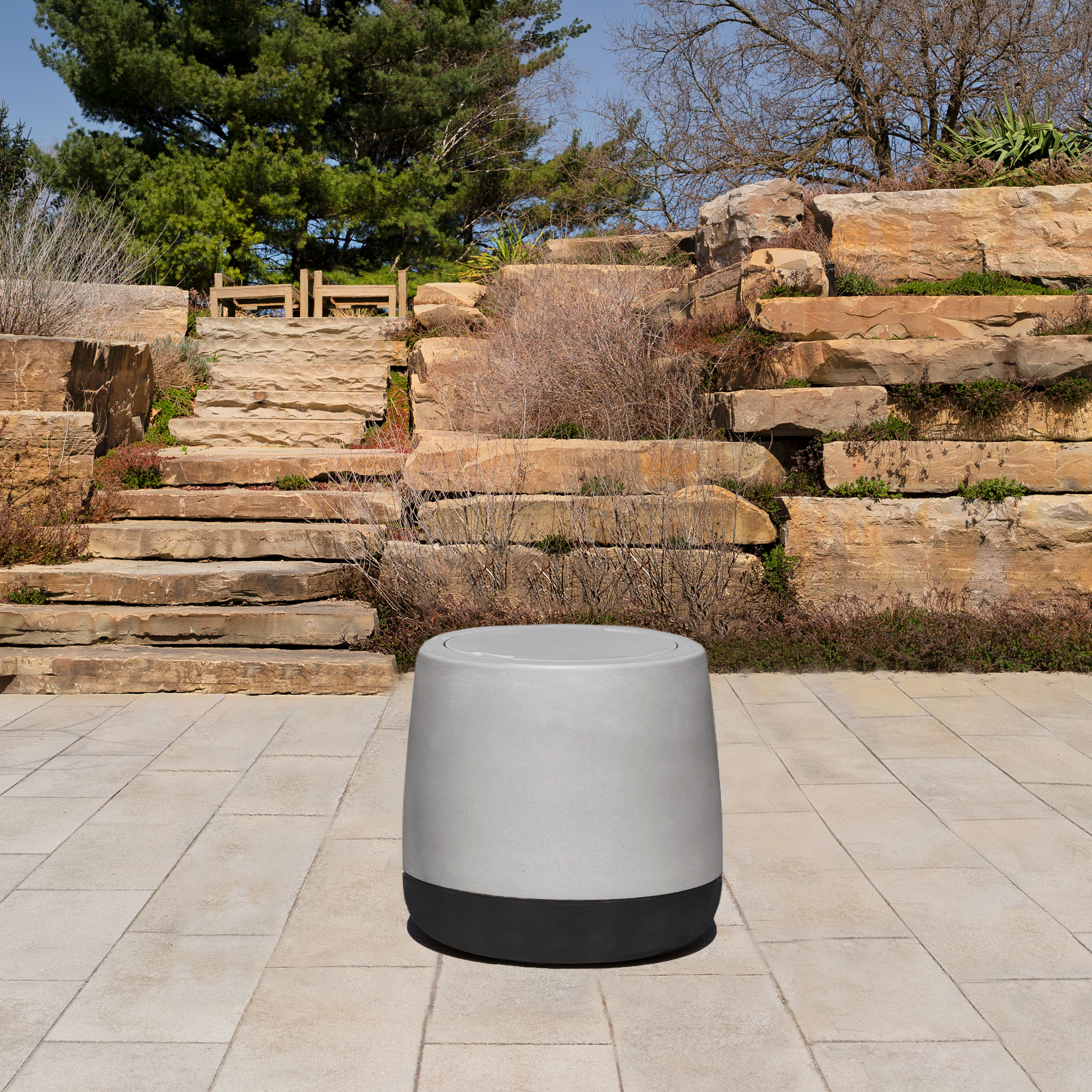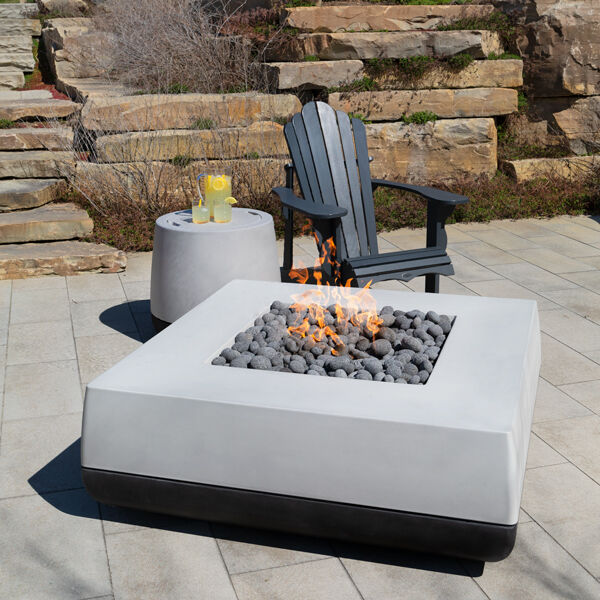 If you don't like the idea of seeing your Propane tank out in the open, a matching side table and Propane tank enclosure is available to streamline the look of your space. You'll also have a convenient place to put your refreshments as you lounge by the fire!
Similar to the Quadro Gas Fire Pit, the matching Propane tank enclosure features a simple, interlocking design and a removable top piece that makes it easy to tend to your Propane tank or swap it out when it's empty.
Watch the Quadro in Action
The Quadro offers up to 125,000 BTUs of heat, allowing you to keep your space comfortable, no matter the season.
Elevate Your Space with a Quadro
If you have any questions about the FlameCraft Quadro Gas Fire Pit or need help building one of your own, we'd love to help! Call our team of NFI certified experts today at 800.919.1904.