Whether you're looking to keep your patio open year-round or boost your home's property value with luxurious upgrades, adding an outdoor-rated electric fireplace is the quickest, easiest, and most affordable solution.
Electric fireplaces offer a hassle-free installation that won't require masonry work, a chimney, or a gas line. With no clearance requirements, you'll have the freedom to place your outdoor-rated electric fireplace almost anywhere on the patio or incorporate it into an outdoor entertainment center. It also won't produce any toxic fumes or emissions, so you can maximize safety while reducing your carbon footprint.
HOW TO FIND AN ELECTRIC FIREPLACE FOR YOUR PATIO
It's crucial to make sure that the electric fireplace you purchase for your patio is outdoor rated. Electric fireplaces that are meant for indoor use aren't built to withstand the elements, whereas outdoor-rated models are made with durable, weatherproof materials.
You'll also need to install your outdoor-rated electric fireplace in a covered patio or screened-in porch. It should be placed at least three feet away from combustible materials and be protected by an overhang, plus side walls to safeguard against water exposure. If its internal components are directly exposed to rain, snow, or dew, you could run into costly issues, like rusting parts and electrical failure due to moisture damage.
We also recommend choosing a location away from direct sunlight and purchasing a weatherproof cover for extra protection, especially if you live in a climate that experiences drastic weather changes.
To make your buying process easier, we've narrowed down our top 5 outdoor-rated electric fireplaces to help you create a safe and relaxing patio space you can use anytime of the year!
#5 SLIM BUILT-IN INDOOR/OUTDOOR ELECTRIC FIREPLACE by Amantii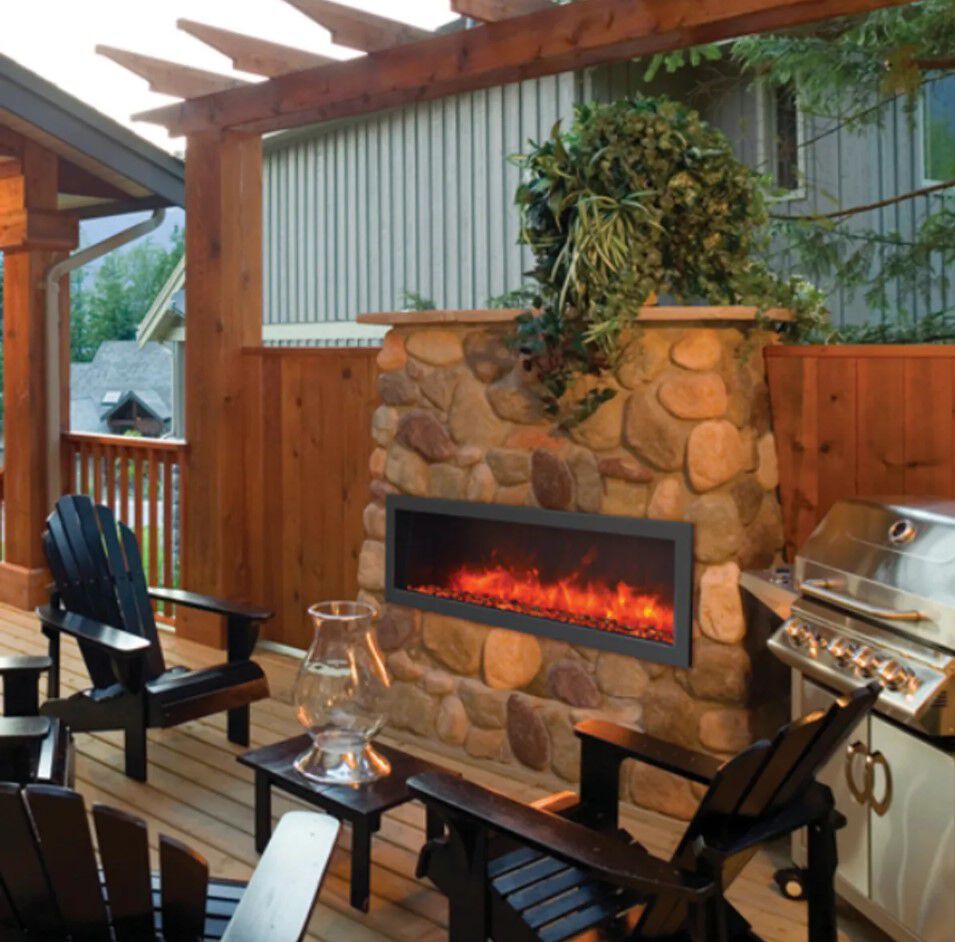 What Makes It Great:
Perfect for hassle-free home upgrades, the Amantii Slim Built-In Indoor/Outdoor Electric Fireplace features a seven-inch depth that installs easily into any drywall application, so you won't need to revamp your current patio layout. Its clean-faced design also gives you the freedom to install brick, stone, tile, cement, or other finishing materials down to the glass opening for a custom look.
Key Features:
Keep your patio space cozy with up to 4,800 BTUs of heat or enjoy realistic, multi-colored flames with the heater turned off on warm evenings. Simply plug your Amantii Slim into an outlet or hardwire it into your home's electrical system and use the included remote control to set your ideal comfort level.
#4 TRU-VIEW XL INDOOR/OUTDOOR ELECTRIC FIREPLACE by Amantii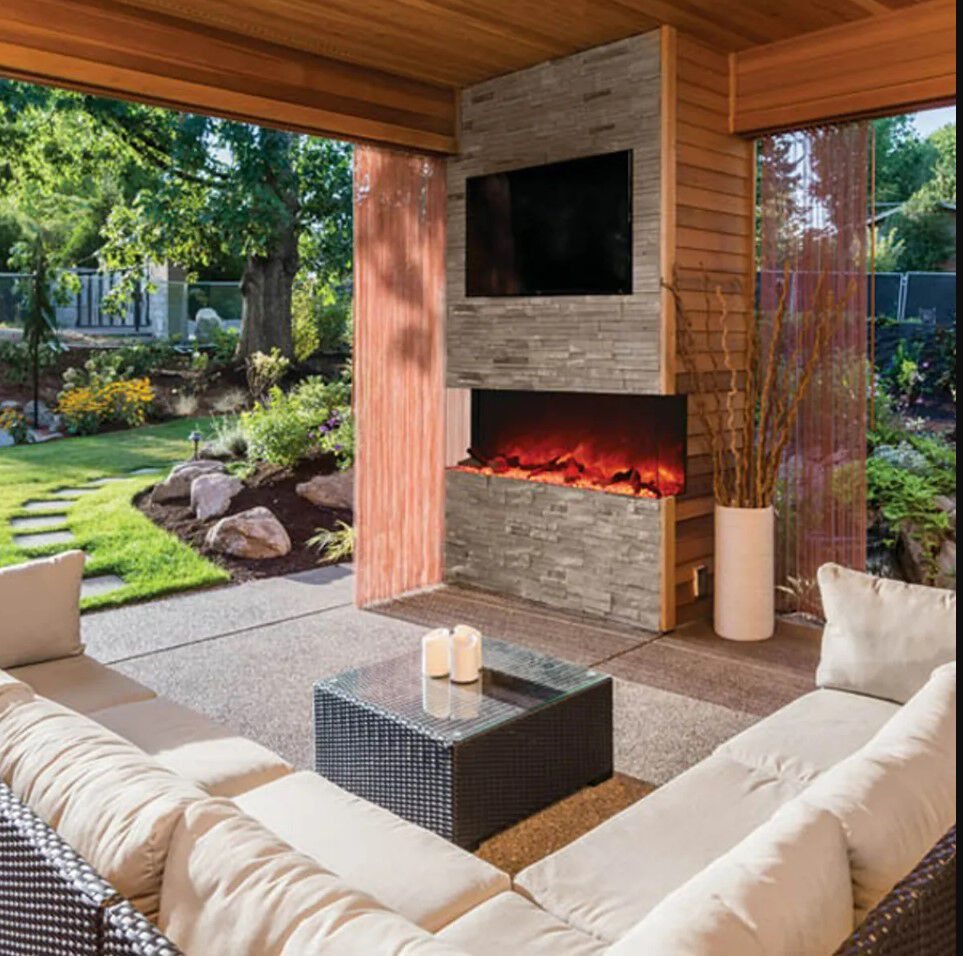 What Makes It Great:
With its three-sided design and 22-inch-tall viewing area, the Amantii Tru-View XL Indoor/Outdoor Electric Fireplace gives your guests a glimpse of the fire no matter where they sit. Multi-colored ambient canopy lighting adds a cool yet cozy vibe to your patio, while the Tru-View XL's deep media tray showcases the log set or fire glass of your choice.
Key Features:
Three LED light strips create a mesmerizing flame display, which can be adjusted using the multi-function remote control. With the click of a button, you can switch the flame color to blue, rose, violet, yellow, and orange to find a look that matches your mood. Warm up to 500 square feet with the Tru-View XL's energy efficient heater or turn the heater off and leave the flames lit to enjoy your fireplace year-round.
#3 REMII DEEP INDOOR/OUTDOOR ELECTRIC FIREPLACE by Amantii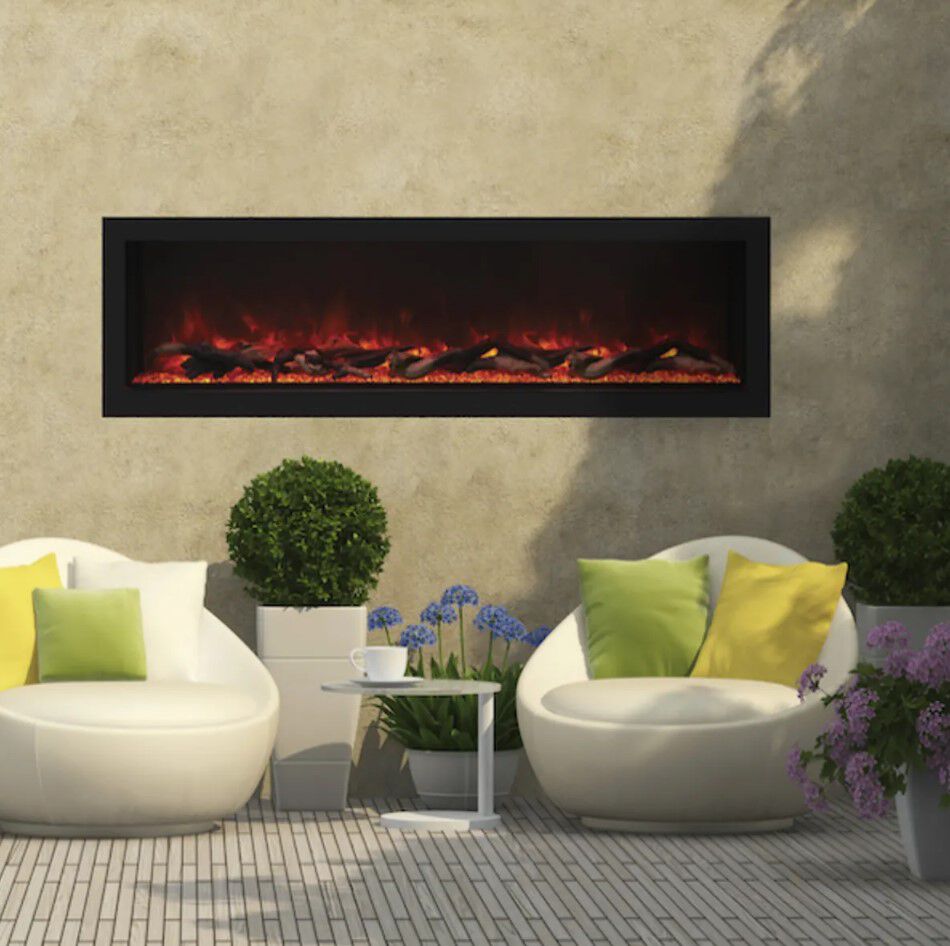 What Makes It Great:
Instantly add modern style and dimension to your patio with the Amantii Remii Deep's sleek, linear silhouette and 12-inch depth. Three distinct sizes and 18 burning display options let you find a model that fits your space perfectly and suits your design preference, while a clean, full frame viewing area allows you to customize the look with your choice of finishing material.
Key Features:
Ambient canopy lighting in 13 vibrant shades enhances the Amantii Remii Deep's unique "fire and ice" flame presentation. You'll be able to alter the look and feel of your fireplace whenever you'd like using the full-function remote control, which individually adjusts the heat, flame color, and accent lighting.
#2 EXTRA-SLIM INDOOR/OUTDOOR ELECTRIC FIREPLACE by Amantii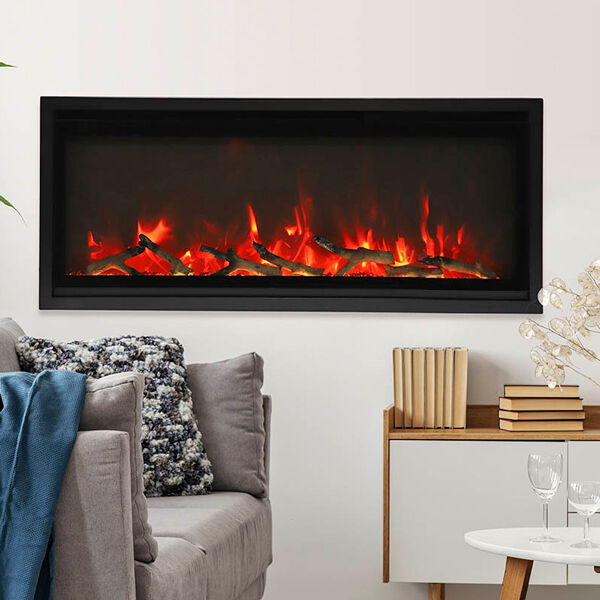 What Makes It Great:
If you want to upgrade a small patio or have limited wall space, the Amantii Extra-Slim is the perfect solution with its modest, four-inch depth, four size options, and full frame viewing area! It features incredibly lifelike flames that transition from yellow to orange to red for high impact and dazzling ambiance in a compact design. Pair the dancing flames with the 5,000 BTU heater for maximum comfort and style or switch the heater off to enjoy a soothing fire without the extra warmth.
Key Features:
The Amantii Extra-Slim heats up to 500 square feet and is equipped with an angled glass front, two-stage heater, and a fan that allow the heat to cascade down the front of the fireplace for optimal warmth. Choose from 15 media bed options, including sparkling fire glass and smooth fire gems in an array of colors to match your outdoor décor. Make your new patio focal point permanent by hardwiring it into your home's electrical system and installing it with a wall thermostat for quick, manual control.
#1 50" PANORAMA SLIM ELECTRIC FIREPLACE by Amantii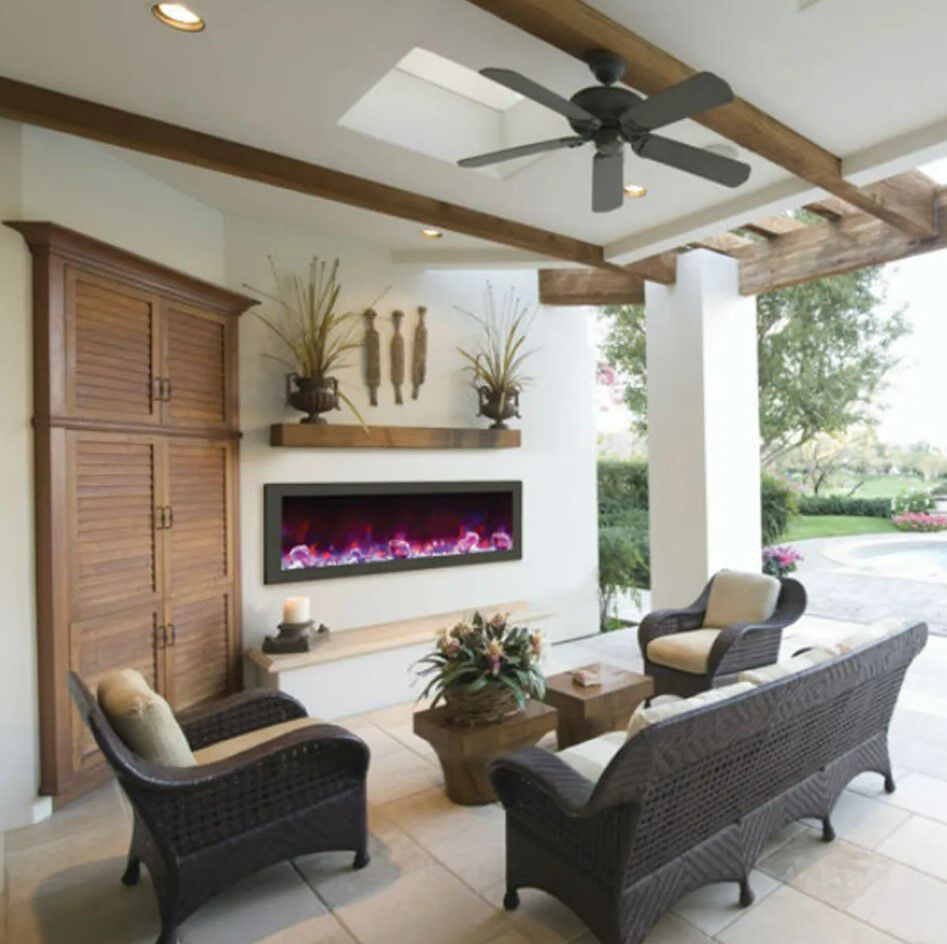 What Makes It Great:
With its 50-inch linear design and ribbon-like flames the Amantii Panorama Slim serves as a functional work of art in your outdoor space. The adjustable flames gently shift from bright red to cool blue for a "fire and ice" display, while separately controlled ambient canopy lighting illuminates a bed of sparkling Ice media.
Key Features:
Individual heat and flame controls make the Amantii Panorama Slim a perfect patio upgrade for coastal climates and warm seasons. With the option to hardwire it with a wall thermostat or plug it in and control it with a hand-held remote, you'll be able to operate your new outdoor centerpiece in a way that best suits your lifestyle.
HOW ELECTRIC FIREPLACES CREATE VERSATILITY IN COMMERCIAL SPACES