With so many great gas fire pit options out there, the process of choosing the right one to fit your needs and outdoor space can be challenging.
To help make the process easier for you, we've sifted through hundreds of products to find the five best gas fire pits based on quality, ease of use, customer satisfaction, and overall aesthetics.
Say 'goodbye' to decision fatigue and 'hello' to relaxing around the fire with our top five gas fire pits to upgrade your outdoor space!
#1 TONDO GAS FIRE PIT by FlameCraft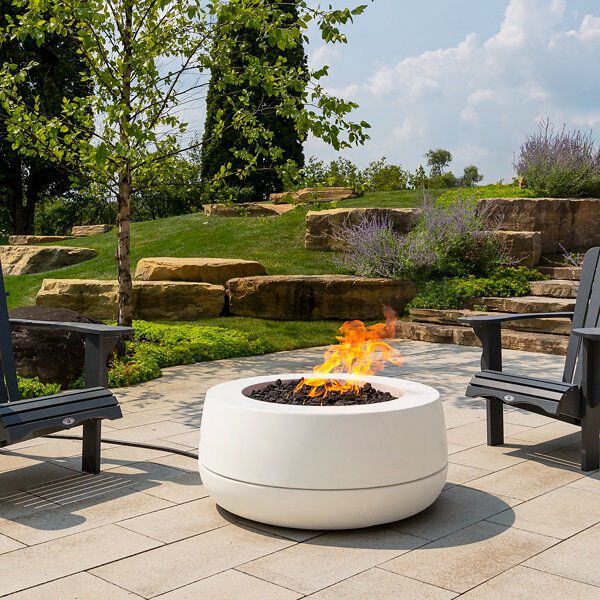 What Makes It Great:
With your choice of top and bottom color, the Tondo Gas Fire Pit by FlameCraft lets you create a custom fire feature totally tailored to your outdoor style. You can mix and match colors to create a two-toned shell or go with a solid color scheme for a streamlined look. The Tondo also features an ultralightweight two-piece, interlocking design for easy installation and ground shipping.
Key Features:
A powerful brass burner system offers up to 90,000 BTUs of heat and is equipped with raised ports that produce cleaner, fuller flames while using less gas than a standard burner. Choose from four size options and a match-lit or Smart Weather Electronic Ignition System (SWEIS) to conveniently operate the fire. The SWEIS is designed for reliable performance in any kind of weather and is equipped with safety features to shut off the gas if the flame ever goes out.
#2 QUADRO GAS FIRE PIT by FlameCraft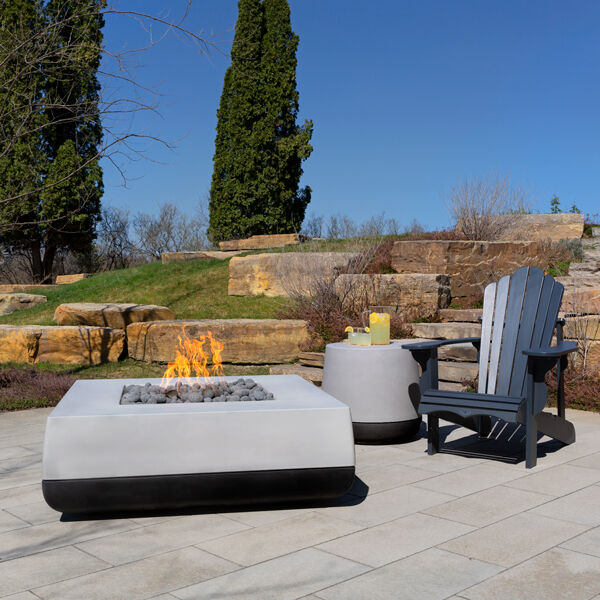 What Makes It Great:
With 36 color combinations and nine distinct burning displays to choose from, the Quadro Gas Fire Pit makes it easy to customize the perfect focal point for your outdoor retreat. Its large square design, smooth chamfered corners, and luxe concrete finish are ideal for modern backyards and spacious commercial venues.
Key Features:
The Quadro's two-piece, interlocking GFRC design is sustainably made in California using Ultralightweight Cement technology for quick, hassle-free assembly. Equipped with an 18-inch, penta-shaped Torpedo burner, the Quadro creates soothing, campfire-like flames and up to 125,000 BTUs of heat. Choose between a standard match-lit ignition or upgrade to HPC's Electronic Ignition (EI) system, which offers remote operation and the ability to control the fire from your smart device.
#3 UPTOWN IROKO GAS FIRE TABLE by The Outdoor GreatRoom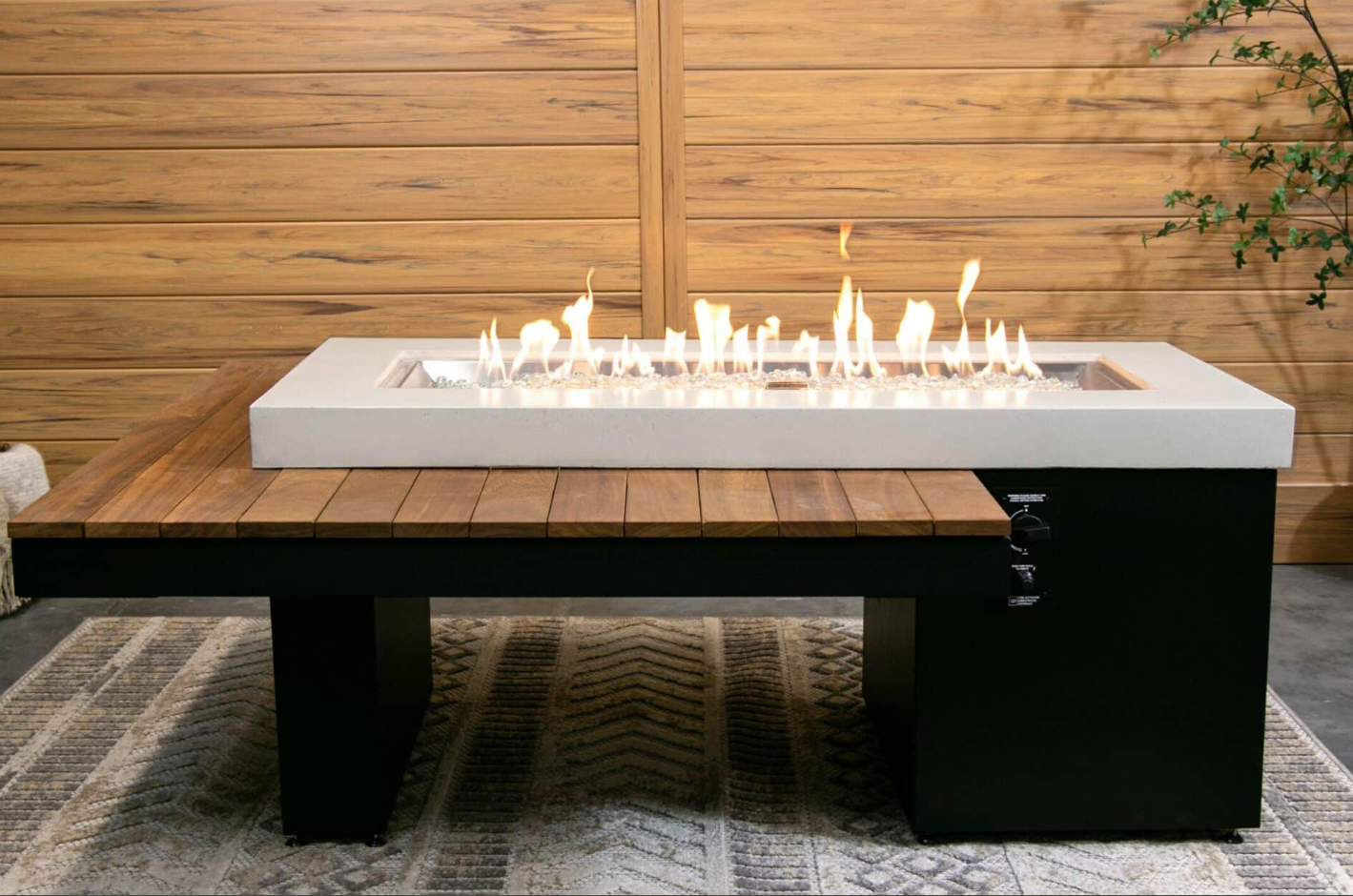 What Makes It Great:
The Uptown Iroko Gas Fire Table elevates contemporary outdoor spaces with its two-tiered, natural Iroko wood design, black aluminum base, and linen-colored Supercast concrete top. Five vibrant fire gem shades let you add a pop of color to the natural look, while an optional glass wind guard keeps the elegant, linear flames burning brightly.
Key Features:
Easily ignite the patented Crystal Fire Plus burner with a manual push-button ignition system, or opt for a remote-controlled, direct spark ignition system to switch the fire on and off from the comfort of your seat. No matter how you choose to light your fire, the Iroko delivers up to 80,000 BTUs of heat, ensuring your backyard is relaxation-ready in any season. When the flames aren't lit, the included glass burner cover turns your fire pit into a trendy outdoor table.
#4 MODERNO III GAS FIRE BOWL by Prism Hardscapes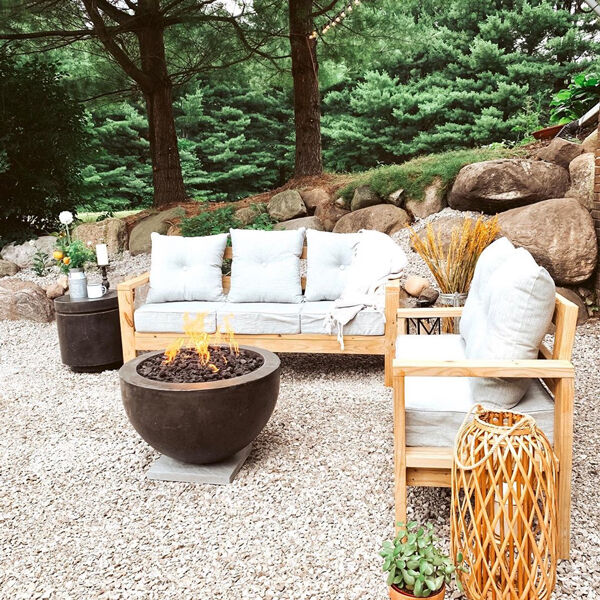 What Makes It Great:
The Moderno III Gas Fire Bowl can be used as a chic accent piece in a large, open outdoor space or serve as the main focal point on a small patio. Even with its compact size, this GFRC fire bowl delivers up to 65,000 BTUs of reliable heat, turning your backyard into a comfortable entertainment hub you can enjoy year-round with friends and family.
Key Features:
Choose from six stunning finishes and five shades of fire glass to create a look that ties into your outdoor décor. For an even more authentic-feeling fire, you can add a set of realistic Weathered Oak or Driftwood fire pit logs. Get the fire going with a standard match-lit ignition system, or upgrade to Prism Hardscape's PH-Ignite electronic ignition, which comes with a flame-sensing function that monitors your fire. Complete your patio arrangement with your choice of four Propane tank enclosures for a stylish side table that matches your fire pit.
#5 TAVOLA IV GAS FIRE TABLE by Prism Hardscapes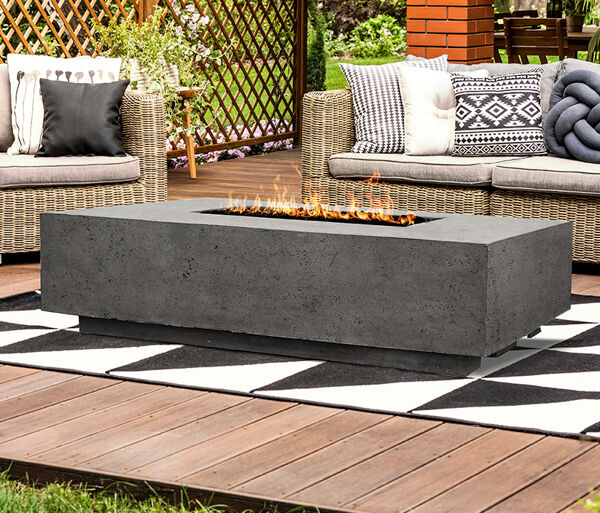 What Makes It Great:
Built for a crowd, the Tavola IV Gas Fire Pit features a 66-inch-wide, chat-height design, offering front-row seats to the fire for all your guests. Six finishes and seven distinct burning displays give you complete creative freedom, while four Propane tank enclosure options streamline your space and provide a convenient place to set your drinks and snacks as you cozy up to the flames.
Key Features:
The Tavola IV is hand-crafted in the USA from durable, GFRC to outlast harsh weather in any environment. It also features a custom patina finish, ensuring your fire pit wears beautifully over time and only gets better with each use. Ignite the tall, golden flames with a match-lit or electronic ignition system, then sit back and relax as the Tavola IV's stainless steel H-burner fills your space with up to 65,000 BTUs of heat.
NEED HELP SIZING YOUR GAS LINE? HEAR FROM THE EXPERTS
If you have questions about installation requirements or need help choosing the best gas fire pit for your outdoor space, we'd love to help! Call our team of NFI certified experts at 800.919.1904 today.