A wood burning fire pit is one of the simplest ways to transform your outdoor space into a relaxing getaway that feels as cozy as it looks.
If you want the allure of a crackling campfire, the aroma of smoldering wood, and the warmth of exposed flames, then a wood burning fire pit is the way to go. Not to mention, there's no assembly required!
With so many fire pit designs on the market, it can be tough to narrow down the best options for your space. You want a gathering spot for your family and friends that looks great but is also affordable and easy to set up.
To help you find the best fire pit for your needs, we've compiled a list of our top five wood burning fire pits based on quality, design, durability, and customer satisfaction.
#1 PATRIOT FIRE BOWL – DESIGNER EDGE by Ohio Flame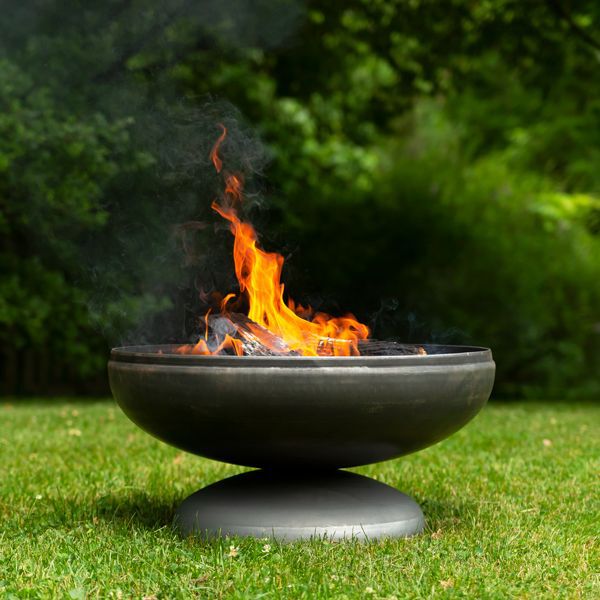 What Makes It Great:
The Patriot Wood Burning Fire Pit features a patent-pending, two-piece welded design, heavy-gauge, 3/16-inch American steel construction, and iron-oxide finish. It's available in three sizes and is built to withstand even the toughest of weather conditions.
Key Features:
Each Patriot Fire Bowl is handcrafted in Ohio from Domestic Mills American-made steel. Over time, the fire bowls develop a gorgeous rustic iron-oxide patina. A small rain drain at the bottom of the bowl allows water to quickly escape, ensuring your firewood always stays dry.
#2 STELLAR ARTISAN WOOD BURNING FIRE PIT by Ohio Flame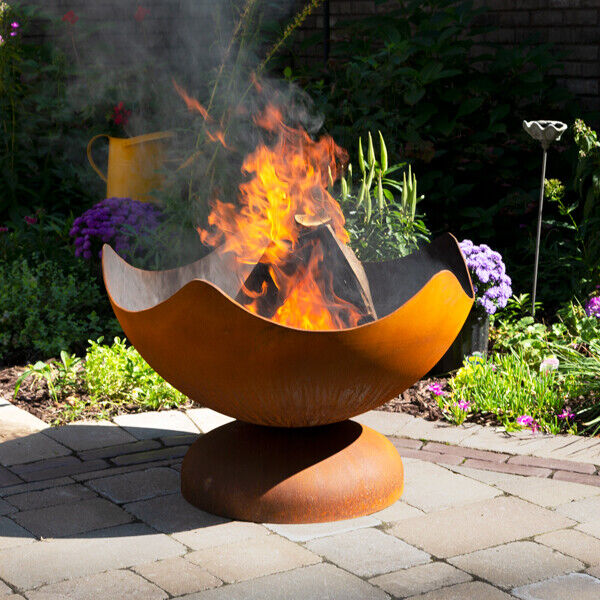 What Makes It Great:
With its gentle curves and natural iron-oxide patina finish, the Stellar Artisan Wood Burning Fire Pit doubles as an exquisite work of art! It's also available in three sizes — 31 inches, 37 inches, and 41 inches — to best fit your outdoor space
Key Features:
Handcrafted in Ohio from heavy-gauge, American-made steel, the Stellar is low-maintenance, assembly-free, and built to combat harsh weather. Water can swiftly escape through the small rain drain in the center of the bowl, while an optional fire poker lets you adjust the logs from a safe distance.
#3 OIL-RUBBED BRONZE FIRE PIT by Uniflame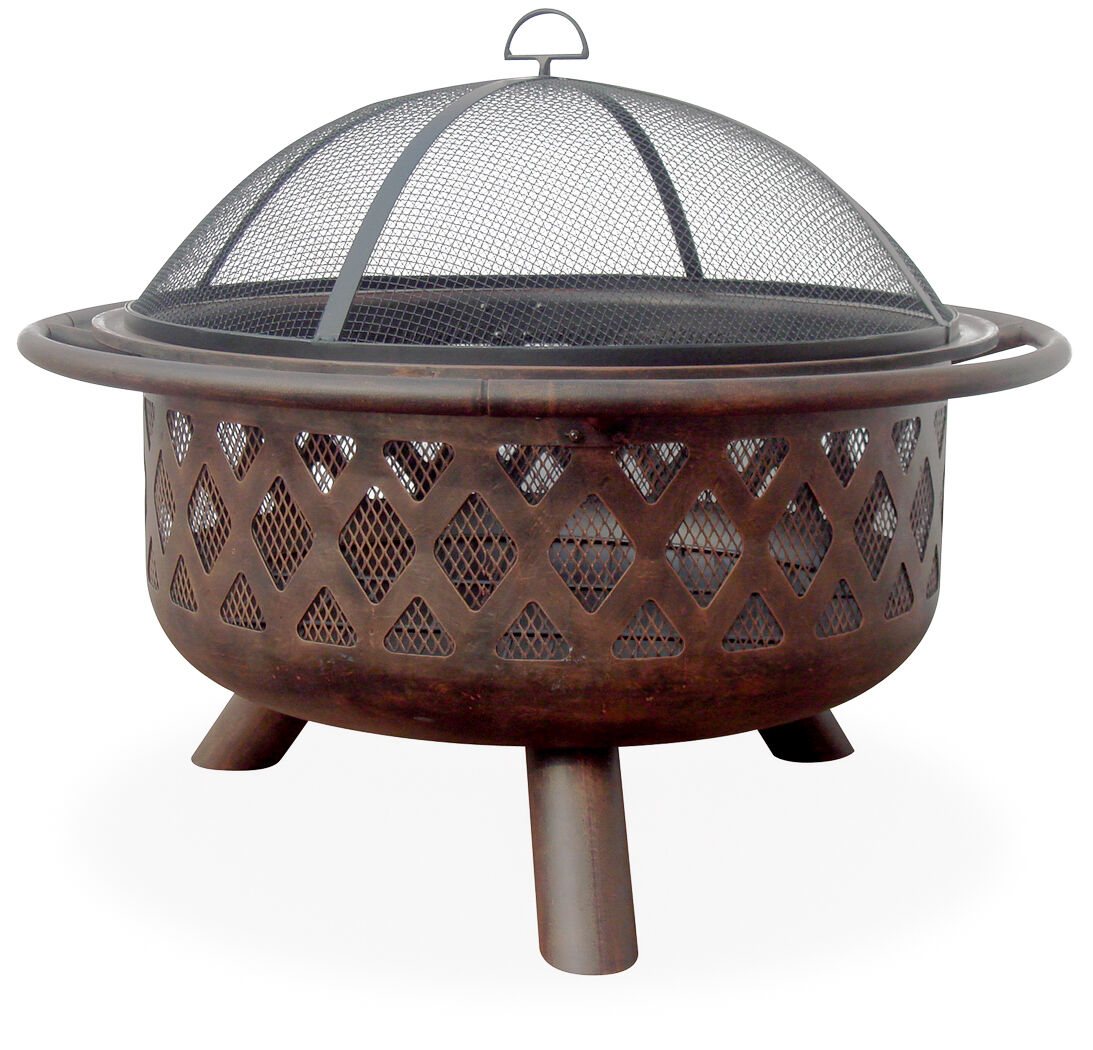 What Makes It Great:
The wood-burning Oil Rubbed Bronze Fire Pit is built from durable steel that holds up against the elements for a rustic, vintage focal point you'll enjoy in your outdoor space for years to come.
Key Features:
The bowl is 32-inches in diameter and 16-inches deep to accommodate logs of various sizes. Mesh walls with an open crisscross pattern create airflow for better heat distribution and larger flames. The included spark screen offers extra safety, and an optional cover helps prevent rust.
#4 EVENING SKY FIRE PIT by Patina Products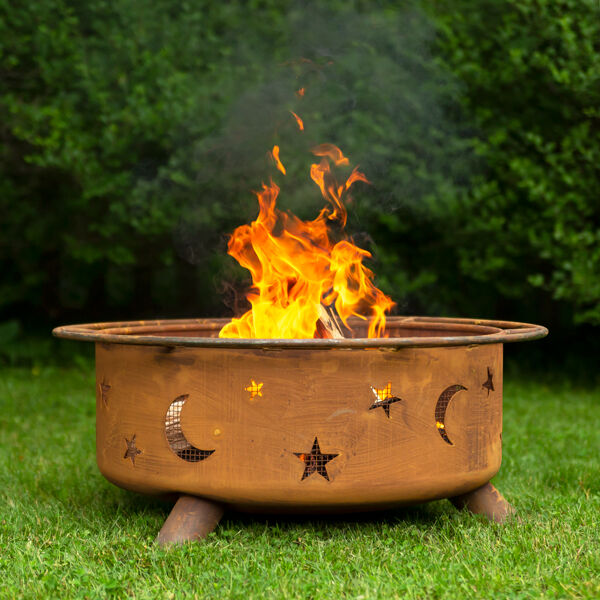 What Makes It Great:
With its 16-gauge cold-rolled steel construction, natural rust patina finish, and whimsical cut-outs, the Evening Sky Fire Pit was designed to be the star of the show at your outdoor gatherings!
Key Features:
The Evening Sky Fire Pit comes fully assembled and is easy to move around with its one-piece steel drum body and securely welded legs. It also comes with everything you need for a fun night around the fire, including a poker, spark screen, weather cover, and a BBQ grill so you can cook up your favorites right over your fire pit.
#5 BLACK DIAMOND STYLE FIRE PIT by Northern Flame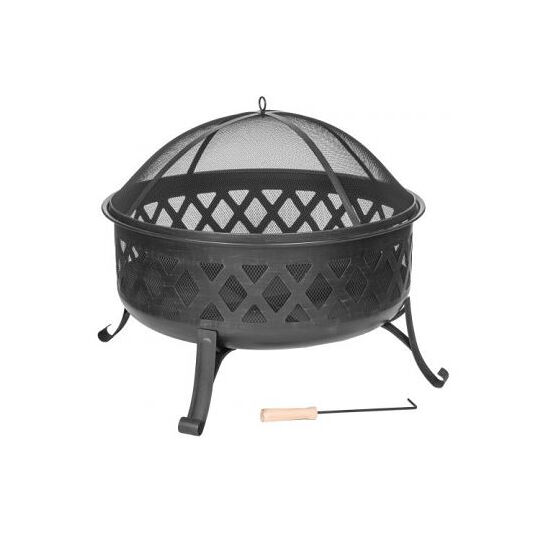 What Makes It Great:
The wood-burning Black Diamond Style Fire Pit creates the ambiance of a traditional campfire. A diamond cutout design around the sides of the bowl showcases the flames, and the included spark screen lets you sit close enough to enjoy the heat.
Key Features:
Need to take the party somewhere else? At just 22 pounds, the Black Diamond Style Fire Pit is super portable and fits nicely in smaller spaces. Plus, it's made of durable steel, so it won't dent, bend, or warp.
If you have questions about installation requirements or need help choosing the best wood burning fire pit for your outdoor space, we'd love to help! Call our team of NFI certified experts at 800.919.1904 today.