In 2007, the outdoor heating industry changed forever. Bromic Group saw increased demand for heating outdoor spaces, so they established Bromic Heating—a company that defines style and class for outdoor heaters. Their goal was to transform outdoor heating like never before.
"Our co-founder and head of engineering and product development, Scott Smith, designed the Bromic heater to look like accents that you would see in an outdoor area—like a flat-panel TV or loudspeakers—so our heaters integrate very well with other outdoor features," says Karl Tschauner, Bromic's Director of Sales for North America. "We brought the style that was lacking in our competitors' offerings to market."
When Bromic entered the game, many outdoor heaters were very industrial looking, says Tschauner—they could clash with the décor of an area, rather than accenting it. So they sought to create a sleek look that you wouldn't find anywhere else, and they designed their gas and electric heaters to match up in terms of style and function. Both product lines are—to put it simply—gorgeous. Their uncompromising heat output and looks are unparalleled, says Tschauner. This is Bromic's claim to fame, and the world has taken notice. To see the evidence, just visit Las Vegas.
The city is home to the "Bromic Crawl"—a three-mile path down the Las Vegas Strip that showcases the high class, style, and luxury that the brand offers.
To follow it, start in the Skyfall Lounge on the 65th floor of the Mandalay Bay Hotel. From there, work your way across to the New York-New York Hotel, then down the Strip and over to the Aria Hotel, located at CityCenter Las Vegas. From the Aria, travel to Caesar's Palace Hotel, and end at the LINQ.
"By following that path, you'll hit all the various locations that have Bromic heaters along Las Vegas Boulevard," explains Tschauner. "Over the past five years, I have had the pleasure of being able to introduce Bromic Heating's most stylish and functional outdoor heating systems to the world's most renowned hospitality operators.".
"Bromic has truly become the number one outdoor heating solution provider for the hospitality industry," says Joseph Linden, Bromic's Specification Executive. Linden works on all of the major design layouts for both commercial and residential applications. "Bromic Heating offers a free design service in order to ensure that the outdoor heating solution will perform to expectations.
The luxury of Bromic heaters isn't limited to high-end commercial industries, however. Through their partnership with Woodland Direct, Bromic offers the high style and functionality of their products to all consumers in the United States and Canada.
"It's a very symbiotic relationship," says Leo Murata, Channel Sales Executive for Bromic in North America.
"Woodland Direct aligns with our concepts of training, knowledge, and quality. Woodland Direct prides themselves on training and certification, so we know that the customer is receiving quality care and solution assurance."
In fact, through this partnership, Bromic and Woodland Direct are able to provide custom heating plans to any customer. Almost any need or solution can be accommodated.
This relationship has resulted in shared growth for both companies, and today, Bromic sells heaters all over the world. Their goal is to become the number one outdoor heating company globally, and they see a strong commitment to excellent customer care as part of that path.
They demonstrated this commitment when they first brought their electric heaters to market. Initially, Bromic didn't include control systems with the heaters, and their customers didn't like that—they wanted controllability of the heat.
"We always listen to our customers and take their input into consideration when designing new products and offering outdoor heating solutions," says Tschauner. "So we went back and developed control systems. It took two years, because we are a standards-based company. We make sure to extensively research and bring the correct solution to market for the customer. That's what makes our product successful and long lasting."
Once they began offering control systems, the response was immediate—customers chose to bundle them with almost 50 percent of all heater sales. Today, Bromic's controls are the number one control systems for both gas and electric heaters, says Tschauner. "Listen to your customers, provide them with what they want, and you'll be successful."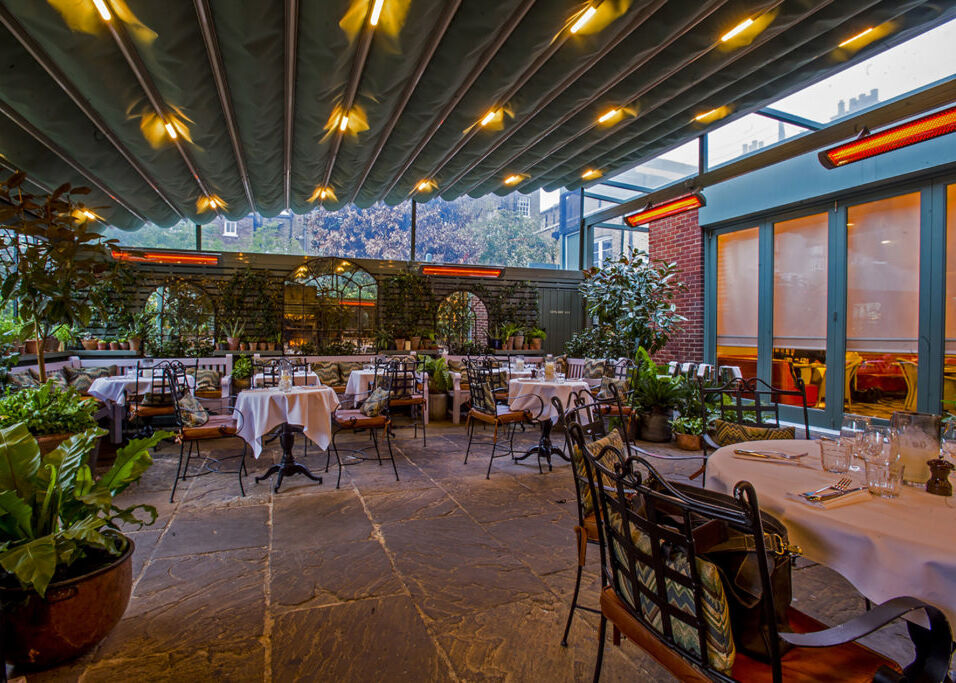 By listening to the market and their customers, Bromic has completely redefined the outdoor heating industry. They've created a new product category with their stylish heaters, and thanks to their efforts, consumers now have a choice beyond the industrial-looking patio heaters that used to dominate the market. Bromic has made a name for themselves—one that will only continue to grow.
LEARN HOW PATIO HEATERS BOOST YOUR BUSINESS