The Most Exclusive Gas Fire Pit on the Market
You deserve the backyard of your dreams, and designing it just got much easier with our revolutionary Tondo Gas Fire Pit!
Designed in partnership with FlameCraft and offered exclusively by Woodland Direct, the Tondo's modern, low-profile design and powerful brass burner system will provide you with superior style and next-level ambiance.
From a fully customizable exterior to incredible, sky-high flames, discover what puts the Tondo in a league of its own.
How Did the Tondo Get Its Name?
When deciding what Woodland Direct would call its brand-new Tondo Gas Fire Pit, we sought to discover a name that not only represented the design of the fire pit, but also spoke to the important role fire plays in our lives.
Check out the video below to learn how the Tondo got its unique name.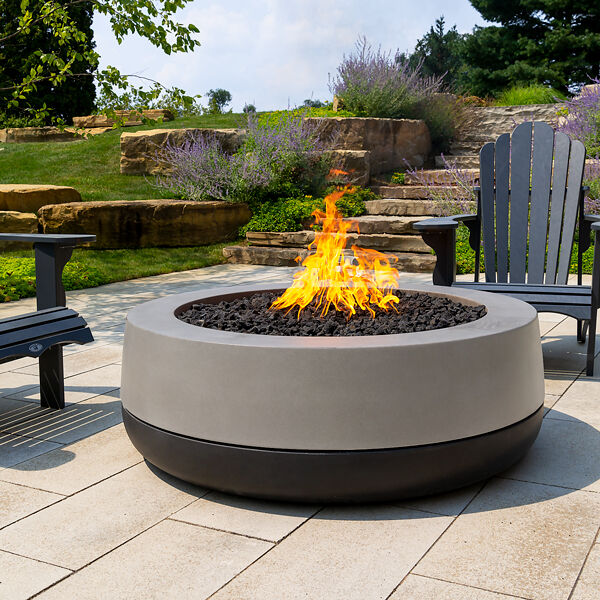 The Tondo's lightweight two-piece, interlocking design allows for easy transportation and quick, hassle-free assembly.
You won't need any special tools or expertise to put your Tondo together. You'll simply place the top piece of the fire pit directly over the bottom piece and connect the included notches together. It's that simple!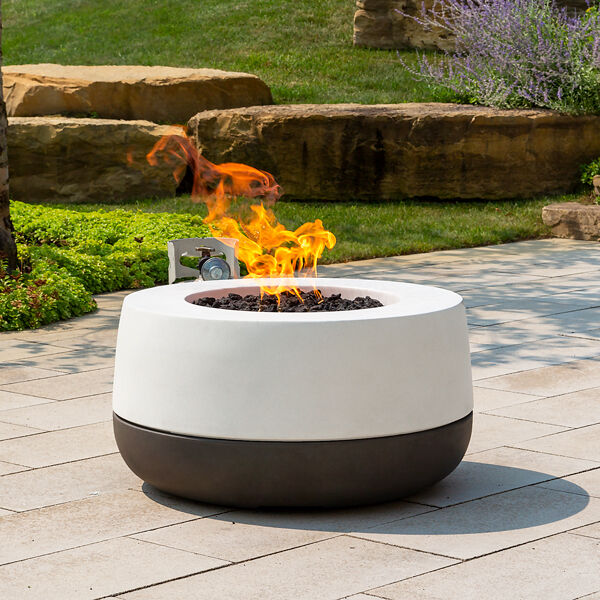 The base of your Tondo comes with screw-in leveling feet, so you can safely install it on uneven ground. Featuring a patented concrete design, the leveling feet are easy to replace and come color-matched to the base of your fire pit for streamlined style. To adjust the leveling feet, twist each screw by hand or use a socket wrench to tighten them into place.
We want you to receive your new focal point in mint condition. That's why the top and bottom pieces of the Tondo and the burner system are securely packaged into three separate boxes.
If you order the 30- or 36-inch size Tondo, don't be surprised when you find it at your door just days after you've ordered — these models are so light, they ship ground! That means you'll get a faster delivery service and won't have to move around a heavy palette.
While the 48- and 60-inch Tondo sizes only qualify for freight shipping, we promise their impressive flame presentations are well worth the extra wait.
Sustainably Handcrafted in California
Display quality American artistry in your backyard with the Tondo's trendy, tumbler-shaped silhouette and sleek, concrete finish.
Meticulously handcrafted to last a lifetime, the Tondo's durable design promises countless cozy evenings around the fire with friends and family.
High-performance, glass-fiber reinforced concrete shell
Crafted using the latest Ultralightweight Cement Technology
Made with a proprietary blend of more than 40% recycled materials
Abrasion, Impact, and UV-resistant finish

Low thermal absorption properties keep the concrete shell cool to the touch

Meets ASTM standards for strength and safety
Available in 30-, 36-, 48-, and 60-inch models, the Tondo comfortably accommodates spaces of all sizes.
Once you've found the perfect size, you can mix and match six top and bottom finishes to build a two-toned centerpiece that's completely tailored to your style.
With 36 unique color combinations, you'll be able to create a one-of-a-kind work of art that makes all your guests say "Wow!"
Create a burning display that complements your Tondo by choosing from six shades of fire glass, traditional lava rock, or smooth rolled lava stones.
Incredible Flames, Convenient Controls
If you love to host outdoor gatherings, then the Tondo is the fuel-efficient, cost-saving fire feature you've been searching for!
The 30-, 36-, and 48-inch models are equipped with a mighty brass burner system that features raised ports to produce cleaner, fuller flames, while using less fuel than standard burners.
Ignite your burner with a standard match-lit ignition system, or upgrade to the Smart Weather Electronic Ignition System (SWEIS) for added safety and reliable performance in any kind of weather condition.
Designed to keep your fire going no matter what, the SWEIS includes a built-in safety feature that continuously monitors the fire. If the flame ever goes out or if a gas leak is detected, the gas supply automatically shuts off, keeping you and your family safe from dangerous fire hazards.
With the SWEIS, you can conveniently light your 30-, 36-, or 48-inch Tondo with an On/Off remote control or wall switch.
Our largest model, the Tondo 60, comes with a 24-inch Penta-shaped Torpedo burner, which creates an even flame pattern for a soothing, campfire-like effect.
The Torpedo's tactical, commercial-grade stainless steel design outlasts even the harshest elements and features fuel-efficient raised ports that supercharge your fire and maximize the heat output.
With the Tondo 60, you can ignite the flames with a standard match-lit system or upgrade to HPC's Electronic Ignition (EI) System for easy operation.
With the electronic ignition system, you can choose from two user-friendly control options, including an On/Off remote and a Hi/Low flame remote. It also features integrated Bluetooth technology, which lets you operate your Tondo 60 from a smart device or home automation system.
For quick, manual operation of HPC's EI System, you can hardwire your Tondo 60 to a timer and add an optional On/Off wall switch.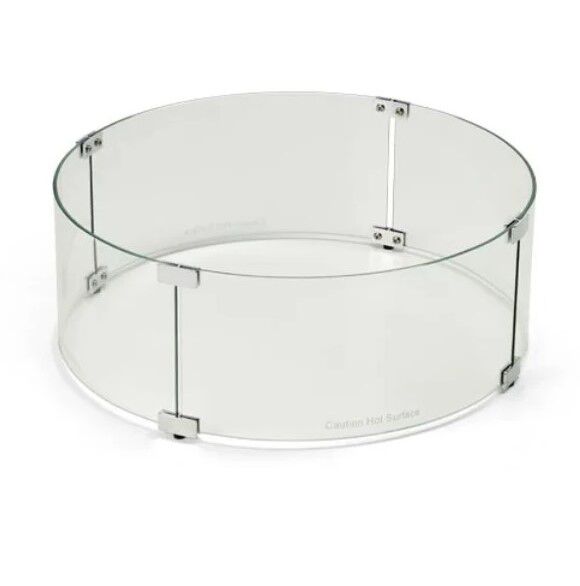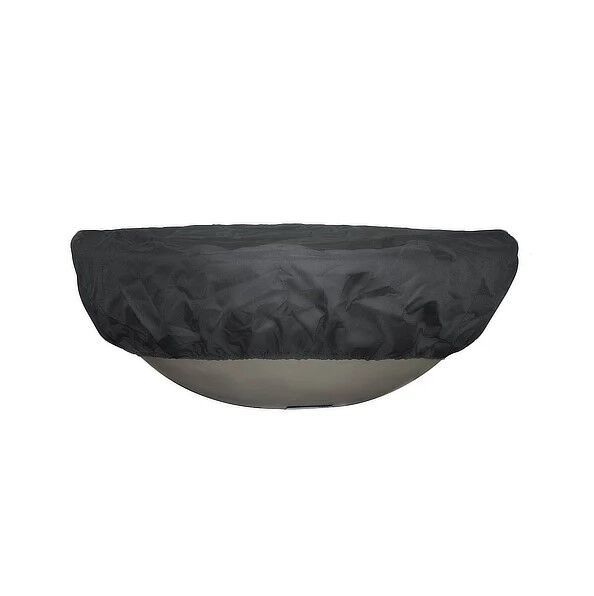 Preserve your Tondo's incredible flame presentation on windy days with an optional glass wind guard, which wraps around the parameter of the fire pit opening.
We also offer an optional weatherproof cover for your Tondo to protect the finish and burner system when you aren't using it.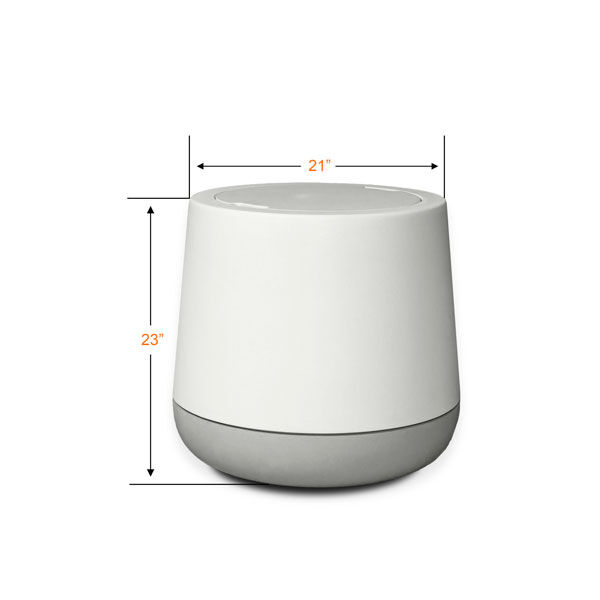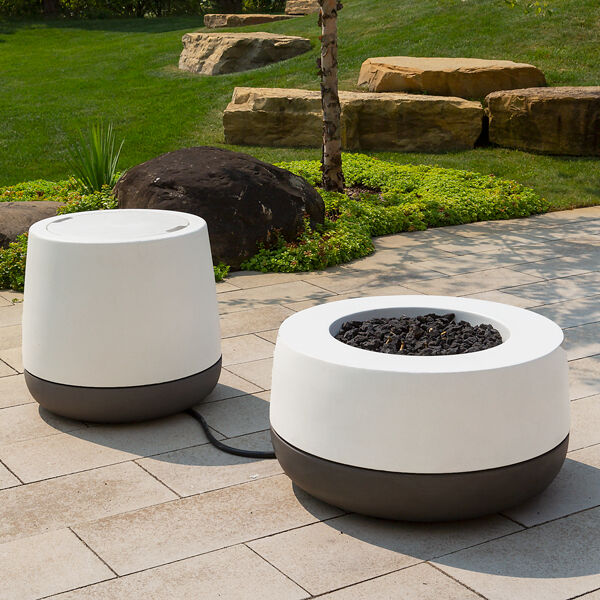 If you don't like the idea of seeing your Propane tank out in the open, a matching side table and Propane tank enclosure is available to streamline the look of your space. You'll also have a convenient place to put your drinks and snacks as you lounge by the fire!
Similar to the Tondo Gas Fire Pit, the matching Propane tank enclosure features a simple, interlocking design and a removable top piece that makes it easy to tend to your Propane tank or swap it out when it's empty.
Watch the Tondo in Action
Depending on the size you purchase, the Tondo offers up to 125,000 BTUs of heat, so you can enjoy luxurious warmth, even on the chilliest evenings.
Treat Yourself to a Tondo
We're Here to Help.
If you have any questions about the FlameCraft Tondo Gas Fire Pit or need help building one of your own, we'd love to help!
Call our team of NFI certified experts today at 800.919.1904.