Gas logs are a safe, affordable, mess-free alternative to wood logs. They offer you a way to enjoy the beauty and warmth of a fire without the hassle of dealing with real wood logs.
Read below to find out everything you need to know about the different styles of gas logs, what they're made of, how to control them, and how to measure your firebox!
Vented gas log sets are made to be used in an existing wood burning fireplace with a fully operational chimney and serve as a replacement for real wood logs. They feature lifelike detailing and produce tall, golden flames to create the illusion of an authentic wood fire.
Vented gas logs must be used with a functional chimney and require the chimney damper to stay open at all times to prevent the build-up of harmful combustion byproducts, like carbon monoxide.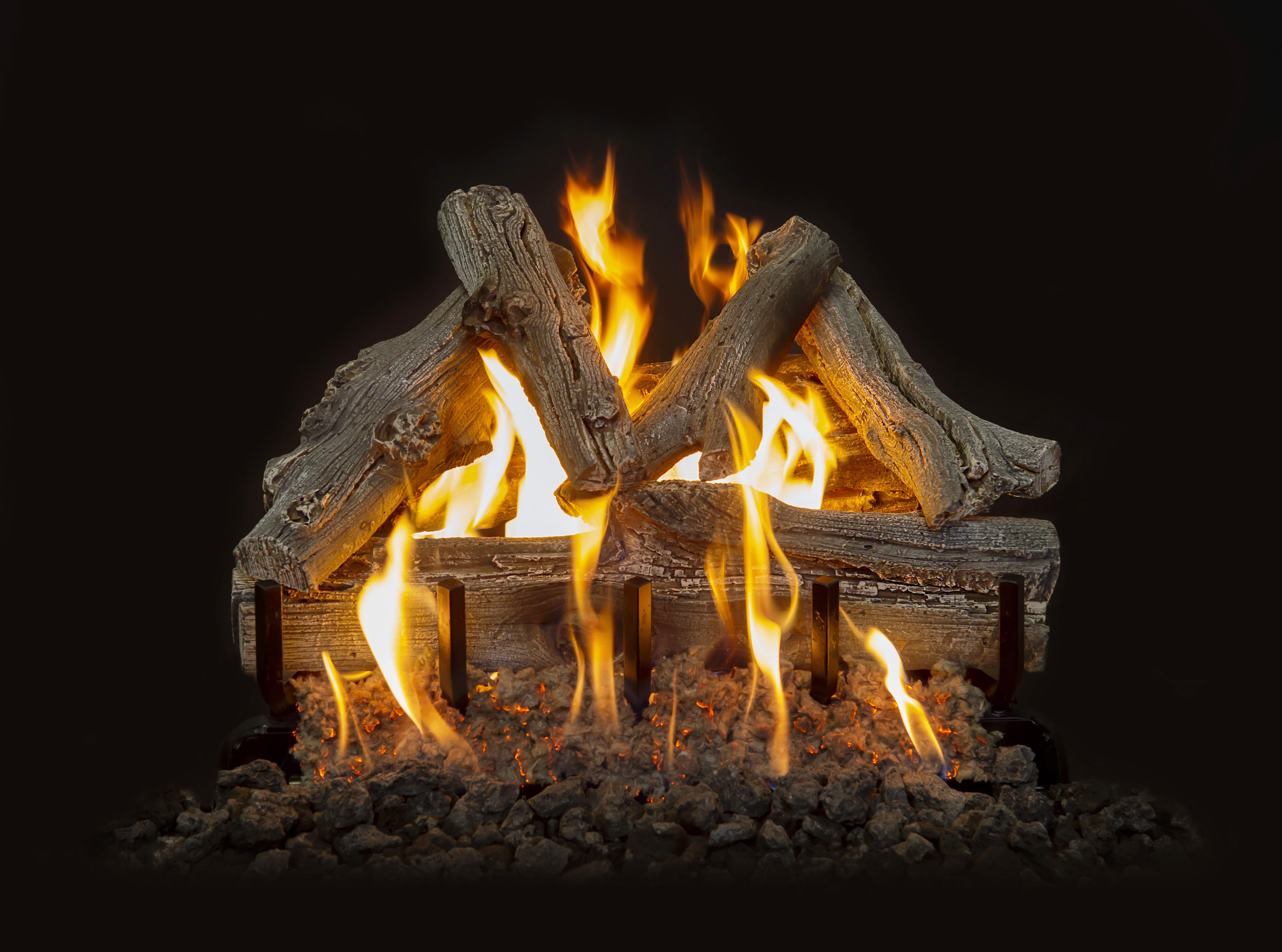 Since the chimney damper is required to stay open, almost all of the heat produced is lost through the chimney, making Vented logs an incredibly inefficient source of heat.
Burners for Vented gas log sets either come standard or ANSI certified. A standard burner is assembled after you receive it and an ANSI certified burner is assembled at the factory, then tested for safety and efficacy.
Certain cities may require you to have an ANSI certified burner.
Full, natural flame appearance
Bigger flame height
No BTU limit
ANSI certified and standard burners available
Expansive ember bed for a realistic look
Flames can touch logs
Logs can be rearranged to achieve an aesthetically pleasing display
Roughly only 10% efficient
Requires venting and the use of a damper clamp
Chimney damper must stay open at all times
Heat loss through the chimney
OUR MOST POPULAR VENTED GAS LOG SETS
The term "Ventless" or "Vent-Free" comes from the fact that Ventless gas log sets don't require a chimney or venting to operate. They are designed to achieve a clean, smokeless flame and to burn at nearly 100% efficiency so little to no gases remain after combustion.
Byproducts that do remain are typically made up of water vapor and carbon dioxide. Any toxic gases, such as carbon monoxide, will be minimal and within safe limits.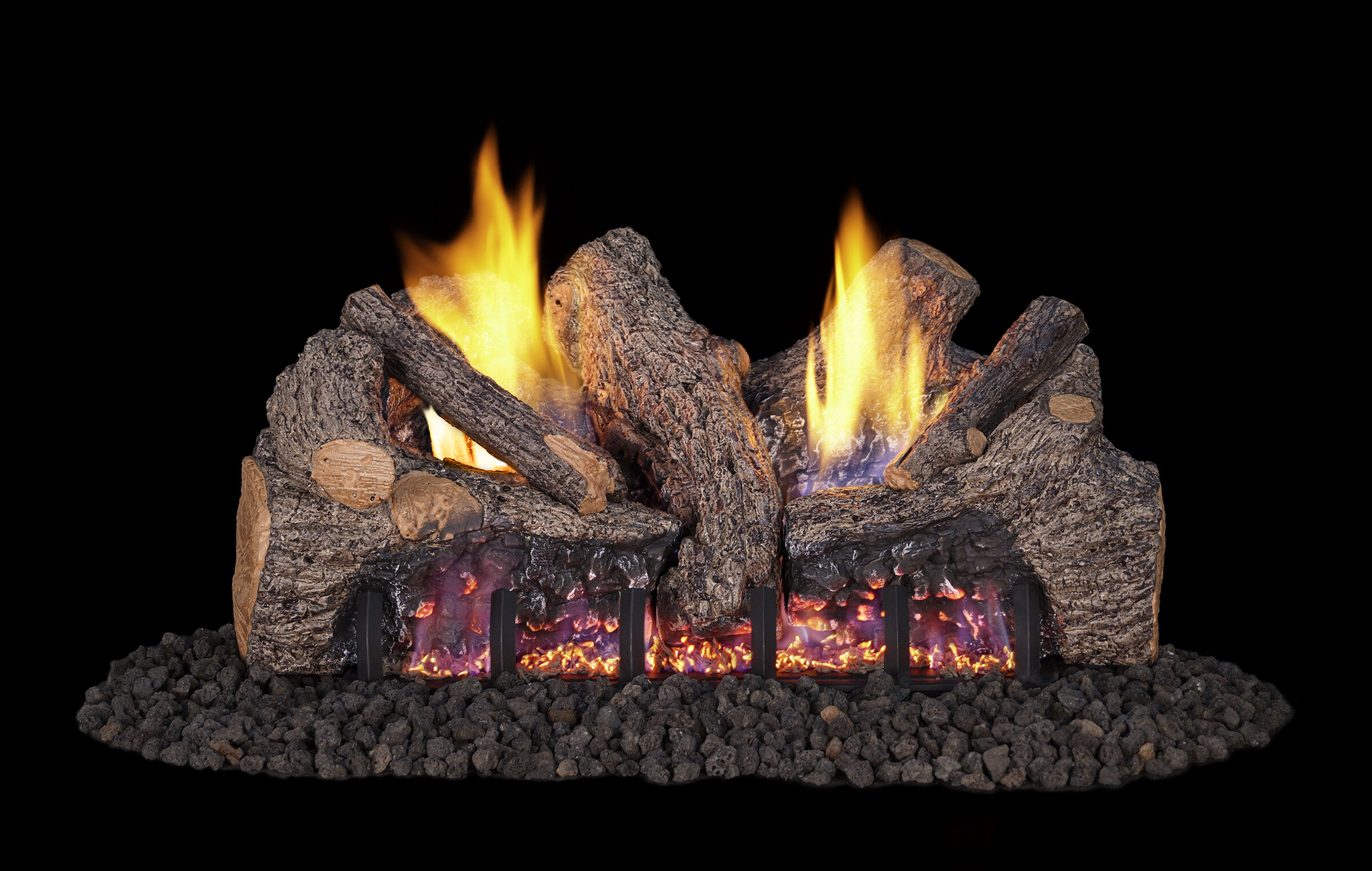 The flames are often blue and much smaller than the flames produced by a Vented set. Ventless gas logs can still achieve a realistic-looking fire, but the flames may not be as large or as authentic as a Vented version can produce.
As Ventless gas logs burn oxygen, water vapor is produced. Without venting for the water vapor to escape through, excess moisture in the form of condensation may appear on your windows or throughout the room. This is especially true with liquid propane-fueled logs.
Minimal amounts of moisture can be a great source of humidity in the winter, but larger amounts can lead to mold or mildew growth. If you notice excess moisture while using your Ventless gas log set, cracking a window near the fireplace will help to restore balance to the air in the room.
Since combustion air isn't able to escape through a chimney, Ventless gas log sets may give off an odor when burning and will intensify any odors already present in the home. If you use air fresheners, incense, scented candles, perfume, or have a lot of dust or pet dander in your home, Ventless gas logs will strongly enhance those odors.
Although exhaust from Vent-Free gas logs is minimal, it can cause irritation to the lungs. If you or someone in your household has severe allergies, respiratory issues, like asthma or chronic bronchitis, or are sensitive to smells, then you should not install a Ventless gas log set.
Burners for Ventless gas logs are required by national code to be ANSI certified. They are factory assembled, then tested for safety and efficacy prior to shipping. Ventless burners cannot be modified in any way after they've been ANSI certified.
Ventless logs must be stacked around the gas outlets on the burner to prevent flames from coming into direct contact with the logs. If flames do touch the logs, carbon monoxide can be produced. The manufacturer typically determines how the logs should be arranged and will include instructions in the owner's manual.
Vent-Free gas logs are considered safe, but they are relatively controversial due to the fact that if they aren't functioning optimally, dangerous gases will be released into the home. Some states, like California, have outlawed Ventless appliances for indoor use altogether, while others have strict installation requirements.
As an additional safeguard, all Ventless appliances are required to have a built-in Oxygen Depletion Sensor (ODS) on the ignition pilot. The ODS monitors the amount of oxygen present in the room and will shut off the gas supply to the burner if the oxygen supply dips below the safe threshold of 18%.
The BTU output of Ventless appliances is limited to a maximum of 40,000 BTUs per hour to ensure adequate oxygen is left in the room. For installations in bedrooms and bathrooms, the maximum BTU output is even more limited, allowing only 6,000 to 10,000 BTUs, regardless of room size.
99.9% efficient
More heat is introduced into the home
Less gas consumption
No venting required
Equipped with Oxygen Depletion Sensor (ODS)
All burners are ANSI certified, tested, and factory assembled
Unnatural/unattractive flame appearance
6,000 - 40,000 BTU limit
Burners are pre-assembled and cannot be modified
Logs must stay in the predetermined arrangement to prevent flame impingement
More installation restrictions
Minimal exhaust remains in the home after combustion
Produces an odor while burning and intensifies odors already present in the living space (air fresheners, incense, dust, pet dander, etc.)
Increases humidity levels in the home
Can cause lung irritation to those with severe allergies and chronic lung conditions
OUR MOST POPULAR VENTLESS GAS LOG SETS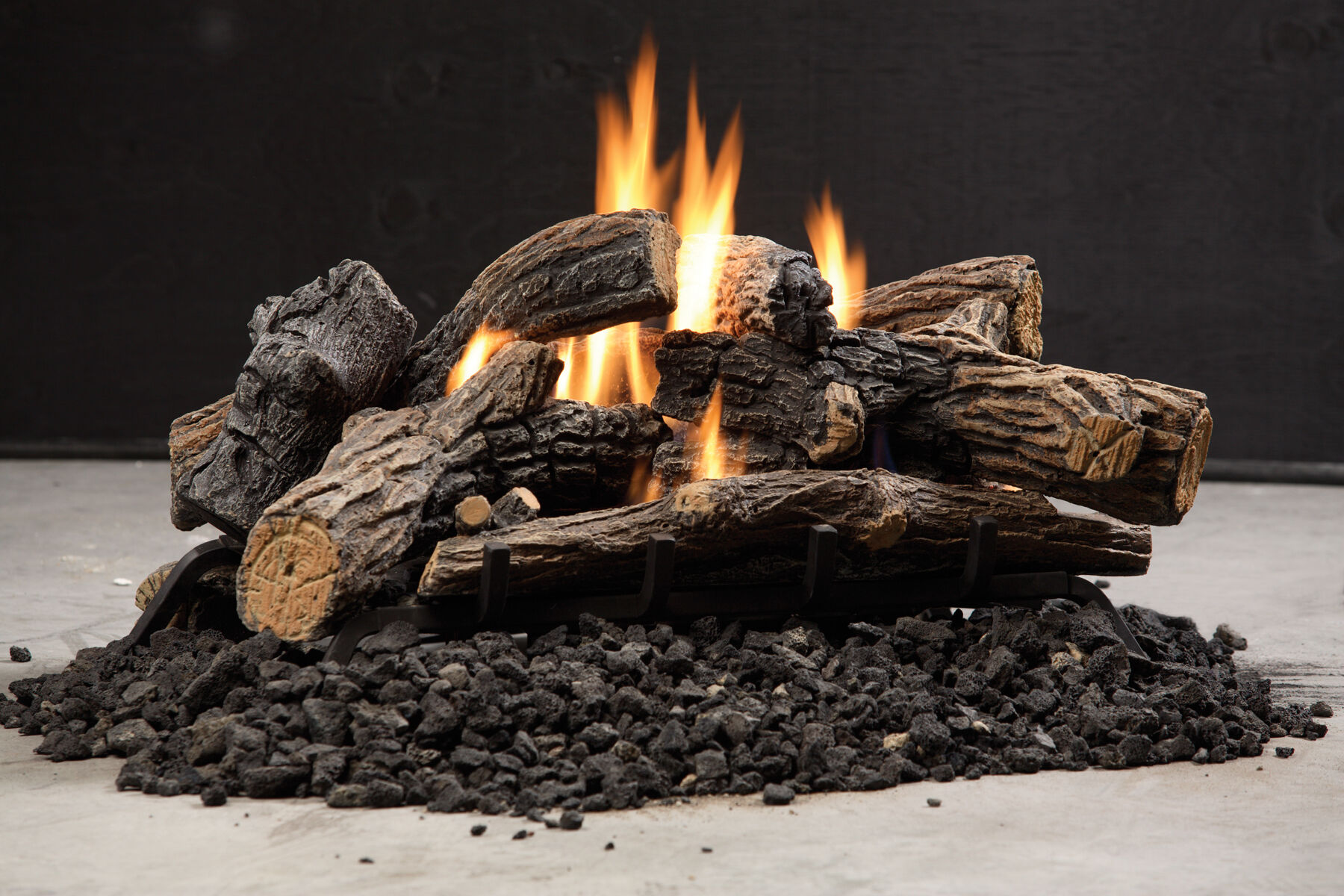 Most gas logs are made from a ceramic fiber or refractory cement mixture designed to withstand high temperatures.
Steel reinforcement rods may be added to the inside of the logs to increase their strength and to prevent bending or cracking, even after longterm exposure to intense heat.
Refractory cement logs are extremely durable and will retain their color and details longer than ceramic fiber logs, which may change color slightly with extended use.
Gas logs are typically cast from real tree samples or crafted from highly detailed molds. Refractory ceramic logs are hand-painted to capture the real wood's natural markings, pitting, and coloring, creating an authentic-looking replication.
Match-Lit - Match-lit ignitions are the simplest and most affordable way to light your gas log set. The system doesn't include a pilot or valve assembly. You'll simply place a match or lighter near the burner and turn on your gas supply with the included gas key valve. Match-lit systems are only available with Vented gas log sets fueled by Natural Gas.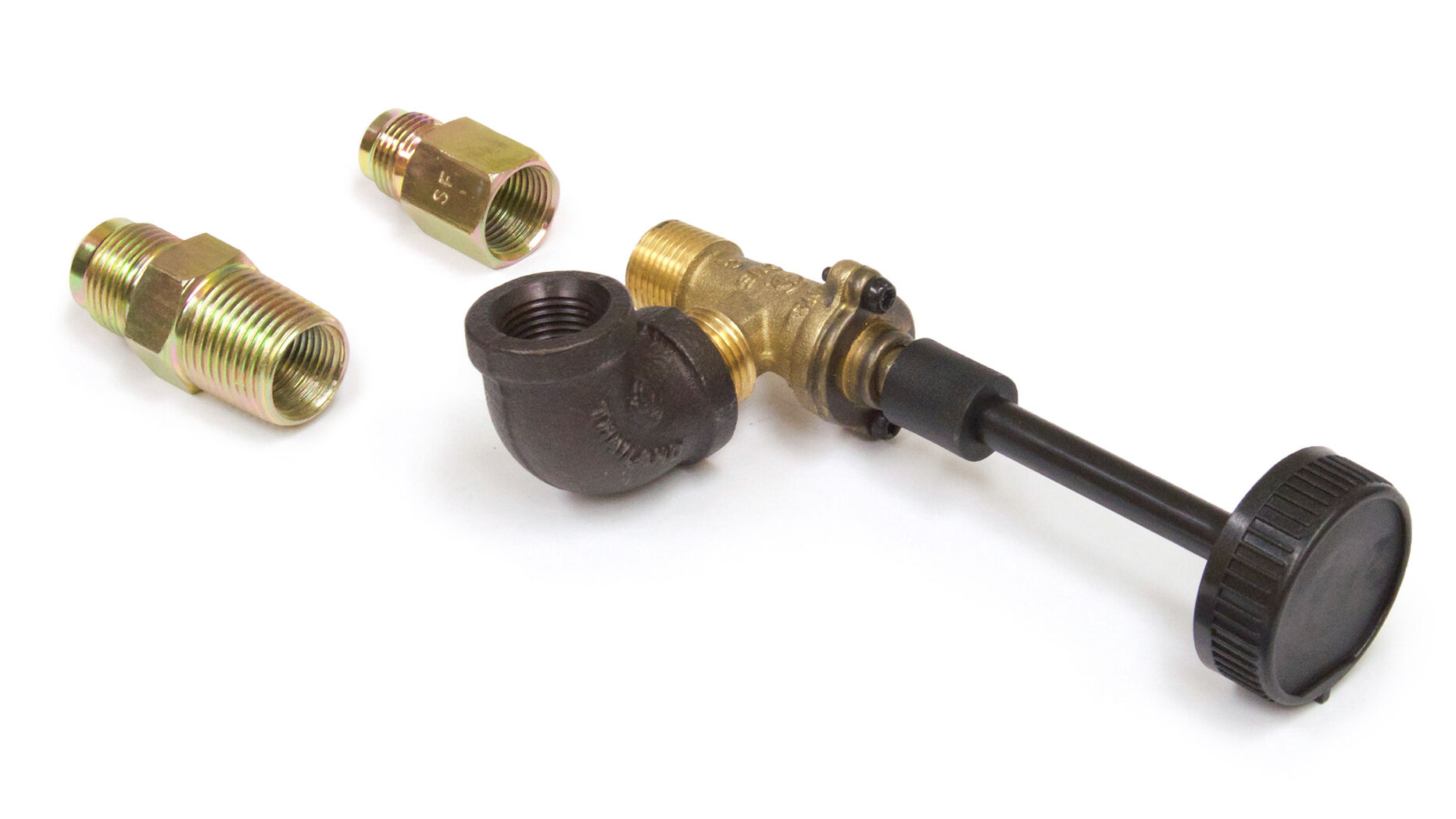 Manual Safety Pilot - Manual Safety Pilots, also known as Safety Pilot Kits (SPKs), feature safety systems with flame-sensing thermocouples. Instead of lighting your log set with a match or lighter, you'll turn on your gas supply, push a knob on the gas valve, and turn it to the "On" position to ignite the pilot. Once your log set ignites, you can release the knob and the pilot will stay lit. To turn your log set off, you'll simply turn the knob to the "Off" position. If the flame goes out for any reason, the system automatically shuts off your gas supply.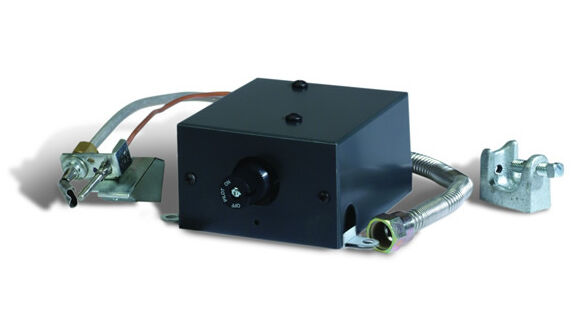 Modified Safety Pilot Kits - A modified safety pilot system is an SPK that has a motor connected to the gas valve. Instead of lighting your log set with a control knob, you'll be able to connect a remote control or variable control to it for user-friendly, On/Off operation.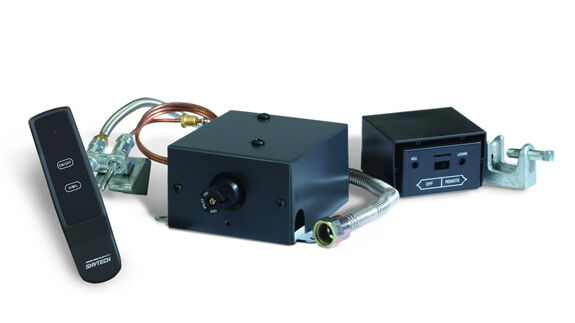 Millivolt Valve - A millivolt gas valve is similar to an SPK, but instead of relying on a thermocouple, a millivolt gas valve uses a thermopile. The thermopile generates a larger millivolt current than a thermocouple, allowing you to connect a remote control, wall switch, timer, or thermostat to the gas log set. Millivolt systems don't require external power since they operate solely off the pilot light, which continuously stays lit.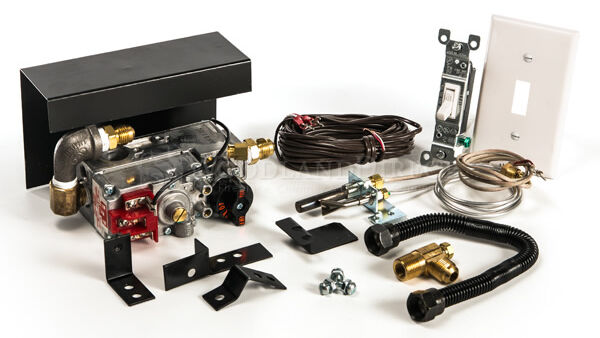 Electronic Valve - Electronic ignition systems are the safest and most convenient way to operate your log set. Some require a source of power, but most are battery-operated. With an electronic gas valve, the pilot will not stay lit. Instead, you can turn the pilot light on and off and adjust the flame height on your gas log set using a remote control, a wall switch, or a switch on the gas valve.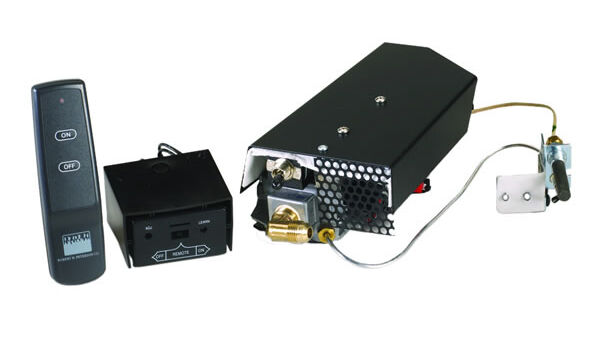 COMPONENTS OF A GAS LOG SET
Gas Valve
Pilot Assembly
Burner
Steel Grate
Logs
Sand or Vermiculite
Glowing Embers
Damper Clamp
Assembly Accessories
Sizing for gas logs is determined by the manufacturer. Always check the sizing requirements and recommended clearances before purchasing a gas log set to ensure you are getting the correct size.
Improperly sized gas logs can overheat your firebox and the gas valves, which can cause permanent damage to your log set, fireplace, and home.
HOW TO FIND THE RIGHT LOG SET
Generally, taking a few quick measurements can help you estimate which size gas logs will fit your fireplace. To get the proper fit, measure the front width, rear width, depth, and height of your firebox.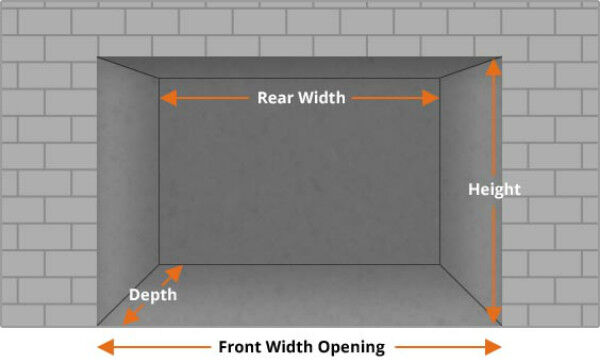 If you need assistance with measuring your firebox or would like to get an expert opinion, our Master Hearth Professionals are here to help. Call us at (844) 264-2855 and one of our NFI Certified experts will ensure you find the log set that's the perfect fit for your fireplace!