First, You need to find out if the ceiling on your covered patio is high enough to house a fire pit underneath. Heat from the fire will go straight up and may cause extensive damage to the ceiling over time, and could even result in a fire if it's too close.
Check the manufacturer's minimum required height clearance and your city's codes and regulations to make sure it's okay to put a fire pit under your covered patio.
You should never use a fire pit in an enclosed space. Smoke is highly toxic and can build up quickly if a fire is not properly ventilated.
Check the manufacturer and city requirements to determine how much of your structure should be open to allow for proper air flow.
Next, check with your city and the manufacturer instructions to find out the minimum distance required for the fire pit location.
Your space should be clear, open, and free of low-hanging trees, plants, and other material that catches fire easily.
Finally, you need to consider the type of flooring you have on your patio. Wooden, composite, and vinyl flooring are combustible surfaces and you will need to take care when selecting a fire pit to use on top of them.
Stone, brick, and concrete flooring are the safest options. Read more about the best surfaces for your fire pit here!
Pro Tip:

Fire pits should never be used in an enclosed space. If not properly ventilated, a fire pit will cause a buildup of toxic smoke and harmful gases, like carbon monoxide. Always use a fire pit in an open space with plenty of air flow.
Wood burning fire pits should not be used under a covered patio. Wood produces thick, toxic smoke and if there's not enough air flow, it can build up quickly and deplete the space of oxygen.
Wood fires also produce sparks and embers, which can fly out and ignite any combustible materials close by. It's best to use a wood burning fire pit in an open area with plenty of ventilation, away from combustible materials.
A gas fire pit can often be installed under a covered patio, but the fire pit must be pre-approved by your city first.
You also need to confirm that the ceiling height, ventilation, location, and flooring of your outdoor space meet the manufacturer's requirements, prior to installation.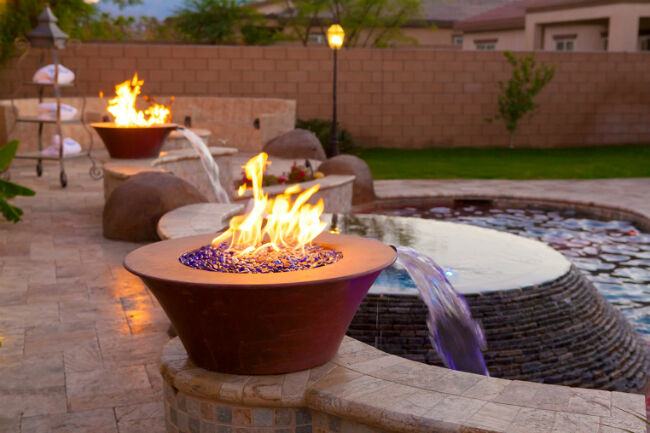 For the safest burning experience, always keep a fire extinguisher within reach.
SAFEST OPTIONS FOR YOUR COVERED PATIO
The safest options to bring ambiance and warmth to your covered patio are patio heaters or an outdoor fireplace.
Both come in a variety of shapes, styles, and fuel types to fit your individual needs. However, you'll still need to make sure they are approved for use in your outdoor space.
If your number one priority is to add heat to your outdoor space, patio heaters are the best option. They come in many different sizes and are either fueled by gas or electricity.
Electric patio heaters can be wall-mounted or installed in the ceiling of your structure to provide constant warmth as you lounge below. They are completely safe for use in enclosed spaces and can even be used indoors.
Gas patio heaters come in both wall-mounted and free-standing units. Propane patio heaters are very convenient if you want a portable heat source.
Always keep in mind, though, gas patio heaters are still combustion appliances and will require some ventilation and clearance to combustibles.
Outdoor Masonry Fireplaces
A traditional outdoor masonry fireplace will provide the rustic experience you might be craving with a wood burning fire pit. You can create a custom fireplace or install a factory built wood burning fireplace.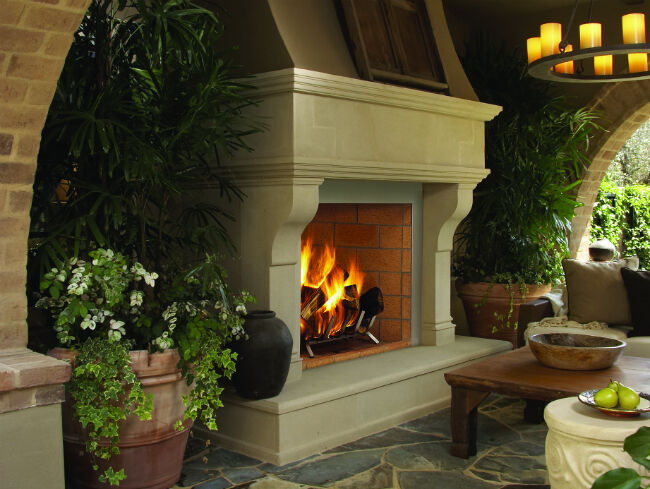 Wood burning fireplaces still produce smoke and require a manufacturer approved chimney for proper ventilation. The fire will need to be carefully watched and extinguished properly before you head inside.
Outdoor gas fireplaces are a great option if you want to add ambiance and warmth to your outdoor space. They are much more efficient than wood burning styles and provide more radiant heat overall.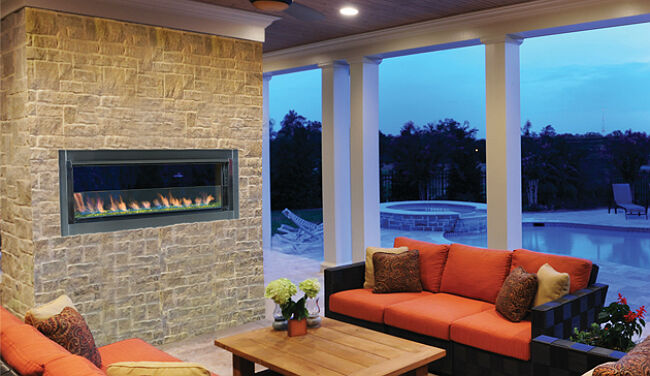 Gas fireplaces come in Ventless styles, which don't require a chimney system and can be installed in combustible walls. This means you can install one pretty much anywhere!
They can be controlled with a remote or a wall switch, making it very easy to turn them on and off.
Indoor/Outdoor See-Through Fireplaces
See-through fireplaces have a glass front and back letting you view the fire from either side, like a window with fire in the middle.
They can be stand-alone units or installed in an exterior wall of your house letting you enjoy the ambiance and heat from inside or outside your home.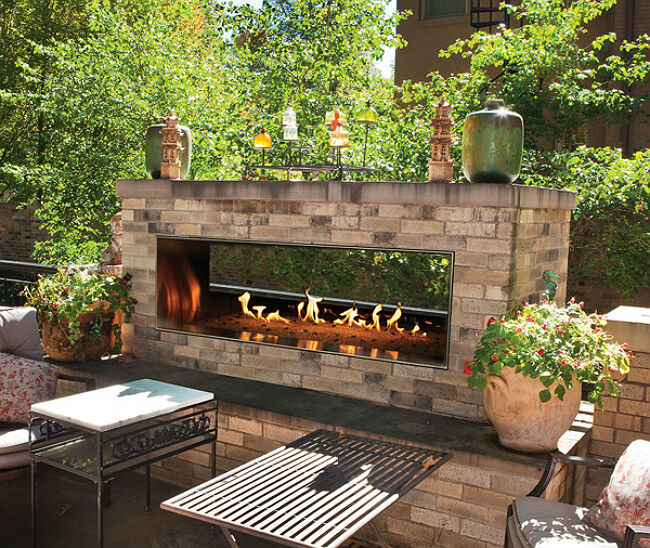 See-through fireplaces are very popular for their contemporary design, dual purpose, and ease of use.
Before installing any type of fire pit under your covered patio:
Research your city's codes and regulations
Pick out some fire pits you like
Check the manufacturer requirements for each fire pit to make sure they can be installed under your covered patio
Narrow your list down until you've found the best fire pit for your space
If a fire pit can't be installed under your patio structure, patio heaters and outdoor fireplaces are great alternatives!