A great fire pit isn't complete without its powerful main component — a burner. If you're concerned about flame size, presentation, gas usage, and heat output, then choosing the right burner for your gas fire pit is crucial.
Since there are so many different burner shapes, sizes, and styles to choose from, we've put together a list of our top 5 gas fire pit burners to help you find one that will meet all your expectations and more!
#1 30" ROUND MATCH LIT CROSSFIRE BURNER SYSTEM by Warming Trends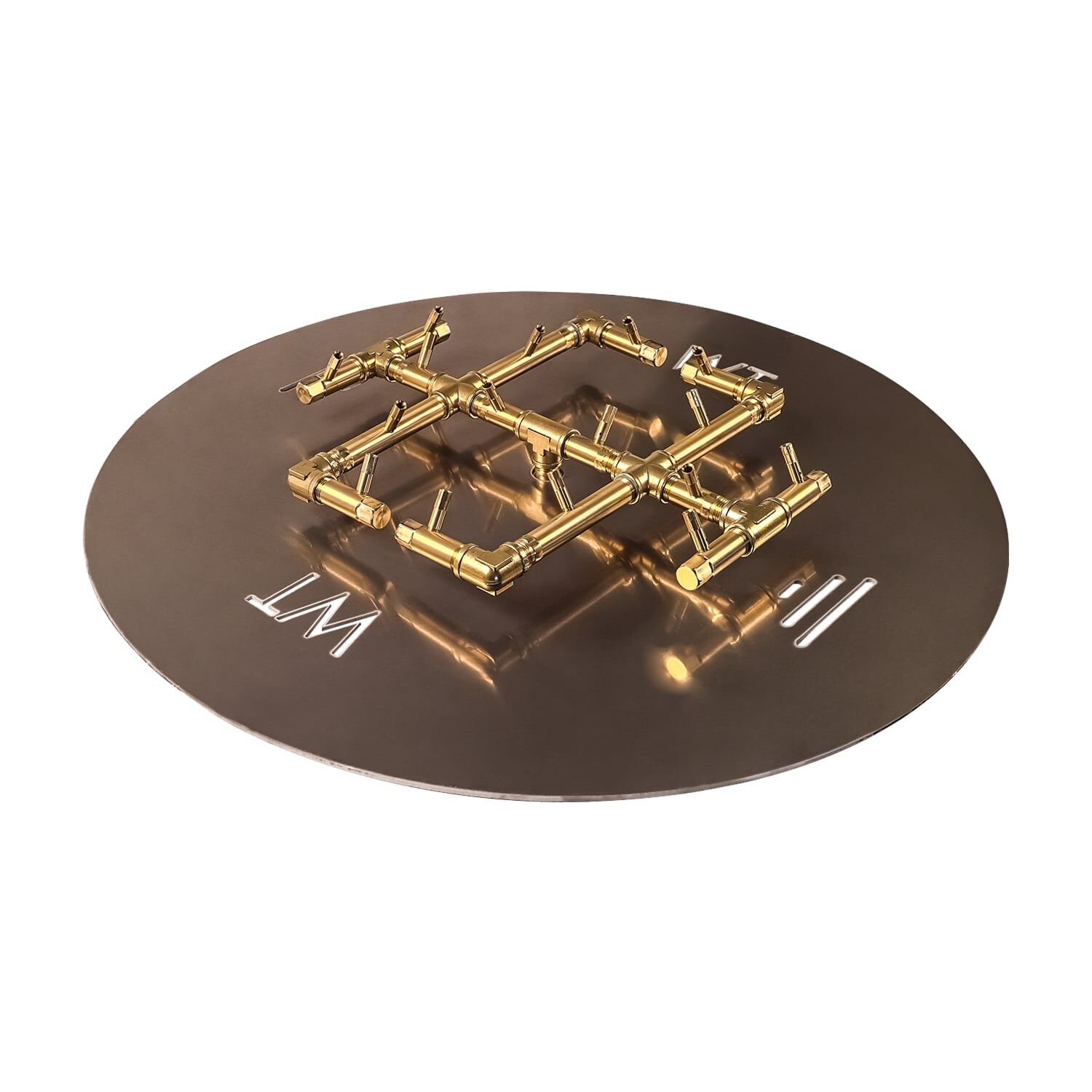 What Makes It Great:
Building your own fire pit? With a 180,000-BTU output, powerful air-to-gas ratio, and corrosion-resistant brass construction, the Round Match-Lit CROSSFIRE Burner System has all the elements you'll need to complete the project.
Key Features:
The CROSSFIRE saves fuel by using revolutionary Venturi Jet Technology to create supercharged flames, while its manual match-lit ignition system reduces the cost of building a DIY fire pit. An optional cover protects the burner from weather-related damage, keeps out debris, and prevents curious critters from moving in.
#2 54" EI SERIES ROUND PENTA BURNER FLAT INSERT by HPC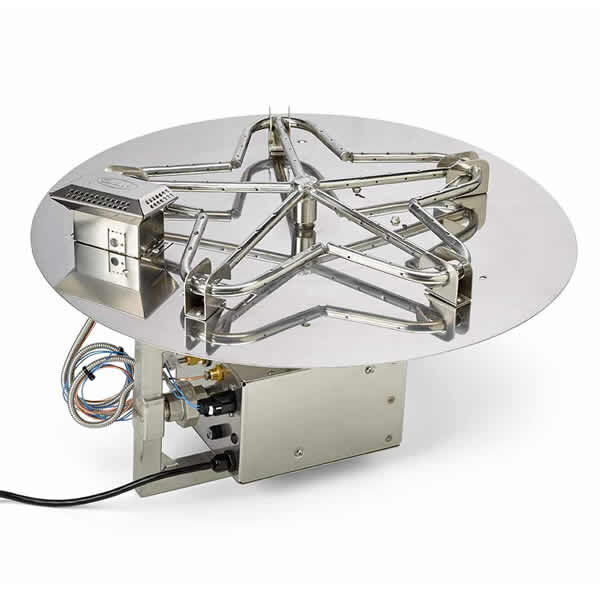 What Makes It Great:
Create the ambiance of a real campfire with HPC's EI Series Round Penta Burner! Compatible with Natural Gas and Liquid Propane, the burner features a unique star shape and precision-positioned gas outlet to evenly disperse gas flow. The result? Beautiful, authentic-looking flames, even at the lowest setting.
Key Features:
The Penta's remote-operated electronic ignition allows you to control the fire from the comfort of your seat. You can also download the Bluetooth-enabled HPC Fire app and pair your mobile device to the fire pit. The app lets you quickly start, stop, and adjust the fire and includes a shut-off timer and temperature gauge. Secure your fire pit pan with the optional installation collar, then add a realistic outdoor log set for a rustic finishing touch.
#3 46" MATCH LIT CROSSFIRE H-BURNER SYSTEM by Warming Trends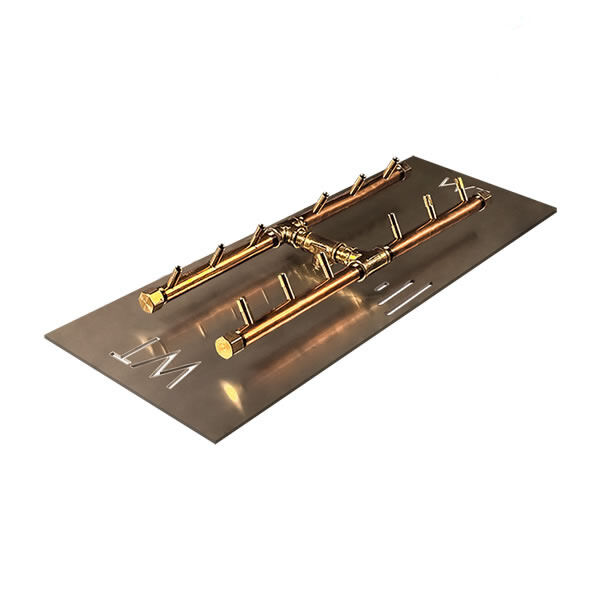 What Makes It Great:
If you're looking for a unique flame pattern, then Warming Trend's Match Lit CROSSFIRE H-Burner System is the way to go. The burner's dynamic air-to-gas ratio and 240,000 BTU output make it great for heating large spaces. Plus, it only uses half the fuel of standard fire rings!
Key Features:
The 46-inch CROSSFIRE H-Burner is made of 100 percent brass for long-lasting performance and can be used with both Natural Gas and Liquid Propane. Gain more control with the optional key valve, which lets you safely adjust the flame height to your liking and lock it in place.
#4 RECTANGLE DROP-IN PAN WITH H-BURNER by Athena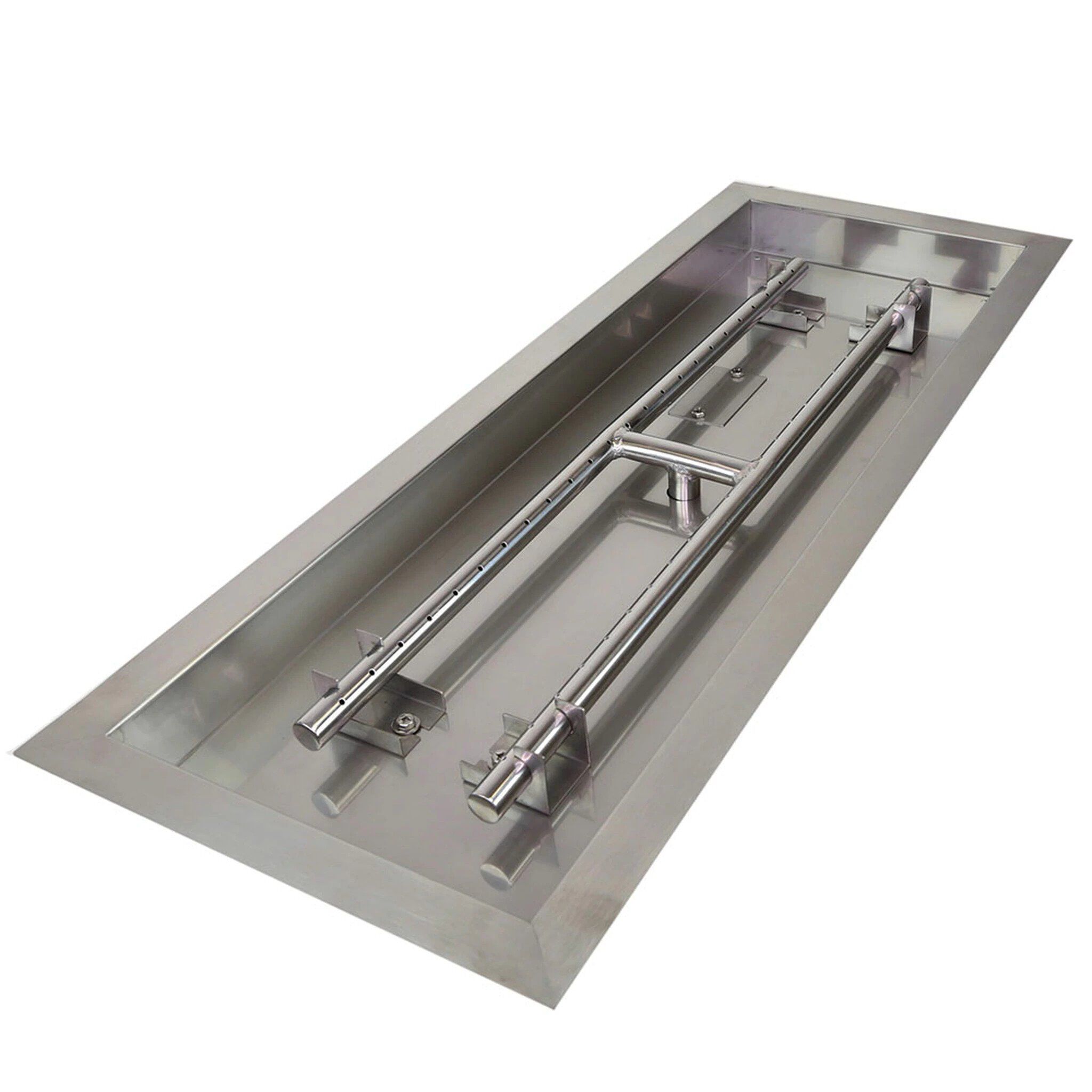 What Makes It Great:
Resilience is just as important as style, and in this case, you get both. The H-shaped burner from Athena is made from hard-wearing stainless steel and rests in a rectangular drop-in pan. Choose from 24-inch to 48-inch models to find the perfect fit for your fire pit.
Key Features:
The Athena burner offers different ignition options and works with Natural Gas or Liquid Propane. Choose the standard Match-Lit or Electronic ignition models, or upgrade to the Weather Beater Electronic Control System. Powered by a microprocessor, the Weather Beater system senses if the flame goes out, then relights it automatically. If the fire doesn't reignite, the system stops the flow of gas. The system can be operated by your choice of wall switch, pool controller, or hand-held remote and can even connect to your smart device via Bluetooth or Wi-Fi.
#5 42" HPC EI SERIES SQUARE PENTA BURNER FLAT INSERT by HPC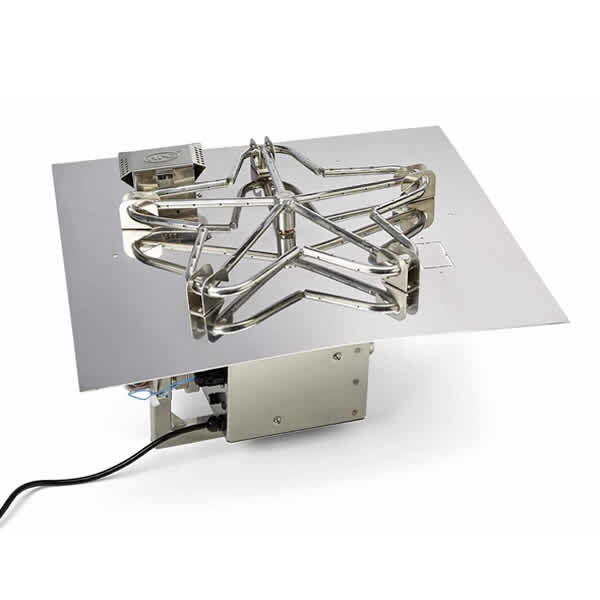 What Makes It Great:
Heating a large space is no issue for HPC's EI Series Penta Burner Flat Insert, which produces 400,000 BTUs for massive flames and optimal warmth. Since the burner is remote-operated, you'll also have complete control right at your fingertips.
Key features:
Choose from two burner options, including the standard On/Off model and the upgraded Variable Flame model with a 45 percent turn-down for ultimate flame control. A built-in auto On/Off function monitors internal temperatures, voltage, and flame status, while the option to add an Emergency Stop button makes the burner ideal for commercial installations. For even more control, you can pair a mobile device to the burner via Bluetooth. Protect your investment from the elements by adding a wind guard and durable vinyl or copper fire pit cover.
WE'RE HERE TO HELP
If you have questions about installation requirements or need help choosing the right gas fire pit burner for your project, we'd love to help! Call our team of NFI certified experts at 800.919.1904 today.