There's no better way to create an outdoor escape than with the beautiful allure of an outdoor fireplace!
Gas outdoor fireplaces offer you the same ambiance and warmth as traditional wood fireplaces but with better efficiency, smoke-free fires, and cool features like multi-colored accent lighting, adjustable flames, and convenient controls.
We've rounded up the top five outdoor gas fireplaces based on quality, design, customer satisfaction, and ease of use to help you find the best one for your outdoor space!
#1 60" CAROL ROSE LINEAR OUTDOOR GAS FIREPLACE by Empire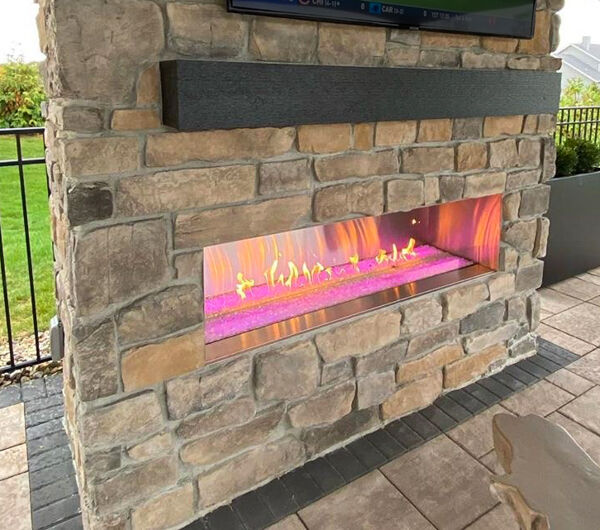 What Makes It Great:
With a stunning 60-inch linear design, 65,000 BTU output, and programmable settings, the Carol Rose Outdoor Gas Fireplace will add a cool yet cozy vibe to your modern outdoor room. The stainless steel firebox and Clear Frost crushed fire glass media create a larger-than-life flame display you'll want to curl up next to day or night.
Key Features:
Three flame settings and Integrated LED lighting in seven vibrant colors allow you to adjust the ambiance to match your mood. Glass deflector panels protect the flame display from windy conditions and an optional stainless steel cover keeps the fireplace safe from harsh weather when not in use.
#2 VRE4543 LINEAR OUTDOOR GAS FIREPLACE by Superior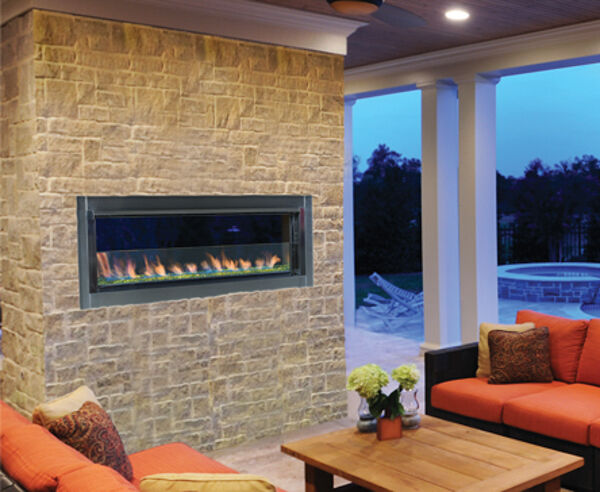 What Makes It Great:
Featuring a 43-inch open-front configuration and sleek, linear design, the Superior VRE4543 offers you the versatility of a Ventless fireplace without compromising on looks or performance. Three flame settings offer you precise heat control while mood-enhancing interior lighting creates the perfect ambiance in any season.
Key Features:
Heavy-duty stainless steel construction ensures the VRE4543 can withstand anything nature throws its way for long-lasting outdoor enjoyment. The included remote control makes it easy to adjust the flame height from the comfort of your seat, and an electronic ignition system with battery backup ensures smooth operation even during a power outage. Choose between Liquid Propane or Natural Gas configurations and an array of colored fire glass to match your surrounding decor.
#3 48" CAROL ROSE LINEAR OUTDOOR GAS FIREPLACE by Empire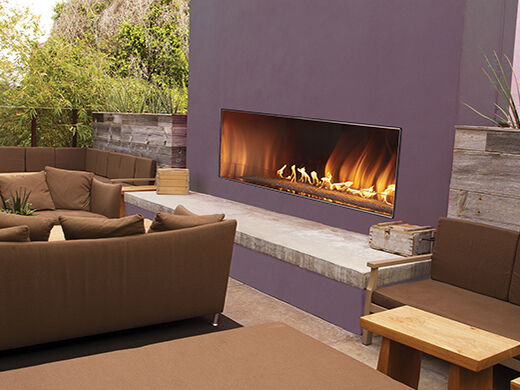 What Makes It Great:
Light up your patio with the radiant design and alluring flames of the 48-inch Carol Rose Linear Fireplace! Stainless steel construction, an integrated LED lighting system, three flame settings, and 55,000 BTU heat output create a stylish focal point you'll want to gather around again and again. Adjust the flames and program the lighting to your desired speed and intensity to achieve the perfect ambiance for any occasion.
Key Features:
Available in both Liquid Propane and Natural Gas configurations, the Carol Rose features a push-button ignition system with flame-sensing technology for added safety. Add on the optional drain tray, stainless steel cover, and taller glass deflector panel for the ultimate wind and weather-proof outdoor fireplace.
#4 42" VILLA OUTDOOR GAS FIREPLACE by Majestic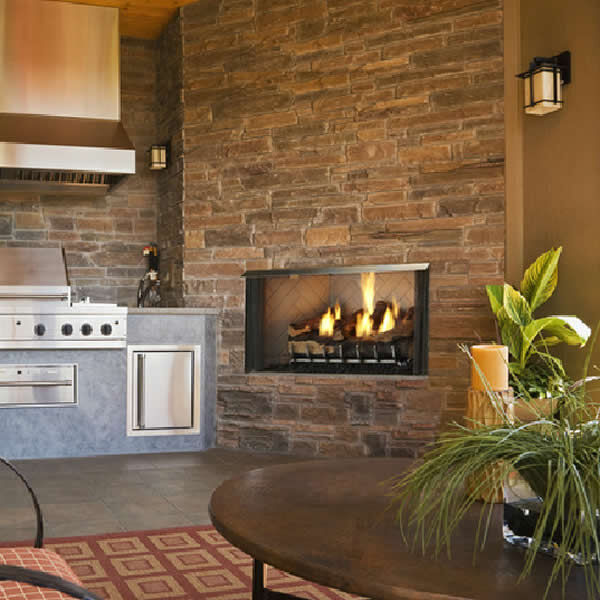 What Makes It Great:
For a traditional fireplace that blends seamlessly into your outdoor space, look no further than the Villa Outdoor Gas Fireplace! Its Vent-Free design and compact sizing offer versatility when it comes to choosing a location. The stainless steel surround provides durability and looks great paired with an outdoor kitchen.
Key Features:
Achieve an authentic masonry look without the hassle of a wood fire with your choice of traditional or herringbone brick interiors and optional stainless steel mesh doors. For added protection and safety, the Villa comes equipped with a stainless steel safety screen to keep debris out of the fireplace and a safety pilot ignition system, which automatically turns off the gas supply if the flame is extinguished.
#5 MAHANA PL42VO VENTLESS OUTDOOR GAS FIREPLACE by Montigo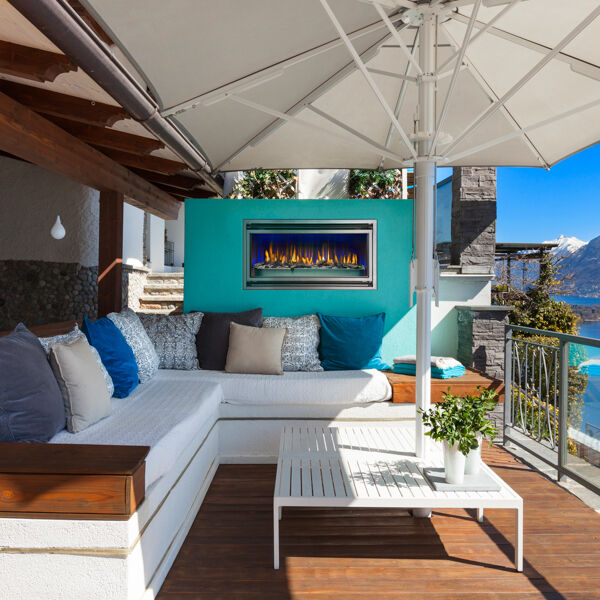 What Makes It Great:
The gorgeous design and luxurious customizations of the Mahana PL42VO will transform your outdoor living space into a modern outdoor escape. Your choice of fuel-type, media, a multi-colored LED lighting kit, and powder-coated enclosure make it easy to tailor the Mahana to your needs and aesthetic. The electronic ignition system features an outdoor approved control system and pairs with an optional remote for effortless control of the fire.
Key Features:
The Mahana is constructed of high-quality 304-grade stainless steel and is equipped with a full glass door and Invisimesh screen for superior wind and weather resistance. Built-in dual blowers work to efficiently distribute the 28,000 BTU heat output creating an eight-foot radius of warmth around the fireplace and ensuring you and your guests stay warm, even on chilly evenings.
If you have questions about installation requirements or need help choosing the best gas fireplace for your outdoor space, we'd love to help! Call our team of NFI certified experts at 800.919.1904 today.