Hanging a TV over a fireplace is one of the hottest home design trends, and it's easy to see why. It creates a clean and elegant look by combining your fireplace and entertainment zone into one central focal point.
While hanging a TV above your fireplace looks great, there are a few safety considerations you'll need to make before you can complete your project.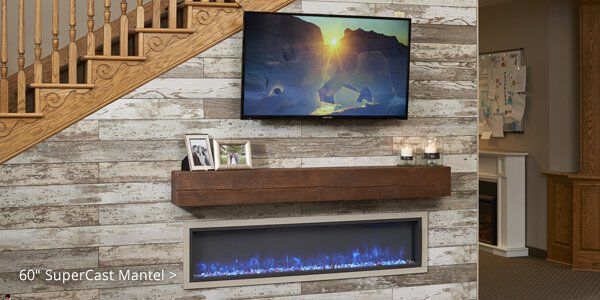 HOW TO PROPERLY MOUNT A TV OVER YOUR FIREPLACE
If you do plan on hanging or mounting a TV over your fireplace, there are three things you should do.
First, you should place a mantel over or around your fireplace. A fireplace mantel will block some of the heat rising up from your fireplace and help to keep your TV cooler.
The Outdoor GreatRoom offers Supercast mantels that are made of non-combustible fiber glass-reinforced concrete. They're much more durable than an average mantel and can absorb more heat than usual.
Second, you should recess your TV into the wall, especially if you skip the mantel. Recessing your TV will further isolate it from the heat coming from your fireplace.
When doing so, however, make sure to follow any advice in your TV owner's manual regarding clearance between the TV and the wall.
Third, always follow proper clearances. Your fireplace owner's manual should specify how far away your fireplace needs to be from combustible materials.
This advice should be followed for your TV, as well— make sure you hang or mount it at least as far away as your fireplace's required clearances.
WOOD VS GAS VS ELECTRIC FIREPLACES
If you only want the look of a fireplace with your TV, an electric fireplace is an excellent choice.
This type of fireplace is the best scenario for hanging a TV because many electric fireplaces produce no heat at all. This makes them completely safe for the electronics in your TV.
There are many great electric fireplaces out there, but if you want the most realistic looking flames, consider an electric fireplace by Modern Flames or Dimplex.
The Modern Flames Fullview Series uses energy-efficient LED flame technology to create a glowing fire with or without heat, while the Dimplex Opti-Myst Series uses ultrasonic technology to create a highly convincing flame effect.
Some Opti-Myst models even crackle like a real fire with pulsating faux logs. Both series are completely safe and will look great below your TV.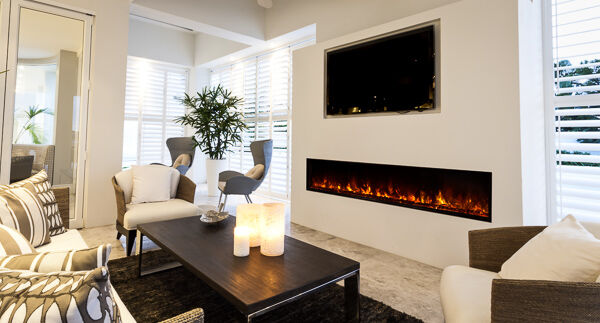 A wood-burning fireplace is one of the better scenarios for hanging a TV over your hearth.
With the way a wood-burning fireplace is designed, a significant portion of the heat is exhausted through the chimney, rather than entering the room and reaching your TV.
Unlike a regular wood-burning fireplace, a wood-burning fireplace insert is one of the worst scenarios for hanging or mounting a TV.
These inserts produce a great amount of heat, and a lot of it is likely to reach your TV.
Direct Vent Gas Fireplaces
A fair amount of heat comes off the glass face of a direct vent fireplace, so you should consider investing in a blower to push the heat out and away from your TV.
A blower is often offered as an accessory with a direct vent fireplace. In some cases, you
can also add one as an after-market accessory. Call our technical team at 844.266.5492 to find out if your existing Direct Vent fireplace qualifies.
Empire and Superior both make safe direct vent fireplace options to install under a TV.
The Contemporary Boulevard Direct Vent Fireplace by Empire is one of our most popular direct vent fireplaces. It features a sleek, customizable design and large ceramic glass front for optimal viewing and maximum heat output.
The DRL4543 and DRL3000 by Superior are also hugely popular for their beautiful dancing flames, customizable heating controls, and convenient battery backup.
Since Direct Vent fireplaces produce quite a bit of heat, you'll need to check the clearance requirements in the installation manual to determine your TV will be mounted a safe distance above the fireplace.
Ventless Fireplaces & Vent-Free Gas Logs
Ventless fireplaces and Vent-Free gas logs are designed to circulate the air in your home, so they don't draw any fresh air from outside.
Because of this, all the heat that they generate stays in the room with your fireplace, so your TV is likely to get quite hot.
Please note that Woodland Direct does not recommend hanging a TV over your wood-burning or gas fireplace, and we take no responsibility for any damage that may result from doing it.
Heat and electronics don't mix. When delicate circuitry gets hot, it stops functioning—which is why many electronic devices (like TVs and computers) have vents.
So, it goes without saying that most TV manufacturers do not recommend hanging a TV over a fireplace. In many cases, it will void the warranty.
Before you hang or mount your TV, check your TV owner's manual. You should also check the owner's manual for the fireplace over which you're planning to hang the TV.