More and more homeowners are opting for outdoor fire features to elevate their spaces and accommodate comfortable backyard gatherings year-round.
There are several ways to create more ambiance in an outdoor space, including fire pits, fire tables, outdoor fireplaces, custom outdoor kitchens, fire columns, patio heaters, and tiki torches.
Fire pits and outdoor fireplaces are the most sought-after design features because they provide a cozy central gathering spot for guests, and come in a variety of shapes, sizes, and configurations to accommodate any kind of space.
No matter which fire feature your client chooses, the installation process will require careful planning. We've outlined three important project planning tips below to help you successfully boost your business with outdoor fire features.
When it comes to planning a fire feature installation, timing is everything. The sooner you start ironing out the details of your client's project, the better.
Creating a timeline is key to staying organized and making sure every step of your client's project is completed, especially if you are working on multiple projects at once.
January is the ideal time of year to start planning projects your client would like to have finished by the spring, as the standard amount of time required to complete a project from start to finish is about 60-90 days.
Since the start of the COVID-19 Pandemic, many manufacturers have experienced lead time issues and shipping delays due to increased demand and global supply chain shortages. It's crucial to start the planning process for your client's project early to make sure the product they've selected is available and can be received to complete the project on time.
Only licensed gas professionals are permitted to install fire features. If you have the proper certifications and training, you can complete the installation yourself. If not, you'll need to hire a licensed gas professional who must be thoroughly educated about the product your client has selected.
If you have other professionals you are working with on the project, such as contractors, builders, or designers, it's important to make sure they all have as much time as they need to learn about your client's specific fire feature. This way, you can provide your client with the most accurate installation quote.
#2 DETERMINE YOUR CLIENT'S FUEL SOURCE
Before you start planning your client's fire feature installation, you will need to determine what kind of fuel source your client has available on-site.
There are two gas options to choose from – Natural Gas and Liquid Propane. Ultimately, the final decision will be based on how permanent your client would like their fire feature to be and what fuel-type is available on-site.
If your client decides to go with Natural Gas, a licensed and trained gas professional will need to hard-pipe a Natural Gas line to the product. It's crucial to install the correct size gas line to make sure the fire feature receives enough gas to meet the burner's BTU requirements.
Once the gas line is connected to the fire feature, it will have a constant fuel source. The steady flow of gas means your client won't have to worry about running out of fuel and will be able to choose a fire pit with a higher BTU output for larger flames and more warmth.
The client will also be able run a Natural Gas line to multiple fire features, including fire pits, outdoor kitchen appliances, outdoor fireplaces, gas patio heaters, and tiki torches.
If your client is looking for a portable fire feature that requires minimal installation, Liquid Propane is the way to go. You'll simply hook up a propane tank to the fire feature, check for gas leaks, and turn it on.
While installing a Natural Gas line is more expensive, relying on Liquid Propane may come with hidden costs, including Propane tank enclosures and replacement tanks. Using Propane also limits BTUs, which will result in a smaller flame size than Natural Gas fire features.
If your client doesn't like the idea of seeing the Propane tank, there are fire pit and fire table styles available that hide Propane tanks from view.
These hidden-tank fire features house the Propane tank in the base and include an access door to easily tend to the tank or swap it out when it's empty.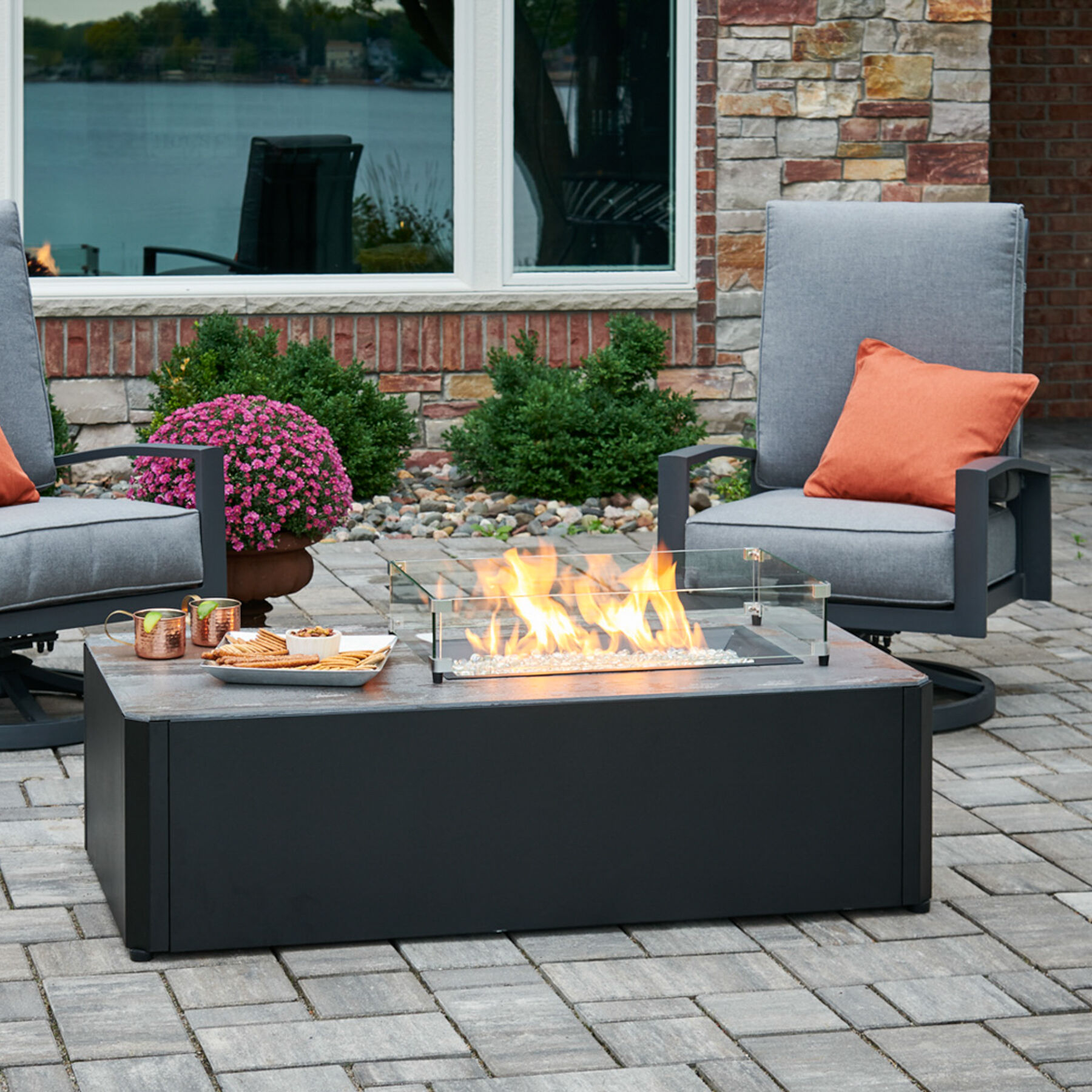 Styles that can't hide the tank underneath require it to be stored outside of the fire feature, usually within 10 feet. In this case, a matching Propane tank enclosure may be available to match your client's product.
#3 CHOOSE SMART HOME TECHNOLOGY
Leveraging Smart home technology is a great way to help your client stay ahead of the competition in terms of safety and convenience.
Many fire features are compatible with Smart home technology, allowing users to control the flame via a dedicated remote or app on their Smart device.
Smart technology requires electricity, so your client will need a supply of power that runs to their outdoor space and a fire feature that's equipped with an electronic ignition system.
If your client doesn't have a supply of electricity in their space, they will need to hire a licensed electrician to install an electrical line.
All electronic systems come with built-in safety features, including a flame-sensing pilot that automatically shuts the system down if the flame goes out to prevent gas leaks. Some electronic ignitions also include timers, which are especially useful in commercial settings.
Pro Tip:

Electronic Ignition Systems are ideal for commercial applications because they provide the highest level of safety. Plus, business owners will have the ability to operate the fire feature from somewhere private and prevent guests from tampering with the control settings.
Electronic ignitions operate with an On/Off wall switch and hand-held, thermostatic remote control, or your client can pair a Smartphone via Bluetooth to the system and control the fire through an app on their mobile device for the ultimate convenience.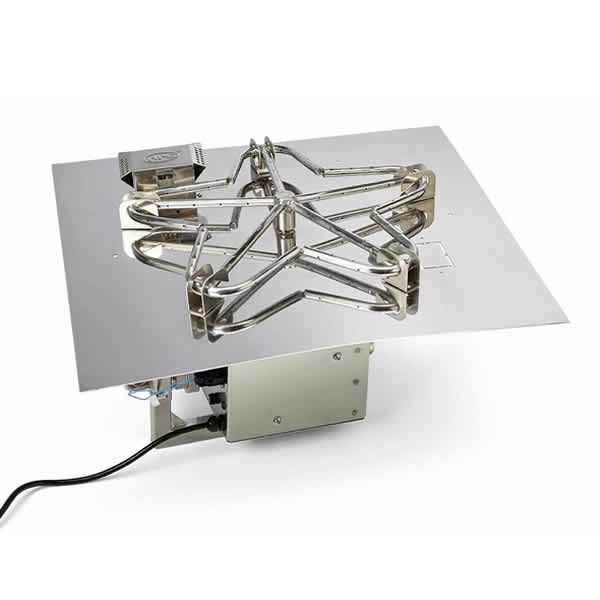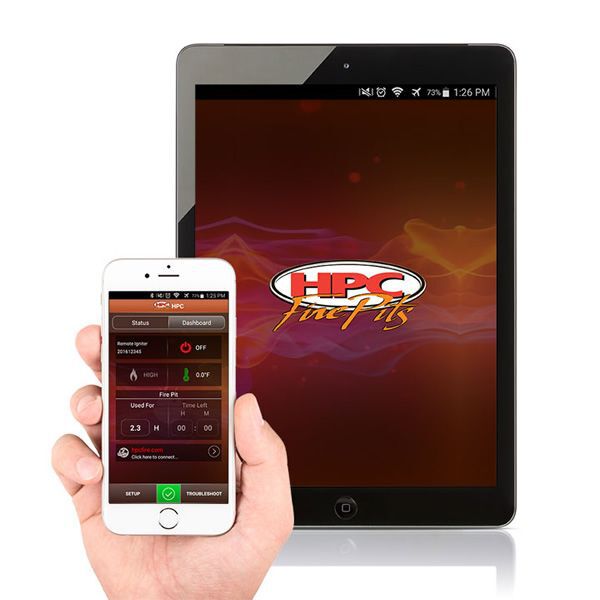 Your client can even purchase a Smart, outdoor-rated outlet to integrate their fire feature into an existing Smart home system, like Amazon Alexa and Google Nest.
Keep in mind, if your client plans to use Smart technology, they will need a fire feature that is connected to a Natural Gas line, as electricity cannot be run to a Propane tank.
WE'RE HERE TO HELP
Have more questions about how you can grow your business with fire features? We'd love to help! Call our team of NFI certified experts today at 800.919.1904.