If you're like most homeowners with a gas fire pit, then you're probably starting to anticipate cozy summer evenings around the fire with family and friends.
Before you can re-open your outdoor retreat, there are a few crucial precautions you'll need to take to ensure your gas fire pit is safe to operate.
Below, we've outlined all the important steps you'll need to follow to guarantee a safe and relaxing fire pit season.
If you live in a colder climate, chances are your gas fire pit has been covered for a few months.
First, you'll need to take off the cover and air it out. If you have a separate cover over your burner, you'll want to remove that, too.
Make sure your gas supply and/or electrical connections to your fire pit are OFF before you start cleaning it.
Remove any debris, such as leaves, ash, dirt, dust, or curious critters that have been trapped, from the inside of your fire pit, in the burner pan, and around the burner area.
Any debris left in the fire pit will burn once you light it, which creates a mess and can even damage your fire pit's burner system or make it inoperable.
Ventilation is crucial for the safe operation of fire pits. Make sure you clear away any debris that may have accumulated in your fire pit's vents to ensure it receives enough airflow.
If you have fire glass in your fire pit, you'll want to remove it — wearing a pair of heavy-duty work gloves to protect your hands — and rinse off any soot or carbon buildup.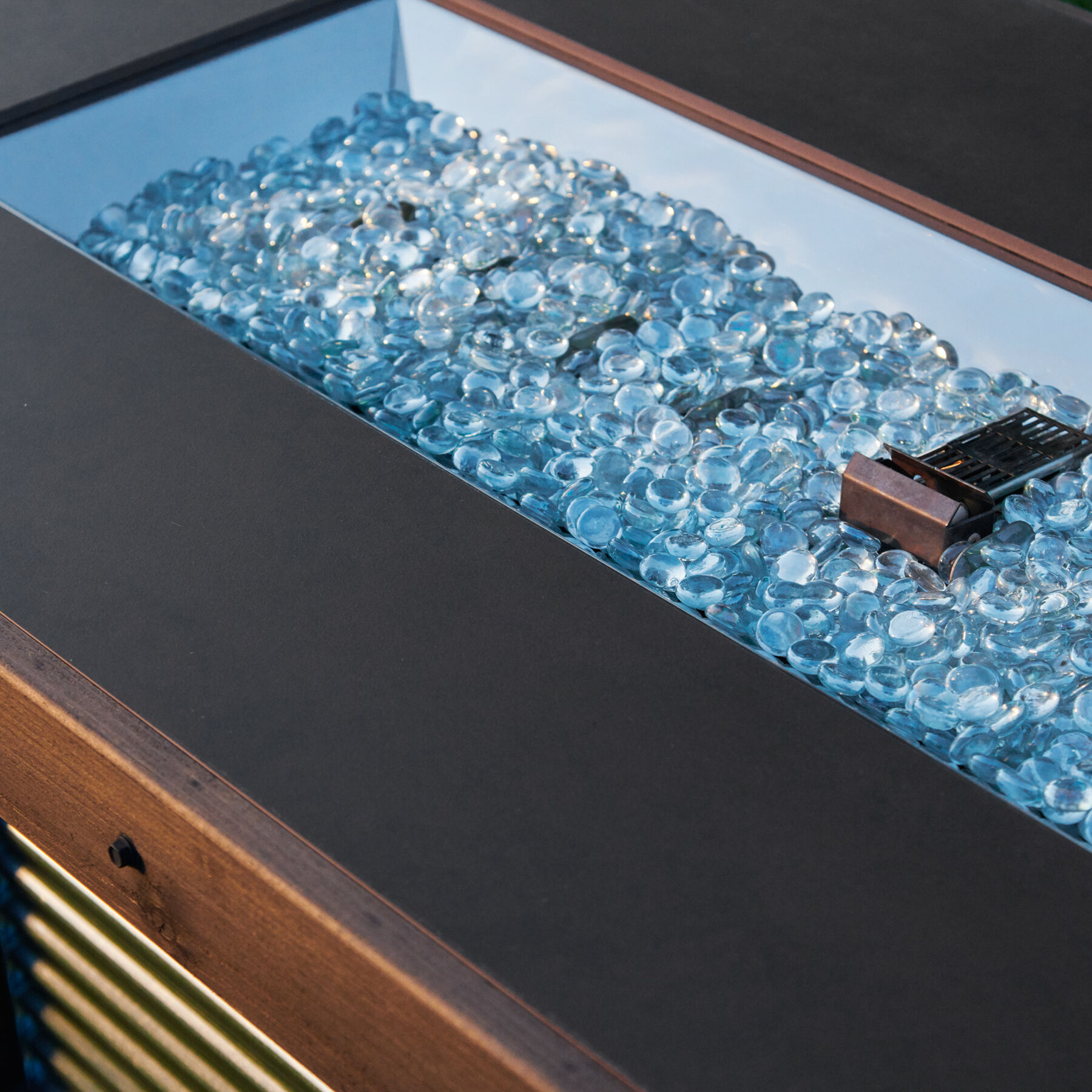 Scrub Surfaces & Look for Damage
Do a thorough cleaning of your fire pit, wiping down the base, exterior, interior components, burner area, and any accessories you've purchased, such as glass wind guards or screens.
You can find a detailed section on maintenance in the installation manual that came with your fire pit to guide you through the cleaning process.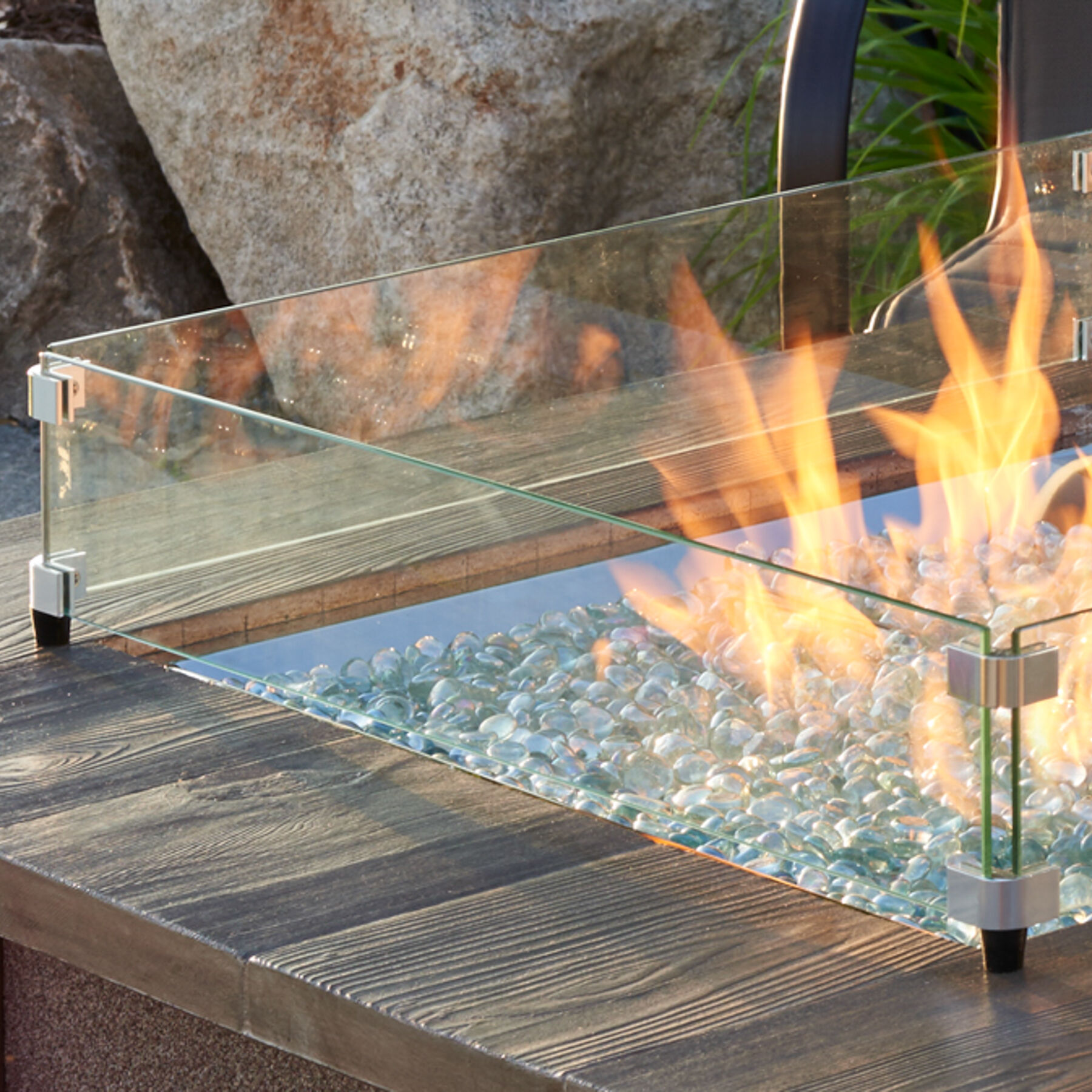 Make sure you scrub away any residual combustible liquids that may have accumulated around your fire pit to minimize the risk of stray flames.
As you clean, look for any cracks, rust, holes, or other cosmetic damage and make a note of any repairs or replacement parts you may need.
STEP 2: CHECK YOUR SURROUNDINGS
Look around the sides, top, and bottom of your fire pit. Has anything in your outdoor space changed since the last time you used it?
If you've made recent landscape renovations, like new plants or trees, or added new furniture, appliances, or outdoor decorations to your space, you'll need to make sure your fire pit still has enough clearance to operate safely. If not, you will need to find a new location for your fire pit.
If you are unsure about clearance to combustibles for your fire pit, you will need to reference the manufacturer requirements outlined in your installation manual to make sure you're in compliance.
Your fire pit should be in an area with plenty of airflow, and never under low-hanging trees or near flammable materials.
Fire pits should also be at least 20-25 feet away from a house or combustible structure. The amount of clearance required on each side of the fire pit and above the burner will depend on which model you have.
Common questions to ask yourself as you evaluate your outdoor space include:
Are there any trees nearby?
Are there any low-hanging plants around?
Is there anything overhead, such as an awning?
Are there powerlines overhead?
What furniture or other design features will be near the fire pit?
Is the fire pit far enough away from the house or other structure?
Is the fire pit sitting on a flat, level surface?
STEP 3: REPAIRS & REPLACEMENTS
While covering your gas fire pit helps preserve its appearance and performance through the colder months, you may still find dents, pits, holes, rust, or broken components as you clean.
Make a list of any damaged or broken parts on your fire pit. We recommend ordering all your replacement parts as soon as possible to ensure your fire pit is ready to go when the spring season arrives!
Additionally, for any repairs and replacements, it's always best to hire a licensed gas professional who can safely and efficiently service your fire pit.
STEP 4: INSPECT THE IGNITION SYSTEM
Manual ignition systems are virtually maintenance-free, because they don't have any moving parts.
If your fire pit has a match-lit or push-button spark ignition, make sure the burner and burner pan are clear of dust, cobwebs, and debris, and check for signs of deterioration. You'll need to replace the battery in your push-button ignition system.
You'll then need to check your gas line for leaks, kinks, dents, or abrasions, as well as the gas shutoff valve and air mixer, if you use Propane as your fuel source.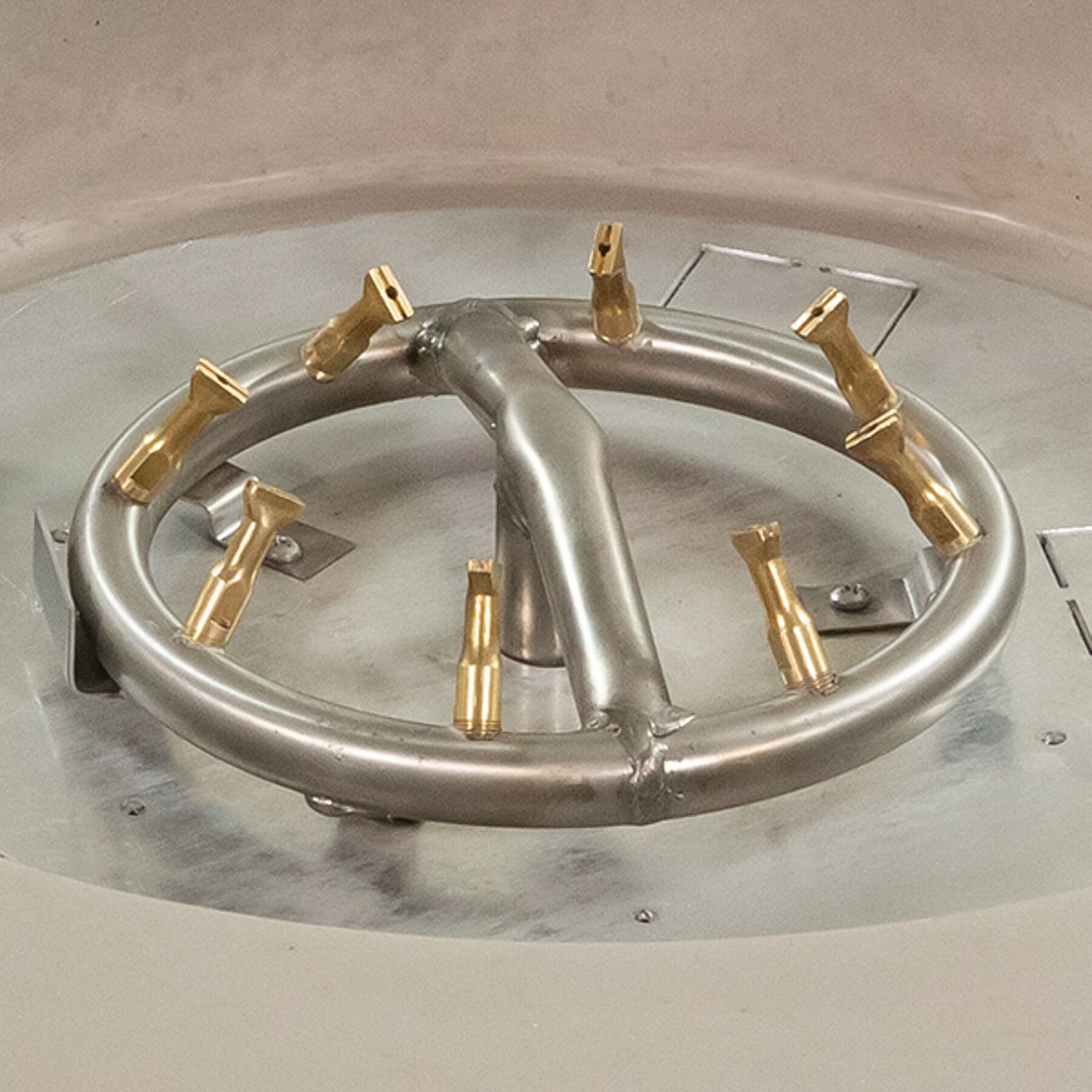 It's important to make sure the pilot light on your fire pit's burner system is still functioning properly, otherwise your fire pit won't stay lit. Clear away any residue or particles on the pilot light before you start using your fire pit again.
If your pilot light is broken, you will need to order a replacement right away, and hire a gas professional to repair your fire pit.
Electronic ignition systems are more complex than manual systems and include essential components that aren't always visible or easily accessible.
For this reason, we recommend hiring a trained gas professional to inspect and service your electronic ignition system. A professional will know exactly which parts to check and how to reach them without disrupting or damaging your ignition system.
You'll also need to consult an electrician to double-check your electrical connections and outdoor-rated outlets.
If your fire pit has a battery-operated ignition system, like the All Weather Electronic Ignition System from Fire by Design, be sure to swap out the old battery for a new one. This will make sure you have a reliable source of power for the entire season.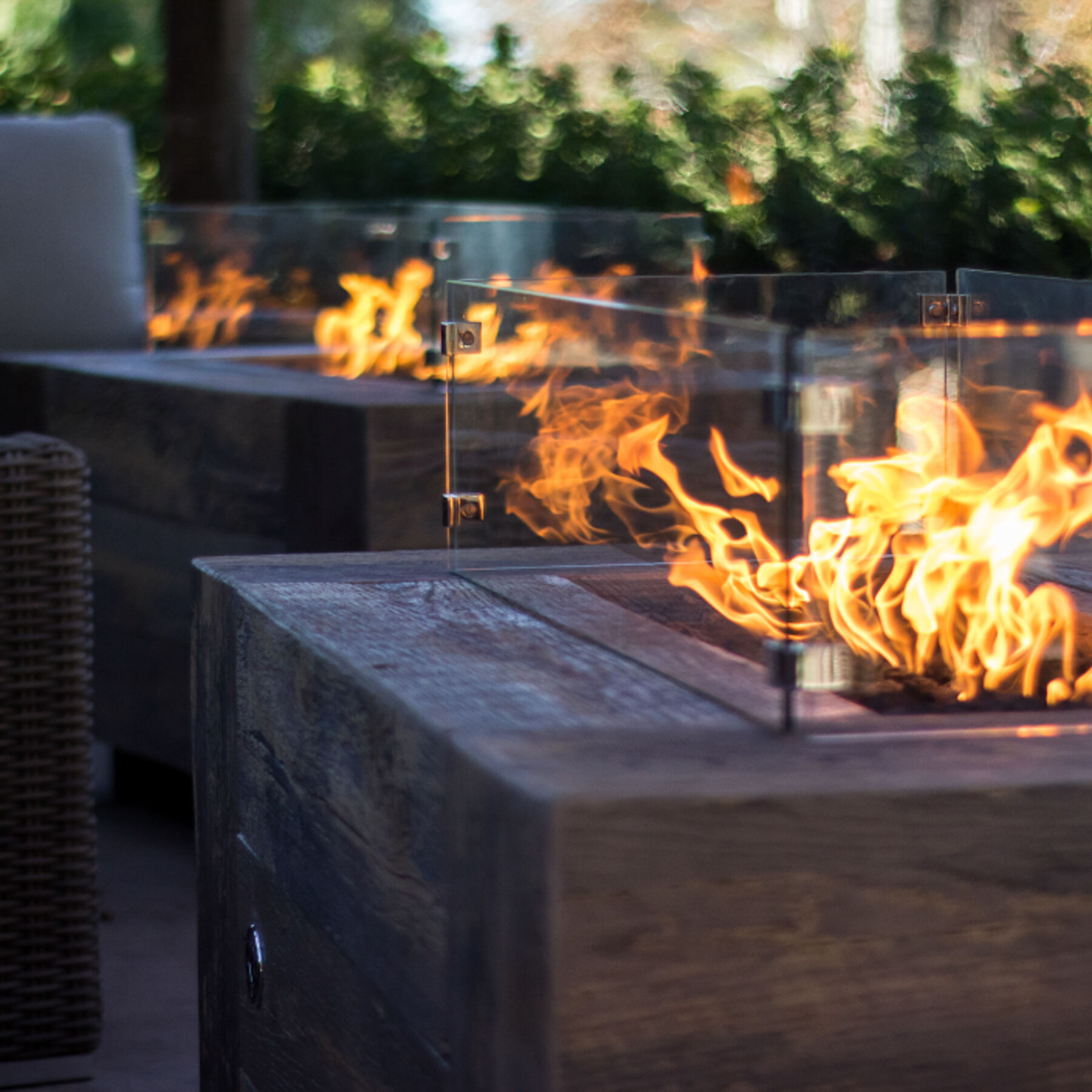 If you have more than one Natural Gas line or multiple electronic ignition points, the best course of action is to hire a gas professional to inspect all your fire features before operation.
STEP 5: START WITH SMALL FLAMES
Before you can crank up the flames on your fire pit, you'll need to run it at a very low setting.
Always make sure your control knobs are in the OFF position before attempting to ignite your fire pit.
When you test-light your fire pit, make sure there is no one around you, especially children and pets. Once your gas supply starts flowing freely again, the fire pit will ignite very quickly.
We also recommend having a small fire extinguisher next to you as you test-light your fire pit, in case unexpected issues arise.
If you begin to hear strange noises after lighting your fire pit, such as gargling sounds, stop immediately! Your gas line may be waterlogged or clogged with debris.
Shut off your gas supply and call a trained gas professional who can safely clear your gas line and check the connection points to your fire pit.
STEP 6: REACH OUT TO THE PROS
Hiring a gas professional to inspect and service your fire pit at the end of a long winter is a small price to pay in comparison to the potential health risks and expensive property damage that may result from repairs done by an inexperienced homeowner.
Protect your investment and guarantee safety for you and your guests by hiring a licensed gas professional who knows exactly what the job calls for.
WHY SHOULD YOU CALL A PRO?
WE'RE HERE TO HELP
Have more questions about preparing your gas fire pit for the season? We'd love to help! Call our team of NFI Certified experts today at 844.267.5869.