BENEFITS OF NATURAL GAS PATIO HEATERS
Easy to use and maintain
Most affordable fuel option
Produce a full range of heat instantly
Permanent installation
Fuel is always available (you'll never run out)
Natural Gas burns clean
Large range of sizes available – small wall/ceiling-mounted units to full-size, ground-mounted units
Ground-mounted units typically heat a larger area than portable Propane heaters
REQUIREMENTS & PERFORMANCE
Natural gas patio heaters require special plumbing and installation. If a gas line isn't already available, you'll need to hire a licensed professional to install a line for you.
Once installed, you'll have a permanent, reliable, instant heat source for your outdoor space. You won't have to worry about running out of gas or having to refill a propane tank. This will save you time and money in the long run.
Wall and ceiling-mounted styles of natural gas patio heaters require an electrical supply, along with the gas supply, to work. Most can plug into a standard wall outlet, but you may need to have the proper wiring installed by a licensed professional.
The power for a gas patio heater is measured in British Thermal Units, or BTUs for short. BTUs tell you how much heat a gas appliance will provide (the higher the BTUs, the higher the heat output).
A typical full-size natural gas patio heater will produce 40,000 BTUs and will distribute heat to an area up to 20-feet in diameter (314 sq ft).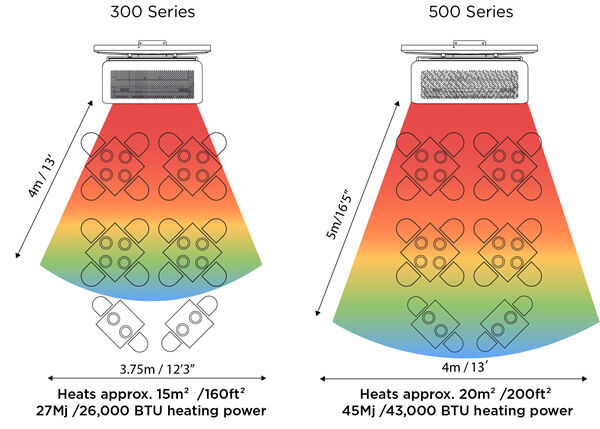 The exact heating range and output will depend on the design of the patio heater and the wind conditions.
Use this simple equation to determine how many BTUs you need to heat your space: Cubic feet of area x desired temperature rise = BTUs needed
The cost of Natural Gas is measured in price per cubic foot. Natural Gas provides an average of 1,030 BTUs per standard cubic foot, but this number can vary between 950 to 1,050 BTUs.
A typical 40,000 BTU patio heater that heats an area of 314 square feet will cost an average of 48 cents per hour to use.
Compared to Propane and electricity, Natural Gas is the least expensive fuel option, but rates may vary depending on where you live and the efficiency of your patio heaters.
There are two main types of ignitions for gas patio heaters - manual ignitions and automatic ignitions.
Manual ignitions use a control knob to control the flow of gas to the patio heaters. Some manual ignitions have a push button that creates a spark to light the gas, while others have a pilot light that needs to be lit manually.
Automatic ignitions use electricity to control and ignite the gas flow to the patio heaters. The patio heaters can be controlled with an on/off switch or with a hand-held remote control.
Both ignition types have built-in safety systems that are designed to shut off the gas flow to the patio heaters if the flame goes out and can't be relit.
Before installing propane patio heaters, always consult the owner's manual to find out the recommended clearance to combustibles (things that catch fire) to determine the proper location for the heaters.
Always maintain these clearances and only use gas patio heaters in an open outdoor space with plenty of air flow.
For the safest options, look for patio heaters that are UL approved and CSA certified. These approvals ensure each heater has undergone rigorous testing to verify that they are a reliable and safe heating appliance.
Before using your natural gas patio heater, read the installation manual thoroughly, so you know how to set it up and use it properly.
You'll need to:
Inspect the heater for damage
Inspect the gas lines, fittings, and hoses to make sure they are working properly
Check all gas connections for leaks (steps listed below)
Natural Gas is odorless on its own, so a distinct smell is added to it to help you identify its presence. The scent is very strong and unpleasant, similar to rotten eggs.
If you smell Natural Gas, you may have a gas leak. Always refer to the owner's manual for help detecting and repairing a leak.
If you suspect a gas leak but don't smell gas, do not start your patio heater and follow these steps:
Prepare a soap solution of equal parts liquid soap and water
Liberally apply the soapy water onto the gas connections with a spray bottle, rag, or brush
If you see bubbles, there is a leak
Turn off the gas supply and tighten the leaking fittings
Repeat step 2
If you still smell gas and can't find the source of the leak:
Turn off the Natural Gas supply
Turn off lights, appliances, and cell phones (anything that can spark)
Leave the area and call your gas supplier, local fire department, or 911
A qualified service technician must determine the area is completely leak-free before you use any Natural Gas-fueled appliances.
If you find the source of the leak, make sure the gas is turned off and disconnected from the heater, before attempting to fix it.
Always follow the manufacturer requirements for testing, repairing, and servicing the heater. A licensed professional must repair your heaters. Do not attempt to do it yourself.
To repair the leak, gas lines, hoses, fittings, and/or connections may need to be replaced. Once all leaks have been repaired, the patio heater will be ready for use.
When you're finished using your patio heater, always turn the control knob off. Once the heater has cooled, use a protective cover to keep it safe from the elements.
Always keep heaters out of reach of children and never leave your patio heater on unattended.
WHY SHOULD YOU HIRE A PRO?
Gas patio heaters are easy to clean and maintain. To keep your heater fully functional, inspect all connections before each use to make sure they are clean and in proper working order.
Extreme temperatures and weather conditions can cause unnecessary wear and tear to your patio heaters. You can prevent this and extend the life of your ground-mounted patio heaters by protecting them with a weather-resistant cover when they're not in use. Make sure your patio heaters have completely cooled before covering.
Before cleaning your patio heater, make sure the gas supply is turned off and fully disconnected. Never disassemble the heater and only clean the outside surface.
Follow the cleaning guidelines provided in the owner's manual. The manual will tell you how often to clean the heater, along with acceptable products and cleaning techniques to use.