If you'd like to enjoy your patio later into the fall and earlier in the spring, adding patio heaters to your outdoor space is the perfect solution. Although they're built to withstand hostile weather conditions and feature watertight, wind-resistant components, outdoor patio heaters still accumulate dust, dirt, and debris that may corrode the finish or compromise the heating elements.
It's important to inspect and clean your gas or electric patio heaters frequently to ensure they function safely and efficiently. Before you start cleaning, read through the installation manual that came with your patio heater. The manufacturer will outline the best cleaning method for your specific unit.
While each patio heater model may have slightly different cleaning instructions, we've provided a few general maintenance steps below to help you keep your patio heaters in perfect working condition for years to come.
STEP 1: CLEAN THE EXTERIOR OF YOUR PATIO HEATER
Patio heaters are typically made from heavy-duty stainless steel or feature a durable, powder-coated finish to outlast harsh elements. The cleaning method you'll use will largely depend on what your patio heater is made of.
Reference the maintenance and cleaning section of your installation manual for a list of approved cleaning products and techniques, along with how often you should clean your patio heater.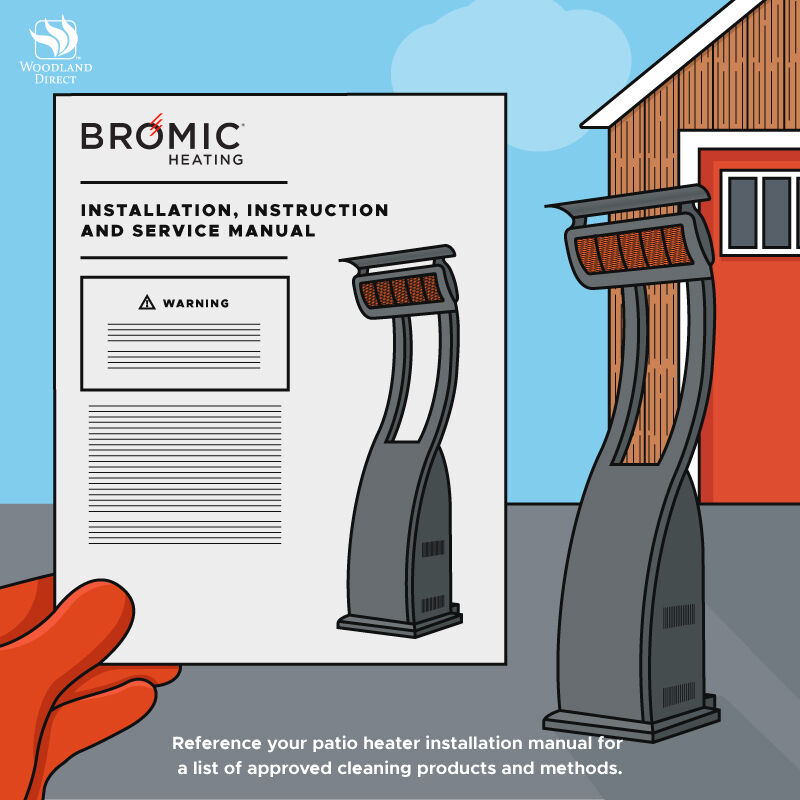 Prior to cleaning, make sure your gas supply is turned off and your heater has cooled completely.
Stainless Steel Patio Heaters
If you have a stainless steel patio heater, you can typically use a stainless steel cleaner and a soft rag to gently wipe away any water spots, rain marks, dirt, dust, and/or debris from its surface.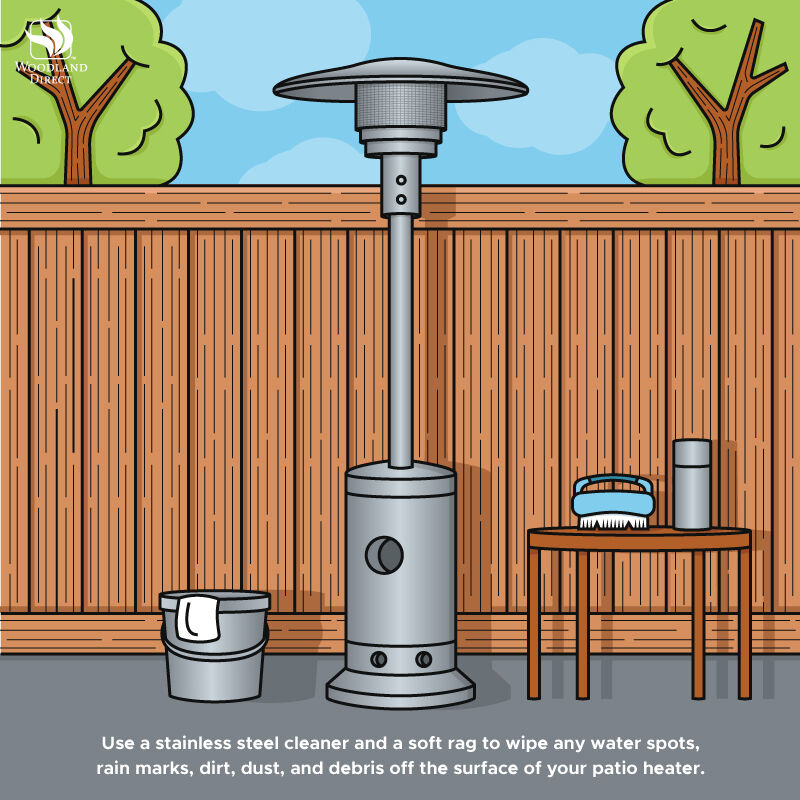 If your patio heater has a brushed stainless steel finish, you can remove stubborn spots by gently scouring the surface with a soft-bristled brush, scrubbing in the same direction as the brushed texture.
Do not use a scrubbing brush on smooth stainless steel surfaces as it may scratch the finish.
Powder-Coated Patio Heaters
Patio heaters with a powder-coated finish can be cleaned using dish detergent and clean water. Never use flammable or corrosive cleaning agents.
Pro Tip:

Be sure to keep the area around the burner and gas control valve completely dry. If the gas control valve is exposed to water, it must be replaced before you can safely use your patio heater again.
STEP 2: CHECK YOUR PATIO HEATER COMPONENTS
Regularly check for any cracks, dents, warping, or loose bolts on your patio heater. If you notice any significant damage, stop using your heater and hire a professional to resolve the issue or replace any parts.
The airflow in your gas patio heater must stay unobstructed. Keep the controls, burner area, and circulating air passageways clear of debris, dust, and dirt.
Signs of a possible blockage include:
Strong gas odor
Yellow tipping of the flames
Heater doesn't produce your desired temperature
Excessively uneven glow
Only a qualified professional will be able to repair gas passages and associated components.
Spiders and insects can also nest inside the burner and orifices, damaging your heater and making it unsafe to use. To clean the individual gas ports, remove the emitter screen and use a pipe cleaner to remove dirt and debris. You can also use a can of compressed air to clear away any remaining particles.
Be sure to inspect the pilot tube and thermocouple for corrosion. If either component is damaged, your heater will not produce adequate heat and may have trouble staying lit.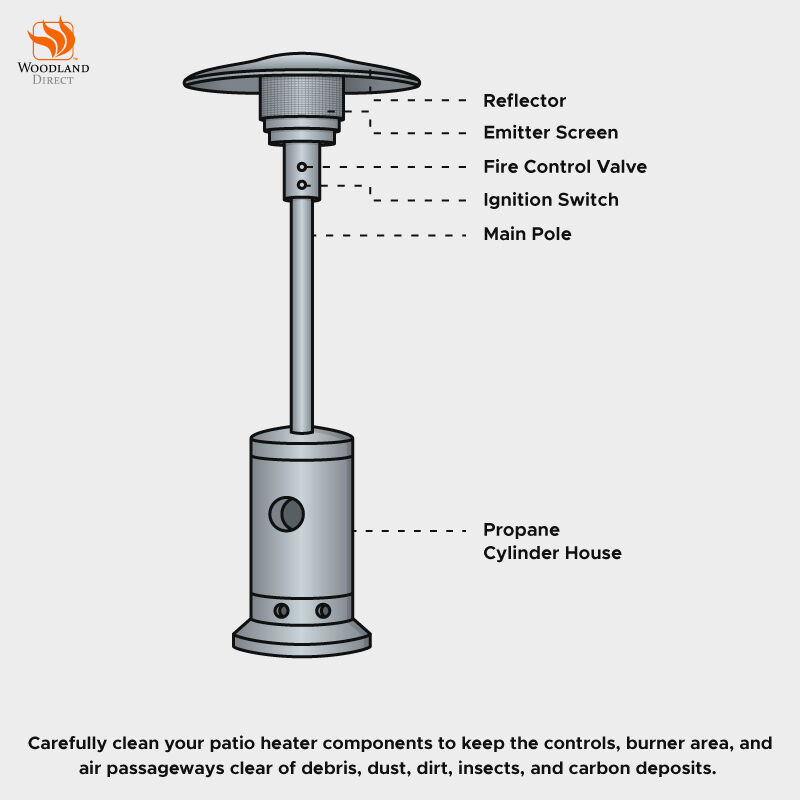 Carbon deposits are common on gas patio heaters and create a dangerous fire hazard. Carefully clean the dome and burner screen with warm, soapy water, if any carbon deposits develop.
When dust and debris build up on the heating elements in your heater, it may have issues igniting and warming up properly. To clean your heating elements, remove the emitter screen to expose the element and use a can of compressed air to blow off dust and dirt, rather than a damp cloth.
Pro Tip:

Be sure to keep your heating element dry at all times and never touch it with your bare hands, as the natural oils on your skin may cause the element to fail prematurely.
A gas patio heater requires proper gas pressure to function, otherwise the burner system may not receive enough gas to keep the heater lit. Low gas pressure is usually caused by a broken, kinked, or corroded gas line.
To make any repairs or to replace your gas line, you will need to hire a gas professional.
For electric patio heaters, corroded wiring is one of the most common operation issues and can be caused by exposure to the elements, curious critters, and old age.
Check your heater periodically for frayed wires and broken insulation.
Damaged electrical wiring can't be fixed, it must be replaced, so you'll need to hire a professional electrician or appliance repair specialist to replace any damaged wires.
STEP 3: PRACTICE PROPER STORAGE
Inclement weather conditions can cause unnecessary wear and tear on your patio heater. If you have a portable patio heater, store it in a garage, shed, or barn during the winter months.
You can also purchase a custom fitted cover for your patio heater, which helps curb dust collection and prevents insects from nesting inside the components while it's in storage.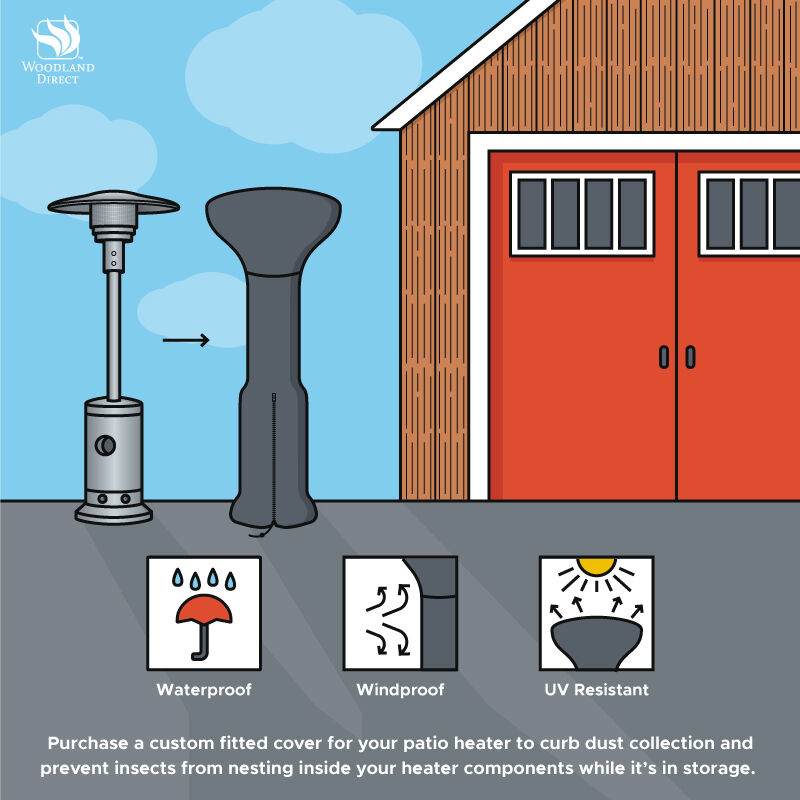 STEP 4: SCHEDULE AN ANNUAL INSPECTION FOR YOUR PATIO HEATER
While regular at-home maintenance helps your patio heaters stay in safe working condition, you'll also need to hire a licensed professional to inspect and clean your patio heater's components and gas line at least once a year to ensure everything is functioning properly.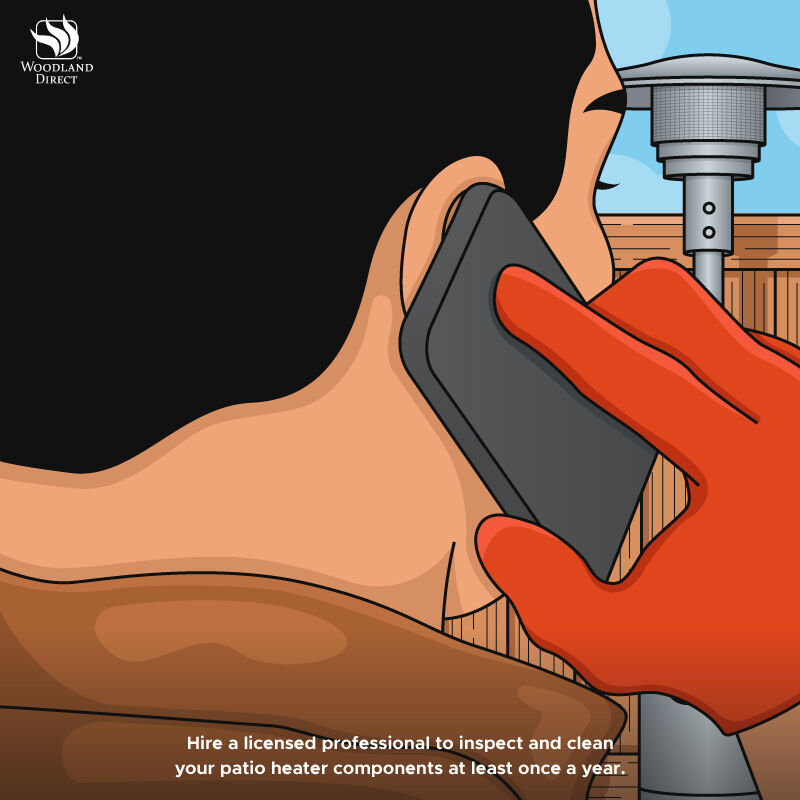 Reach out to a local NFI certified professional or licensed general contractor who has experience servicing and cleaning patio heaters to schedule your annual inspection.
DOWNLOAD YOUR PATIO HEATER MAINTENANCE GUIDE
To help you maintain your patio heater at home, we've created a printable e-book you can download and reference in between inspections!
WE'RE HERE TO HELP
Have more questions about how to care for your gas or electric patio heaters? We'd love to help! Call our team of NFI certified experts today at 800.919.1904.