Patio heaters are ideal for homeowners who want to extend the life of their backyard retreats and businesses looking to offer outdoor seating year-round.
In addition to finding the right kind of patio heater for your space, it's important to make sure your heater is placed in a safe spot to boost its performance and prevent potential fire hazards.
Use the following tips to properly place your patio heater, so you can enjoy countless cozy nights lounging in your outdoor sanctuary, no matter the season.
WHERE CAN PATIO HEATERS BE INSTALLED?
The installation location for patio heaters varies, depending on the type of fuel you use and style of heater you select.
Patio heaters are available in portable, freestanding styles, and ground, wall, or ceiling-mounted models. Portable heaters only require a Propane tank and can be moved around to suit your heating needs, while mounted heaters will require a permanent gas line or hard-wired electricity, which can limit installation.
Typical locations for mounted or recessed heaters include:
The exterior wall of a house facing the patio/deck
The overhang above a patio/deck
Four-seasons rooms
Screened-in porches
Mounted into the ground of a patio
Enclosed restaurant patios
Open-air restaurant patios
Indoor/outdoor rooms
Typical locations for portable heaters include:
Patios
Decks (if pre-approved by manufacturer)
Any other open-air space with solid ground that can accommodate a moveable heater
Garages
The size of your outdoor space will determine what kind of patio heater you can purchase, how many you'll need, and where you can put them.
If you squeeze a heater that's too large into a compact space or if you install a small patio heater in a big, open area, you won't get the best possible performance from your new unit.
Wall-mounted models are great solutions for small spaces, while freestanding and ground-mounted heaters tend to throw heat over a longer distance, making them ideal for large backyards or commercial venues.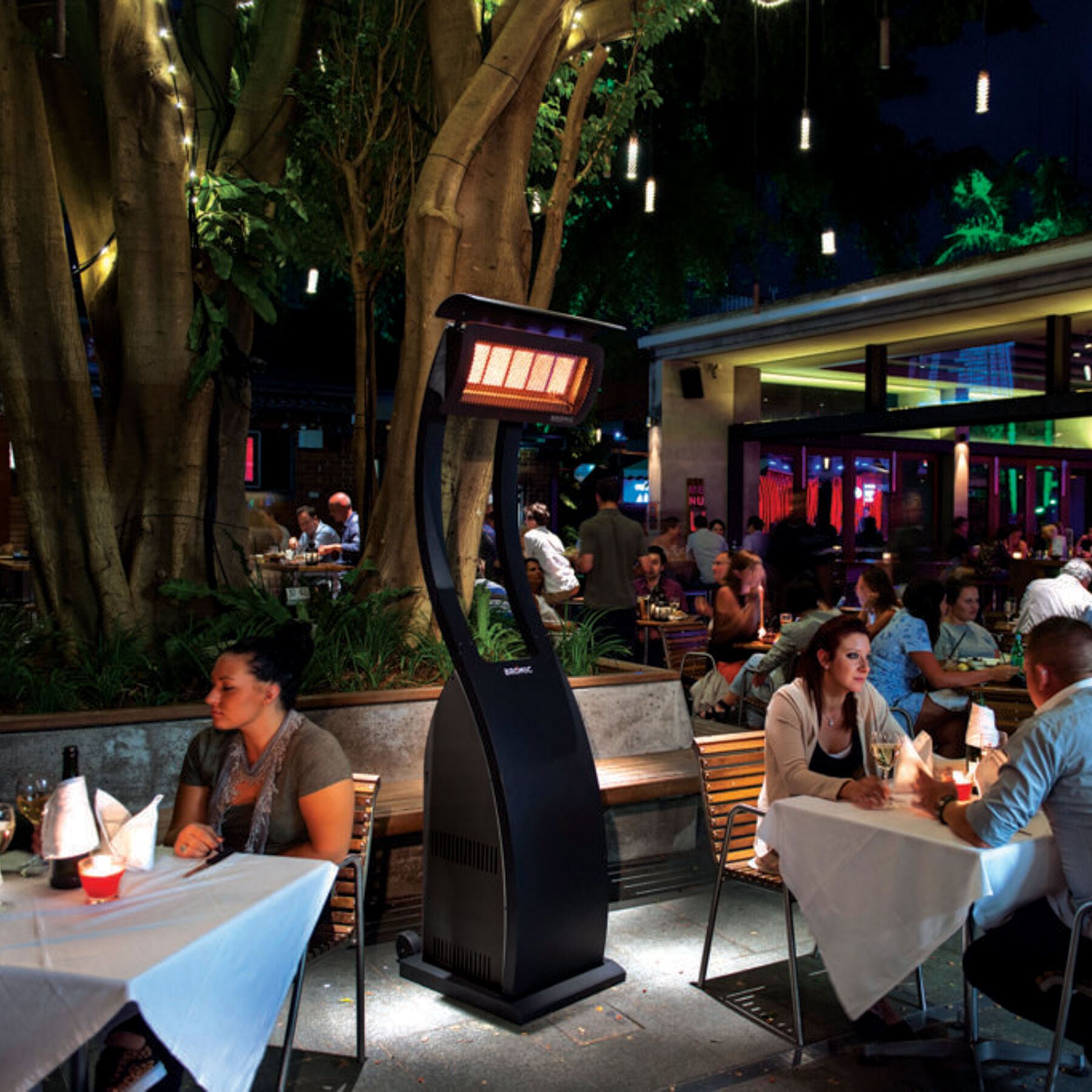 You can also install multiple heaters throughout your space to get the heating coverage you desire. Electric patio heaters, for example, can be grouped together into heating zones to heat specific areas at any given time.
To determine how much heat you need:
Measure the length and width of your outdoor space to find the square footage.
Use this equation to determine how many BTUs are required to heat your space: Cubic feet of area x desired temperature rise = BTUs needed.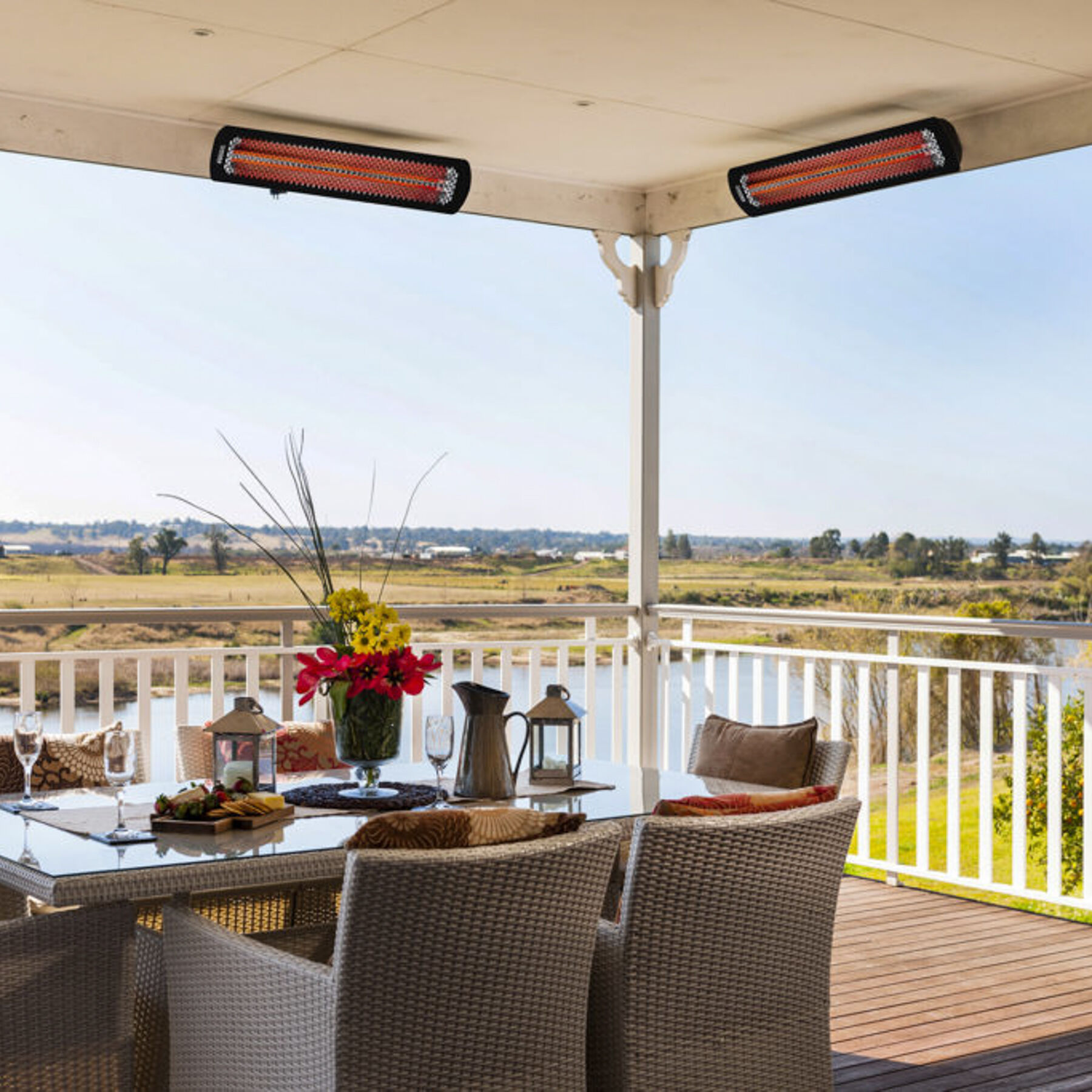 Once you know the measurements of your space and the BTUs required to heat it, you'll be able to find a patio heater in the proper style and dimensions to fit your requirements.
DISCOVER HOW PATIO HEATERS BENEFIT YOUR BUSINESS
Patio heaters are not intended to radiate intense heat over great distances. Rather, they're designed to comfortably warm nearby people and objects.
Placing your patio heater too close to certain materials creates a dangerous fire hazard. You'll need to consult the installation manual that comes with your patio heater to make sure you've met any specific clearance requirements.
Be sure to keep your heater at least 3 feet away from combustible materials, such as potted or hanging plants, outdoor decorations and furniture, and propane tanks used for grilling or fueling another fire feature in your yard.
When choosing the final location for your heater, focus on areas where people will gather, but be sure to avoid walkways and other high-traffic zones.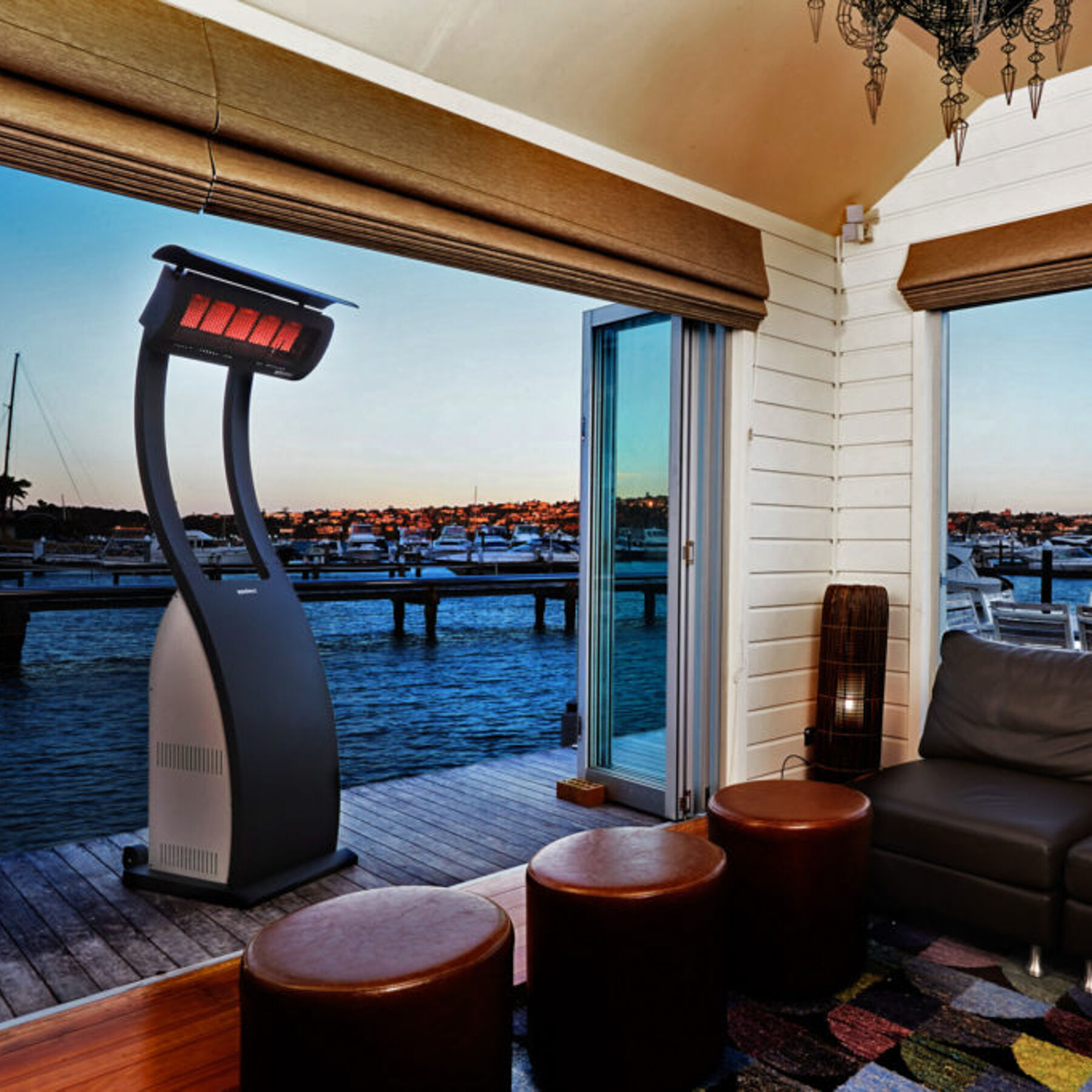 Luckily, most patio heaters are equipped with safety features, like an anti-tilt shut-off valve that turns off the heater if it gets knocked over or tips past a certain angle.
The safest patio heaters are UL and CSA-approved, which means they've undergone rigorous testing to make sure they're reliable.
While gas patio heaters are strictly for outdoor use, it's possible to put one in a semi-enclosed space, such as a covered patio, if the ceiling height is at least 10 feet tall.
If your space is covered, you'll need to make sure it's ventilated and has sufficient air circulation.
In addition to measuring the exact height of your covered patio, you'll also need to consult the installation manual that comes with your heater to confirm that your space meets the clearance requirements.
Electric patio heaters are the safest and most environmentally friendly option because they don't require ventilation, can be used indoors and outdoors, and don't produce carbon emissions.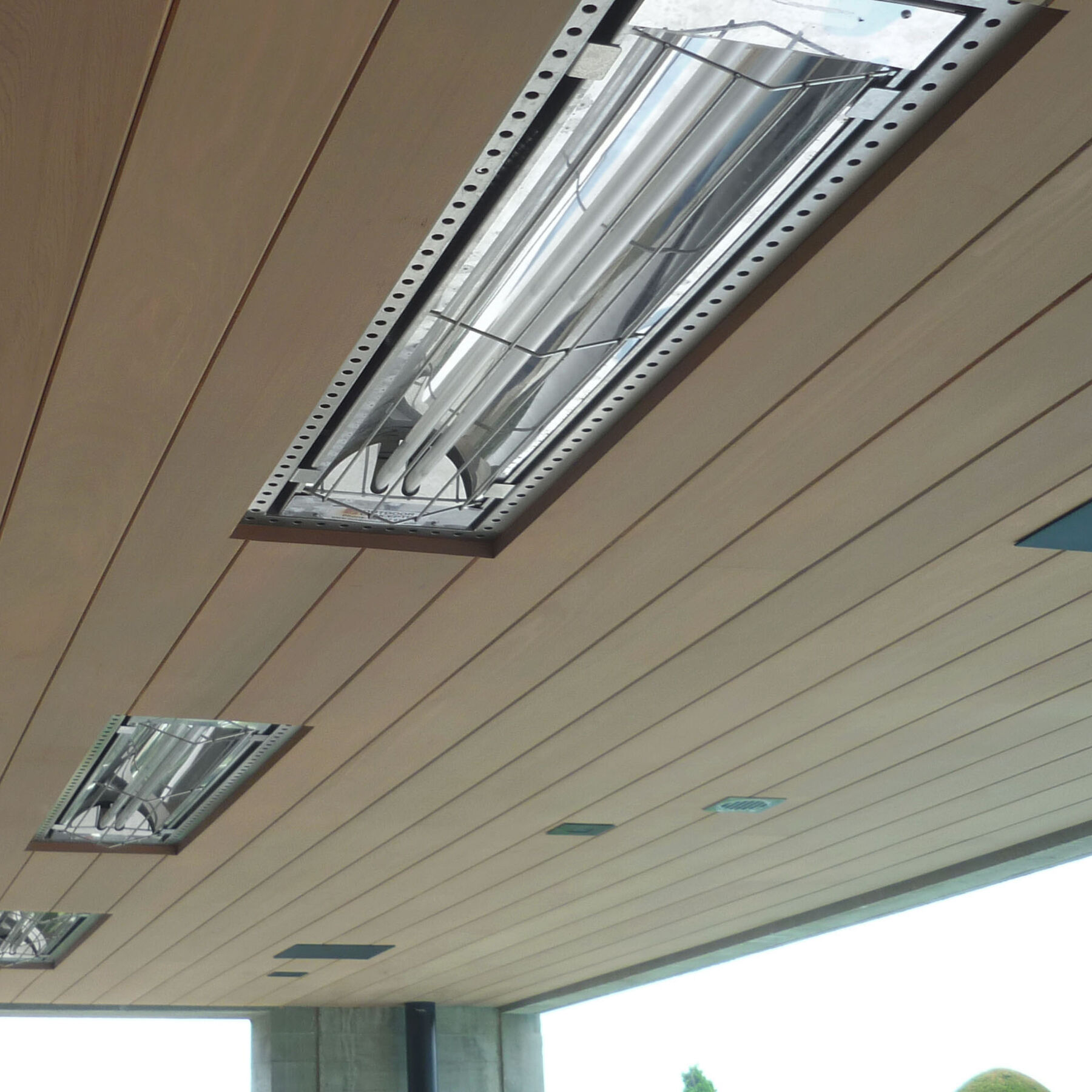 Electric infrared patio heaters come in both freestanding and wall-mounted models, and are the simplest option to set up. You can also recess electric heaters into flat ceilings for a clean, seamless look.
Freestanding patio heaters should always be placed on a solid, stable surface, especially if you live in a windy area.
Uneven ground, like grass or gravel, creates instability and may cause your heater to perform poorly or tip over, resulting in a potential fire.
If your patio heater requires a Natural Gas line, you'll need to have a licensed professional install one for you. The location of the gas line may affect where you can place your heater.
Once you've found the right kind of patio heater for your outdoor space, you're ready to pick your final location:
The first, and most important step, is to carefully read through the installation manual, so you can make sure you've taken all of the necessary precautions and your location of choice meets clearance requirements.
If you have a portable or freestanding patio heater, you'll want to place it in an area where your guests will likely gather, making sure to avoid walkways and other high-traffic areas.
Keep your heater at least three feet away from combustible materials, and always place portable heaters on a solid, stable surface to avoid accidents and potential fires.
For permanent installations, make sure the location can accommodate a hard-piped gas line for gas patio heaters or hardwired electricity for electric patio heaters.
Gas patio heaters can be installed in semi-enclosed spaces, such as covered patios, as long as there is sufficient ventilation, air circulation, and the ceiling is at least 10 feet tall.
Electric patio heaters are the safest option and come in a variety of mounted models designed for indoor and outdoor use. You can also group electric heaters into heating zones to warm specific areas in your space and recess them into your ceiling for a seamless finish.
OUR MOST POPULAR GAS PATIO HEATERS
OUR MOST POPULAR ELECTRIC PATIO HEATERS