With the Coronavirus Pandemic in full-swing, it's become increasingly tricky for brick and mortar businesses to grow and expand while maintaining the physical and social distance their patrons need to enjoy public outings safely.
If you own a restaurant, hotel, bar, or retail space, then you've probably experienced, firsthand, the strain and uncertainty the pandemic's guidelines have had on your business.
With winter quickly approaching and the threat of a second wave of the Coronavirus right behind it, it may be even more challenging to maintain stringent safety regulations, like physical distancing and open-air seating, while keeping customers as safe and comfortable as possible and ensuring your business is profitable; but we're here to provide you with one solution to keep your patios open longer and even to extend your seating outdoors safely: Patio heaters!
THE BENEFITS OF PATIO HEATERS
Patio heaters are a low-maintenance option that can be safely installed in indoor and outdoor locations, depending on fuel-type, to increase the overall warmth in the area. They are available in a wide range of styles to fit every space and heating need and are safe and affordable alternatives to other outdoor fire products.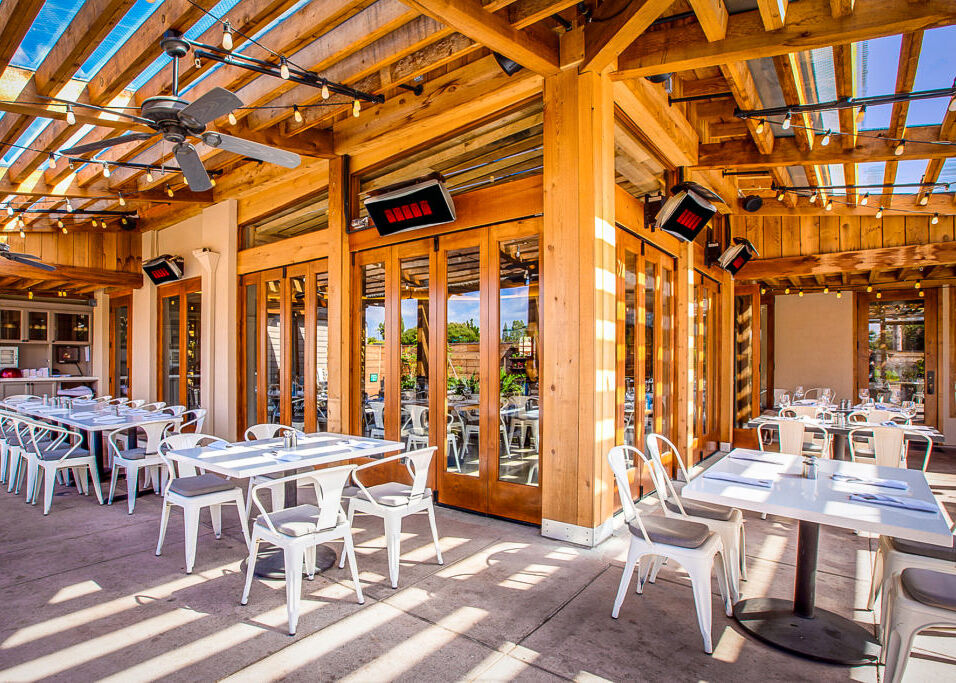 Patio heaters are designed to produce waves of energy, called radiant heat, which warms solid objects and people rather than the air. The heat that's produced stays put, and it won't get carried away by the wind, making patio heaters an excellent way to optimize the use of your outdoor space and extend the patio season.
WHAT KIND OF BUSINESS USES PATIO HEATERS & WHERE CAN THEY BE INSTALLED?
Restaurants, hotels, bars, coffee shops, retail shops, and any public loitering spaces can benefit from the addition of patio heaters.
Hotels and resorts can put patio heaters in the main entrance, by the valet, check-in area or lobby, courtyard, patio, terrace, and along outdoor walkways. Patio heaters can be combined with a fire pit or fireplace in outdoor seating areas to maximize heat, ambiance, and the comfort of your guests.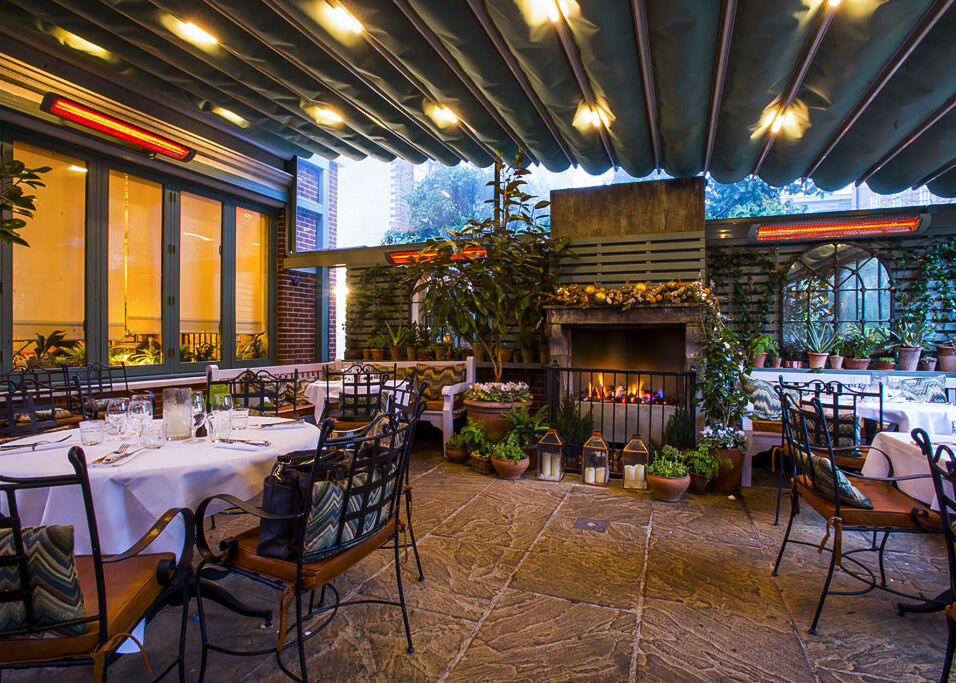 Retail shops can install patio heaters in entrances and vestibules to provide warmth for customers who may be waiting for their turn to shop in your store.
For restaurants, bars, and coffee shops, patio heaters work best in waiting areas, like the entrance, vestibule, valet, and along the outside of the building where patrons might be standing in line, as well as outdoor seating areas like covered and open-air patios, rooftops, and terraces.
HOW WILL PATIO HEATERS ADD VALUE TO MY BUSINESS?
Patio heaters can help you increase your revenue by allowing you to extend your floor space and seating areas to the outdoors or keep your existing patios open longer. On average, you will get one to two more months of use out of your outdoor seating by installing patio heaters.
If your customers are standing in long lines to get into your business, you can make their wait more comfortable by heating the area. Ensuring your guests are as safe and comfortable as possible while waiting in line or dining outside will ensure they have a great experience and encourage them to keep coming back. Chances are, if they have a great experience, they'll recommend your business to their family and friends, giving you an even more significant revenue boost.
WHAT KIND OF PATIO HEATERS ARE AVAILABLE?
Commercial patio heaters are available in free-standing, pole-mounted, and wall and ceiling-mounted models, allowing you to choose the style that best fits your business.
Wall and ceiling-mounted heaters are mounted using adjustable brackets, making it easy to move the heaters up or down to find the perfect position. Zero-clearance ceiling-mounted heaters can also be recessed into the ceiling for a flush finish, creating a streamlined look.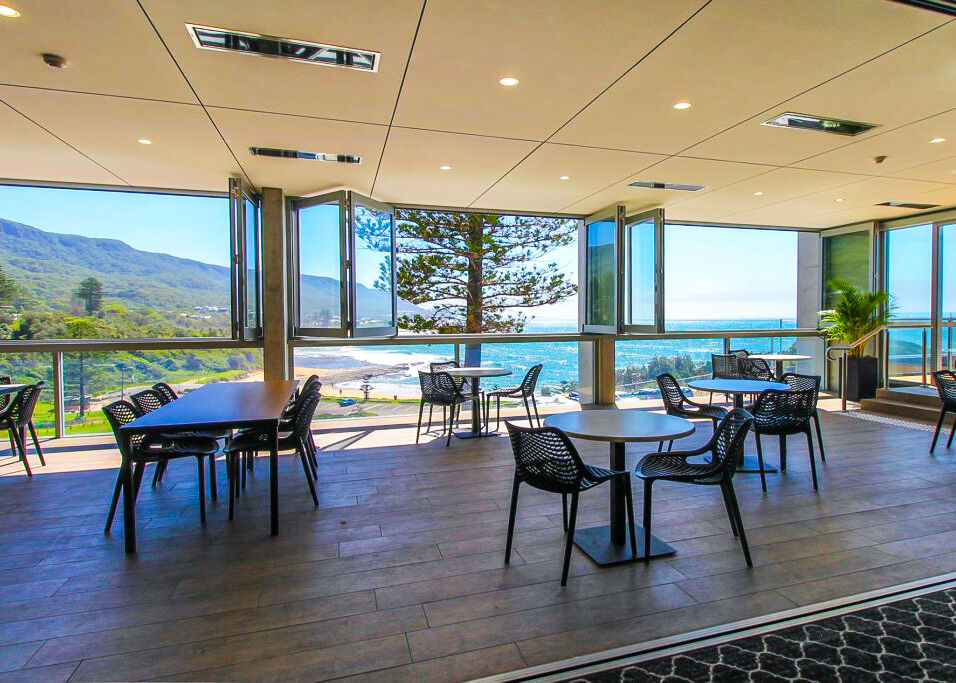 You can group mounted patio heaters together into individual heating zones, which enables you to control each zone independently and ensures you're only heating the space where patrons are gathered at any given time.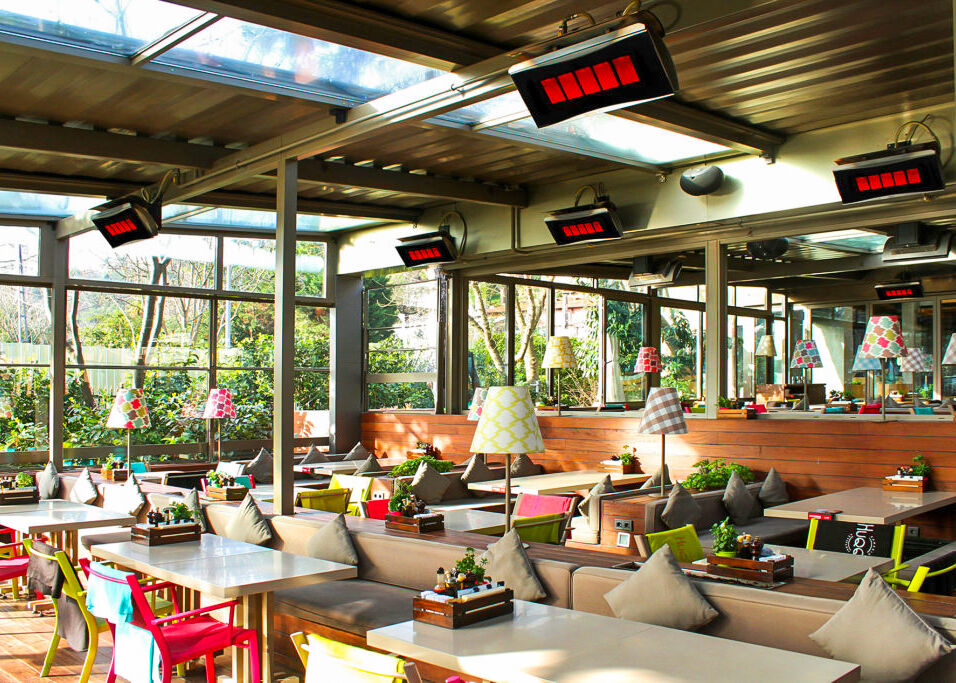 Free-standing heaters are great for open-air patios where heating may need to be adjusted on a day-to-day or even hour-to-hour basis. A Propane tank fits inside the base, so you can easily move freestanding heaters around and reconfigure their positioning at any time.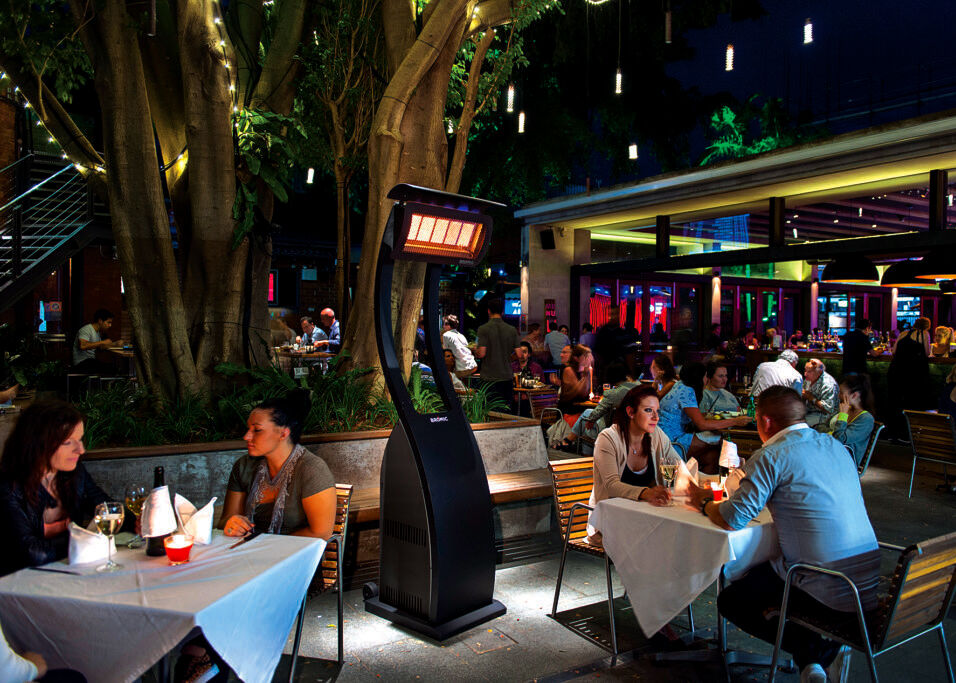 Both free-standing and mounted patio heaters should be spaced according to how much coverage you want and where your patrons will be located. Since patio heaters are designed to heat people and objects, you'll want to position them so that they are directed at the most common places your patrons will be standing or sitting.
WHAT ARE THE REQUIREMENTS TO ADD PATIO HEATERS TO A COMMERCIAL SPACE?
First, you'll need to find out what type of fuel source you have access to - Natural Gas, Liquid Propane, or electricity. This will help narrow down the style and type of patio heater you can choose.
Pro Tip:

Gas heaters generate more heat than electric models, but the heat output isn't adjustable, and control options are limited. Propane is usually the most expensive fuel source, and Natural gas is typically the cheapest.
If gas will be your fuel source, you have the choice between free-standing heaters and wall, ceiling, or pole-mounted heaters. Free-standing heaters are fueled by individual Propane tanks, which get stored in the base of the heaters. For mounted styles, gas will need to be hard-piped to the heaters.
Gas heaters produce emissions and require ventilation. They cannot be installed in enclosed spaces or near combustible surfaces. Portable or free-standing heaters should not be installed in high-wind areas, as they can tip over and cause unnecessary injury, damage, or a fire. Learn more about Natural Gas and Liquid Propane patio heaters.
If electricity will be your fuel source, you have the choice of wall or ceiling-mounted heaters, which can be hung by brackets or recessed into the ceiling. Electric patio heaters produce no carbon emissions and can be safely installed indoors, making them the most popular choice for commercial installations. Some offer flushed/recessed installation, which means they can be installed in combustible surfaces and near combustible materials (check the owner's manual first) and offer you the option to add adjustable heat settings.
Most commercial patio heaters run on 240-volts and will need to be professionally installed by a licensed electrician. Some electric heaters can be plugged into a standard 120-volt wall socket, but they aren't generally recommended for commercial use since they aren't as powerful as 240-volt units.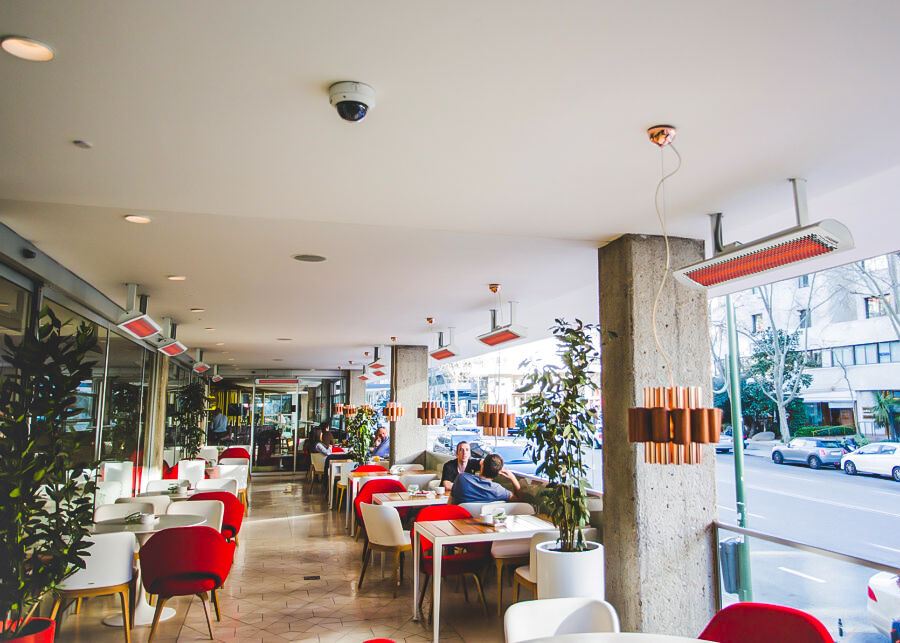 Next, you'll need to look at the square footage of your space and determine how much coverage you want and where the heaters will be located. Patio heaters will increase the temperature by about 5-10 degrees, on average, and create a cone-shaped area of heat that can reach up to 370 square feet, depending on the size of the heater.
Spacing your patio heaters out so that the cones of heat overlap will help you achieve the optimal temperature and ensure you create a comfortable environment for your guests to enjoy.
Understanding the square footage you have available will ultimately determine which kind of heater you can choose and how many you can have in your space. Our team of NFI certified Master Hearth Professionals offers a free design service that will help you create the perfect heating plan for your unique space. Call to work with one of our highly-trained experts at (800) 919-1904 today.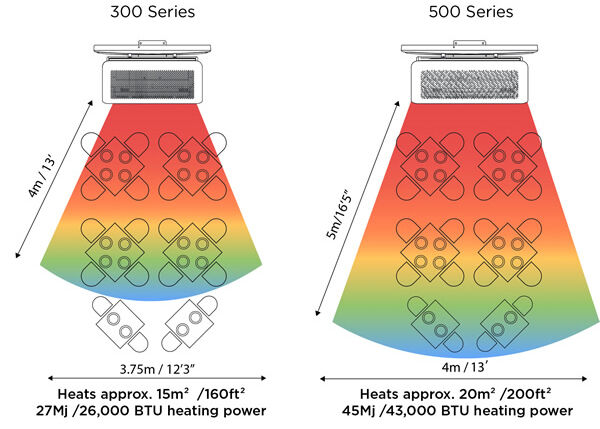 Finally, you'll need to check your local building codes and restrictions, then check your clearance to combustibles. You'll need to make sure you have enough clearance from each heater to the wall, ceiling, and any other combustible materials that are nearby. Clearance requirements will be located in the user manual for each model of heater. If you need help with this step, call one of our NFI certified experts at (800) 919-1904.
Gas heaters generally feature an On/Off control, like a wall switch or remote, while electric patio heaters offer a wider variety of control options, including On/Off switches, variable controls with timers and dimmers, master remotes, and wireless capability.
Electric heaters can be grouped together to create heating zones, giving you the ability to adjust the heat output from one or more heaters in a designated area. Bromic gas patio heaters are equipped with electronic ignition systems and can also be grouped into heating zones.
Pro Tip:

Zone control systems can be set up so that one zone heats one individual table (one zone per table) and is controlled by the patron.
Most control options are brand-specific, so you'll want to look over each brand's offering to determine which will work best for you.
Patio heaters are a relatively small investment that will provide a considerable ROI for your business, and plenty of comfort for your guests, for many years to come.
Patio heaters are suitable for indoor and outdoor installations, depending on fuel-type.
Hotels, resorts, restaurants, bars, coffee shops, retail spaces, and public loitering areas all benefit from the addition of patio heaters by:
Creating more available seating by adding an outdoor patio or extending existing outdoor seating areas
Heating walkways, vestibules, waiting areas, valet stations, etc.
Allowing outdoor seating areas to stay open later into the fall/winter seasons, providing an average of up to two extra months of use per year
You have the choice between free-standing, wall-mounted, pole-mounted, and ceiling-mounted heaters.
Determine your fuel source (Natural Gas, Liquid Propane, or electricity) to narrow down style options, measure the square footage you're heating, and decide how many heaters you'll need.
Check local building codes and restrictions and clearance to combustibles.
Choose the best patio heater model that fits your requirements and pick out your control options.
Don't get left out in the cold this season. Call our NFI certified experts at (800) 919-1904 to create your heating plan today and start growing the profitable business you've been dreaming of!