Nothing says "Home Sweet Home" quite like the sound of crackling flames, the soft glow of an open fire, and the irresistible aroma of smoldering wood.
Wood burning fireplaces have long served as symbols of comfort, offering a soothing, nostalgic ambiance no other indoor fire feature can mimic.
When it comes to selecting a wood burning fireplace, there's a lot to consider, including your area's building codes, clearance and installation requirements, and renovations if you don't already have a chimney.
To help you find the best model for your home, we've put together a list of our top five wood burning fireplaces!
#5 SOVEREIGN HEAT CIRCULATING WOOD BURNING FIREPLACE by Majestic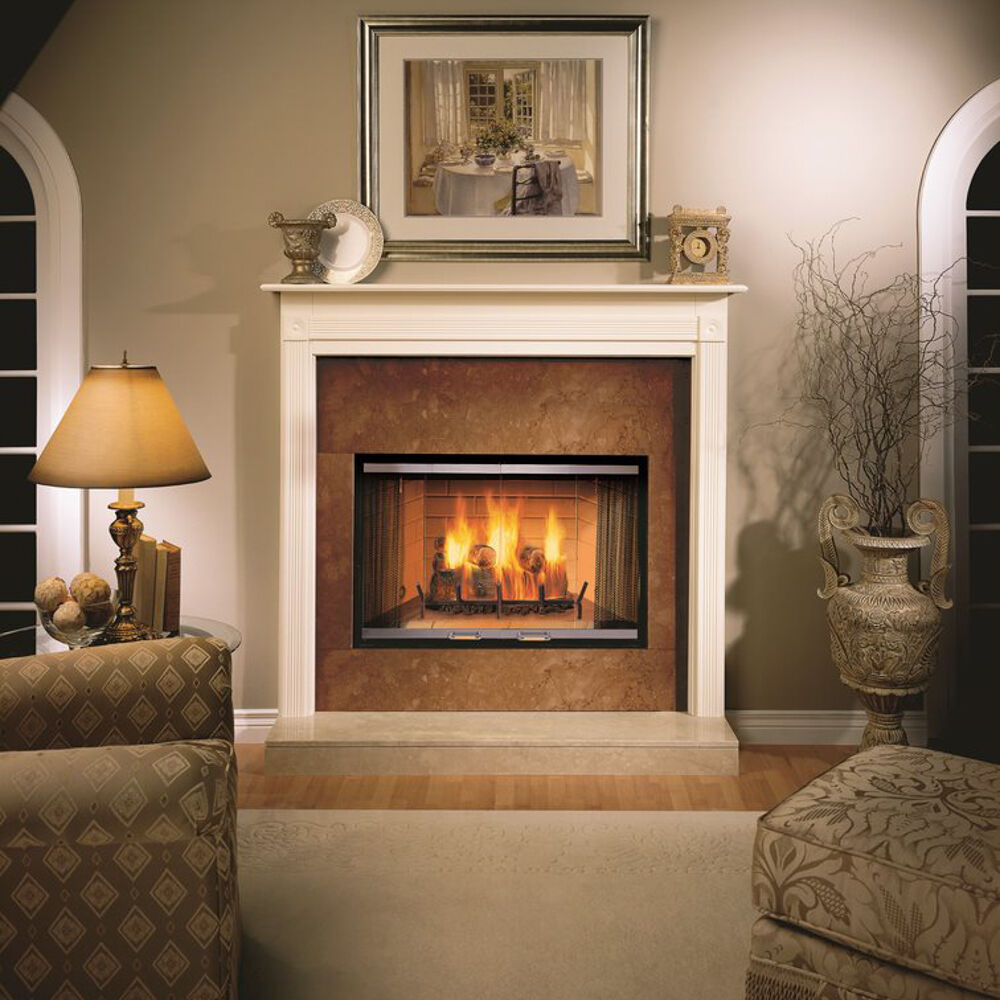 What Makes It Great:
Put an elegant centerpiece in your go-to lounging spot with the Majestic Sovereign Heat Circulating Wood Burning Fireplace! The durable refractory firebox features an easy-to-clean brick liner for a classic, masonry-style look. An unobstructed 36 or 42-inch viewing area lets you enjoy the ambiance from anywhere in the room.
Key Features:
The Majestic Sovereign's tapered firebox design and top and bottom louvers ensure more heat is expelled outward into your home rather than up through the chimney. The optional 160 CFM Fan kit helps distribute warmth around the room, while the optional Variable Speed Control kit lets you precisely control the flow of heat throughout your home. The firebox has two convenient gas knockouts and can accommodate ceramic gas log sets, if you ever decide to convert to Natural Gas or Liquid Propane fuels. The included lift-up grate makes ash removal a breeze, while the built-in ash lip prevents soot and cinders from falling out of the firebox. Finish off the look of your Sovereign and keep the whole family safe with optional sleek black or stainless steel Bi-Fold doors or black Grand Vista Mesh doors.
#4 WRT2000 WOOD BURNING FIREPLACE by Superior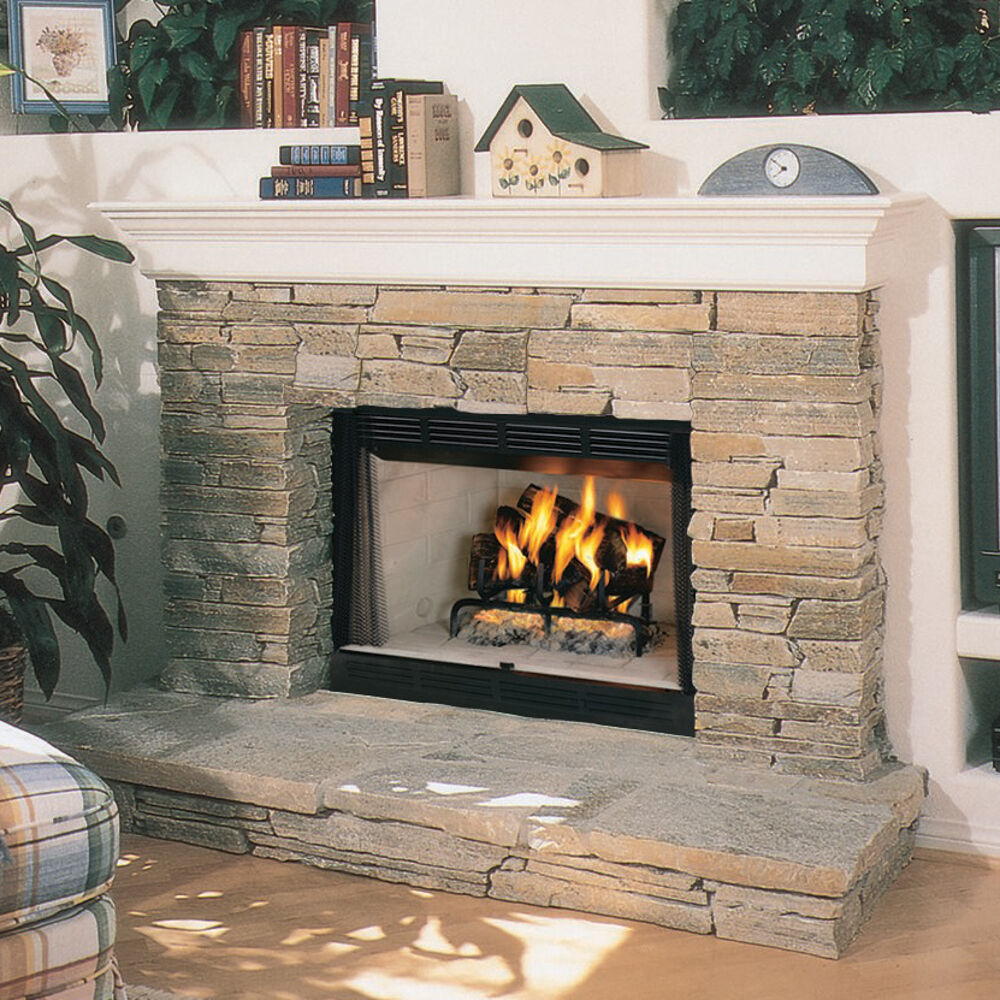 What Makes It Great:
The Superior WRT2000 Wood Burning Fireplace provides an inviting, familiar feel with its traditional, timeless design. Available in 36 and 42-inch models, the WRT2000 features a textured, powder-coated finish and white stacked refractory panels in the firebox for a classic, homespun touch.
Key Features:
The Superior WRT2000 comes with a fully insulated firebox, log grate, barometric outside air damper, and push/pull damper control for easy airflow regulation. Add on the optional Complete Air Kit to aid combustion by drawing in more air from outside the house. Optional black bi-fold glass doors elevate the look, keep more heat inside the firebox, and prevent pets and little ones from getting too close to the flames.
#3 ROYALTON WOOD BURNING FIREPLACE by Majestic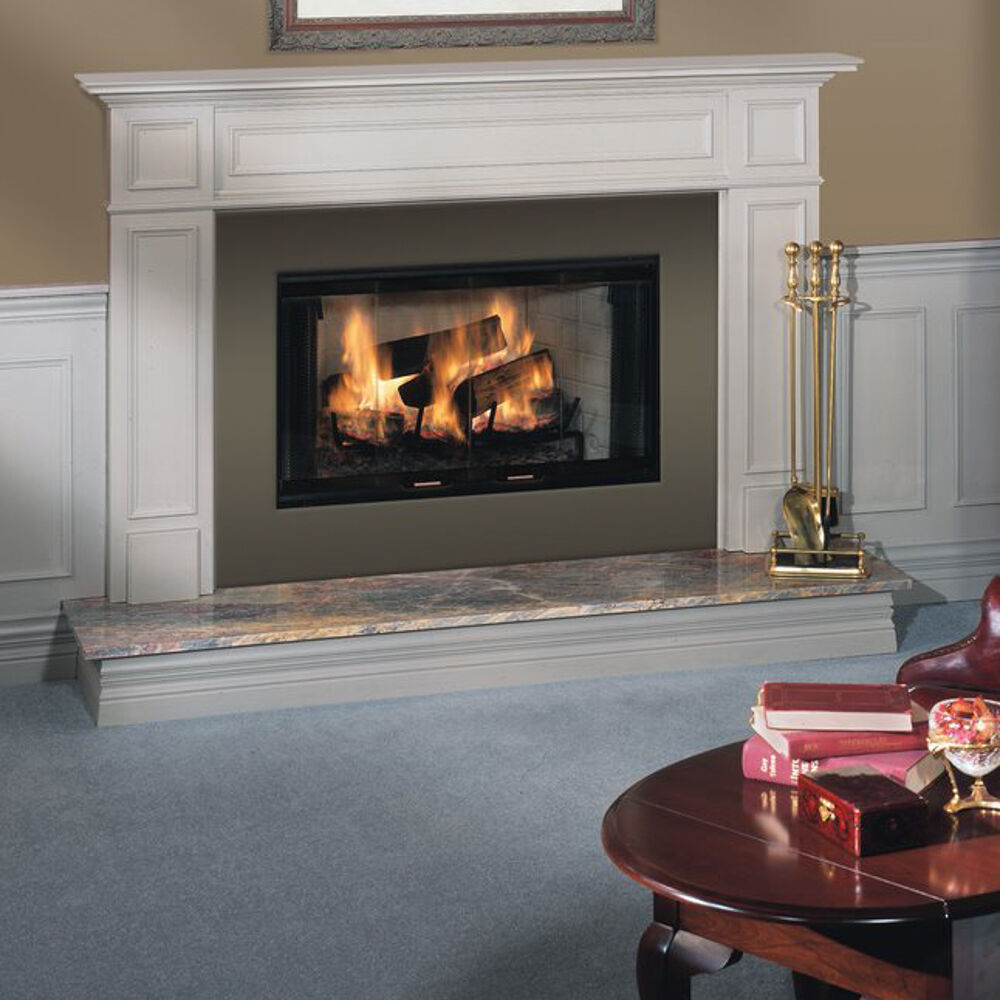 What Makes It Great:
Make authentic, crackling wood fires a staple in your household with the Majestic Royalton Wood Burning Fireplace! Refractory brick lining delivers the charm of a traditional masonry hearth, while louvers at the top and bottom help circulate radiant heat for a cozy, comfortable atmosphere.
Key Features:
The Majestic Royalton arrives in an economical, easy-to-install package with everything you need to get the full wood burning experience. Available in 36 and 42-inch models, the Royalton features a built-in cast iron flue damper to reduce heat loss and a ½-inch steel wood basket grate. Two knockouts in the firebox provide easy access to a gas line if you ever want to convert it to Natural Gas or Liquid Propane. A built-in ash lip on the wood grate makes ash removal quick and simple while helping to keep soot and cinders from spilling out of the fireplace. Enjoy worry-free relaxation with the included black mesh fire screen, or upgrade to sleek black or stainless steel bi-fold glass doors.
#2 BILTMORE WOOD BURNING FIREPLACE by Majestic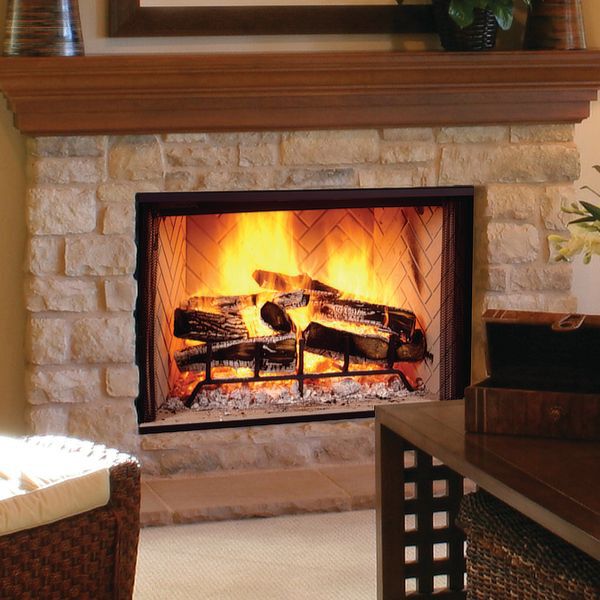 What Makes It Great:
As the name suggests, the Majestic Biltmore Wood Burning Fireplace commands your space with its large, regal design and detailed brick interior, reminiscent of a classic masonry-style hearth. The generous, unobstructed opening casts a soothing glow over the whole room, and provides a spectacular view of the flickering flames no matter where you sit.
Key Features:
Available in 36, 42, and 50-inch models, the Majestic Biltmore features a heavy-duty, tilt-up grate that provides excellent airflow for wood logs while making ash clean-up much easier. Two convenient gas knockouts on either side of the firebox let you convert the Biltmore from wood burning to Natural Gas or Liquid Propane fuels. Elevate the elegance with an optional Herringbone-style liner and black Bi-Fold, Contour Mesh, or Grand Vista Mesh doors.
#1 STRATFORD II ZERO-CLEARANCE WOOD STOVE FIREPLACE by Osburn
What Makes It Great:
The Osburn Stratford II Zero-Clearance Wood Stove Fireplace effortlessly sets the mood for a tranquil, cozy evening at home with its 80,000-BTU output that heats up to 2,200 square feet and a maximum burn time of nine hours. Customize the look by upgrading to the Prairie face plate, which features raised details and a unique bar and mesh design. You can also add a Brushed Nickel door overlay for more texture.
Key Features:
At 36 inches wide, with a 25-inch viewing area, the Stratford II easily accommodates logs of up to 20 inches. The EPA-certified model has a 74 percent heating efficiency and zero clearance requirements, so you can safely install it next to combustible materials. Double-cast iron doors allow quick access to the 2.5-cubic-foot firebox, while the built-in premium blower helps distribute warmth evenly around the room. Maximize your Stratford II's heating efficiency with the optional Fresh Air Intake Damper, a Gravity Kit, Forced Air Kit, and an optional 25-foot flex pipe that prevents drafts and helps circulate heat throughout your home.
WE'RE HERE TO HELP
If you have questions about installing your wood burning fireplace or need help choosing the best model for your space, we'd love to help! Call our team of NFI certified experts at 800.919.1904 today.