#1 CHARRED OAK GAS LOGS BY REAL FYRE
The Charred Oak Gas Log Set by Real Fyre is our top-selling vented log set, and it's easy to see why!
Our customers love this set because it's an excellent value for the price, easy to install, and the logs, flame presentation, and ember bed are incredibly realistic.
Real Fyre uses superior refractory ceramics to make their logs and reinforces each one with a steel rod, ensuring they retain their strength and shape at high temperatures.
Each log is cast from real wood samples then handpainted to reflect the details found in the natural wood.
These particular logs are given a charred appearance, and the front log is split to make it look like the fire has been burning for hours.
Available in five sizes with two burner options and multiple ignition systems to choose from, the Charred Oak Gas Log Set can be customized to find the perfect fit for your fireplace, lifestyle, and budget!
#2 SPLIT OAK DESIGNER PLUS GAS LOGS BY REAL FYRE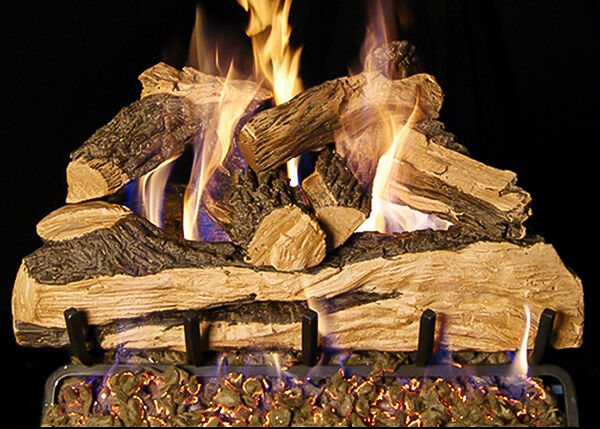 Split Oak Designer Plus Gas Logs by Real Fyre are a customer favorite for their remarkably lifelike appearance.
The logs are beautifully crafted, easy to put together, and produce heat effectively. High flames and a captivating ember bed make it look like a real wood fire is burning in the fireplace.
Real Fyre makes Split Oak Designer Plus Logs with the same superior materials and attention to detail as the Charred Oak Log Set above.
If you want an authentic wood burning experience without the hassle, then the Split Oak Designer Plus Log Set is a perfect choice for you!
The handpainted detailing of this set makes it appear as though freshly chopped logs were just added to the fire.
With four sizes, two burner options, and multiple ignition types to choose from, you have the freedom to create a custom set for your hearth!
#3 WOODLAND TIMBERS CERAMIC GAS LOGS BY HARGROVE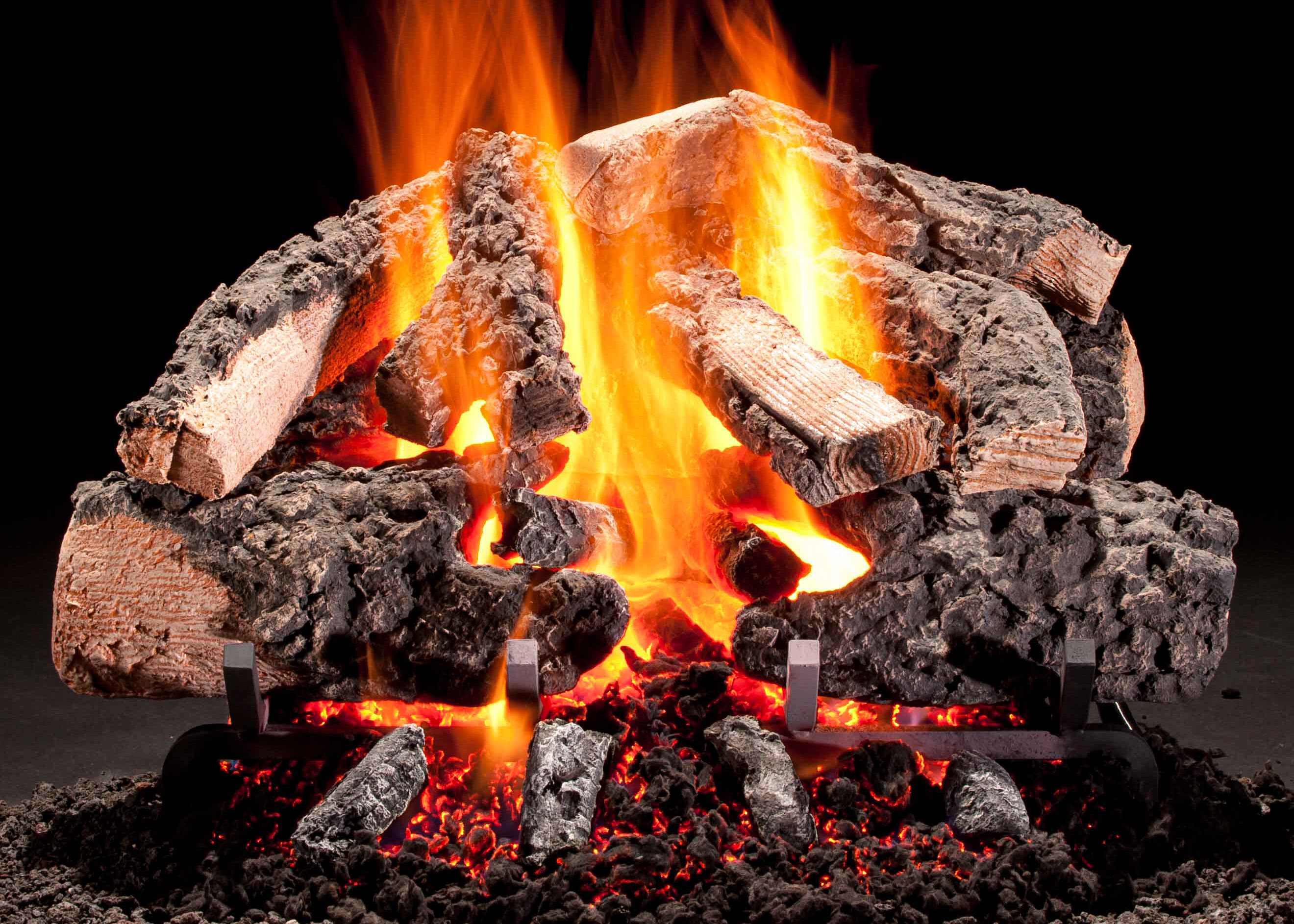 If you're looking to add functional charm to your indoor fireplace, the Woodland Timbers Ceramic Gas Log set by Hargrove is an excellent choice!
Our customers love this set because it's easy to install, simple to operate, and produces an incredible amount of heat.
Featuring ceramic fiber construction and Radiant Riser Technology, Woodland Timbers Gas Logs are designed to direct heat from the burner forward and out of the fireplace, providing more heat for your room than a typical vented set.
Exceptional warmth paired with realistically textured logs and charred fiber chunks makes the Woodland Timbers Log Set look and feel like an authentic wood burning fire.
With three sizes to choose from, you're guaranteed to find the ideal set to warm your hearth and your home!
#4 ARIZONA WEATHERED OAK CHARRED GAS LOGS BY GRAND CANYON GAS LOGS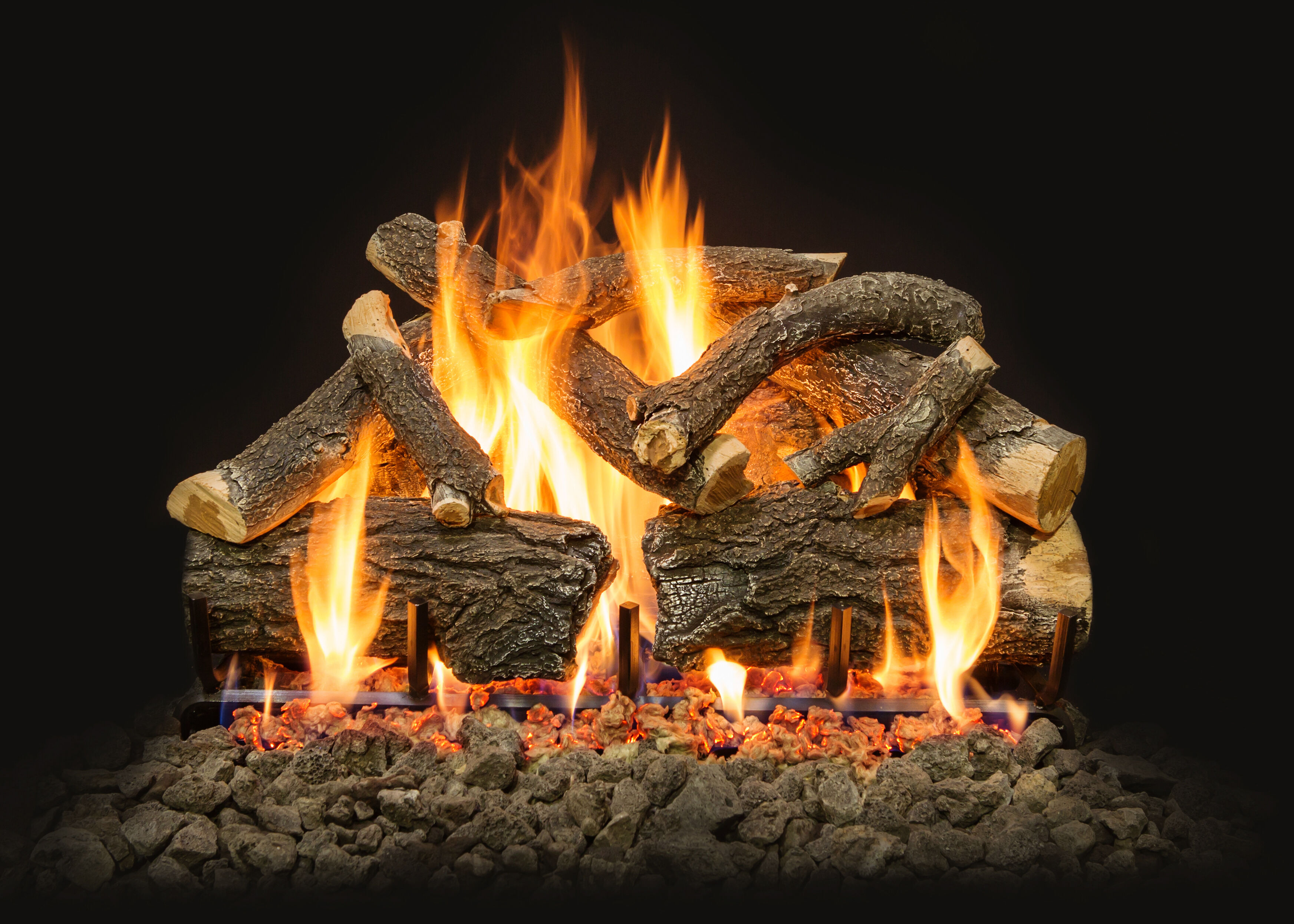 Grand Canyon Gas Logs' Arizona Weathered Oak Charred Gas Log Set brings the beauty of the Grand Canyon to your home!
Our customers love how the rich detailing, beautiful flame presentation, and radiant ember bed work together to create an exquisite display that offers unsurpassed realism.
Grand Canyon Gas Logs has a team of Log Hunters who search the river banks of the Grand Canyon and Northern Arizona forests for the most beautiful wood logs to replicate.
Each gas log is individually cast from the foraged logs then handpainted to capture the unique characteristics found in the real wood.
For the Charred Series, the front logs were burnt in half to create a hyper-realistic appearance before being molded.
Made with refractory cement, Grand Canyon Gas Logs are extremely durable, providing a superb balance between function and design.
The Arizona Weathered Oak Charred Log Set is available in three different sizes with multiple ignition systems, and two ANSI certified burners to choose from.
The logs can be placed over a bed of sparkling fire glass for a contemporary look or paired with optional twigs to add an even more authentic appearance.
#5 ARIZONA JUNIPER GAS LOGS BY GRAND CANYON GAS LOGS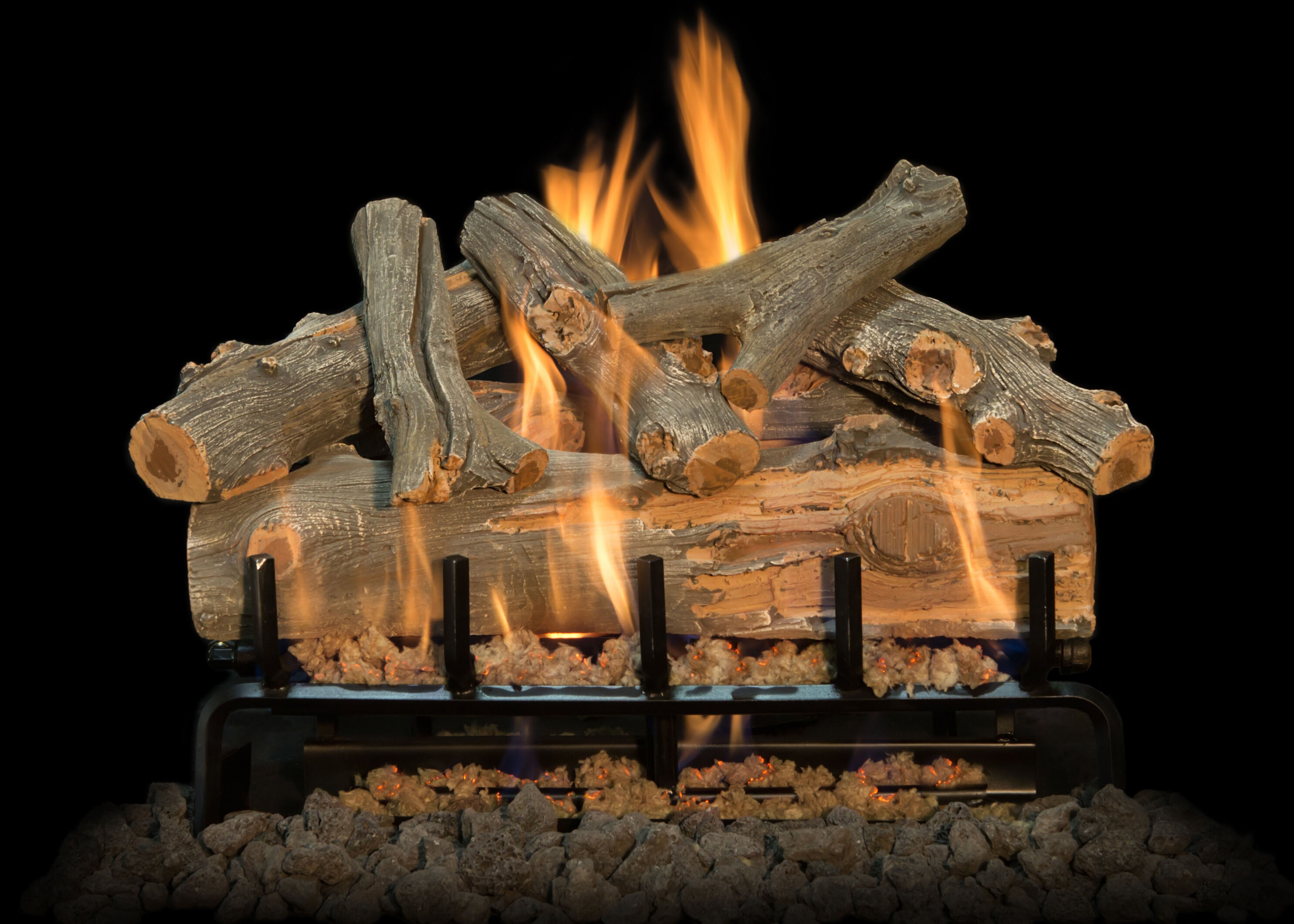 The Arizona Juniper Gas Log Set by Grand Canyon Gas Logs combines quality and reliability with exquisite design!
Our customers love this set for its realism and ease of use. The ember bed perfectly accents the fire creating an alluring ambiance and furthering the natural look.
Just like the Arizona Weathered Oak Charred Logs above, Arizona Juniper Logs are cast from real wood foraged in the Arizona forest and constructed of durable refractory cement.
Rainy springs and hot summers contribute to the characteristics found in Arizona Juniper, creating unique cracks, twists, and pitting.
Each of these unique characteristics is captured by Grand Canyon Gas Logs during the casting process, then handpainted to bring the logs to life. The result is an incredibly authentic appearance and naturally beautiful fire.
The Arizona Juniper Gas Log Set is available in six different sizes with four ignition options to choose from, allowing you to pick the size and ignition best suited to your needs.
The ANSI certified burners come with a lifetime warranty, providing quality and reliability while ensuring you'll be enjoying a beautiful fire for many years to come.
#6 CHARRED EVERGREEN SPLIT OAK GAS LOGS BY REAL FYRE
Our customers love the vibrant look and distinguishing features of Real Fyre's Charred Evergreen Split Oak Gas Log Set!
Rich, handpainted detailing and a charred appearance create an authentic burning display that's enhanced by the warm glow of the fire and luminous ember bed.
Charred Evergreen Split Oak Logs are made of Real Fyre's unique fiber-enhanced refectory mix and are designed with a stainless steel booster grid.
The booster grid acts as a catalyst to create complete combustion, increasing the intensity of the fire.
When paired with the G52 Burner, this log set will use fewer BTUs without losing any of its power.
Available in three sizes and natural gas or liquid propane configurations, Charred Evergreen Split Oak Gas Logs are just what you need to upgrade your hearth!