Imagine an entire Saturday spent relaxing outside. Every meal prepared and enjoyed in the comfort of your own backyard, without ever needing to run inside for ingredients, utensils, or a random spice.
Sound too good to be true? It's possible with an outdoor kitchen.
Outdoor kitchens are becoming more and more popular, and it's easy to see why. They create a dining experience usually reserved for four-star restaurants. Your home becomes the destination for high-class hospitality—leading friends and family to flock from miles away.
With an outdoor kitchen, your home also gains extra square footage without an expensive build-out. You skip a huge construction project while still getting a valuable home expansion. In today's competitive real estate market, that's a huge advantage.
Before you get started with your outdoor kitchen, there are six things you should consider. We've put this guide together to give you an overview of each of them, but we're always available to answer questions and walk you through the buying process. Our Master Hearth Professionals are experts in outdoor kitchen design, too. Tell us your dream, and we'll make it happen! Call 844-266-5492 today to get started.
1. CUSTOM BUILD VS. STOCK SOLUTION
Custom builds offer incredible personalization
A custom-built outdoor kitchen offers almost limitless options, making it the premiere choice. You get to choose everything, right down to the type of granite or stone you'd like for the countertop. Final cost depends on your options.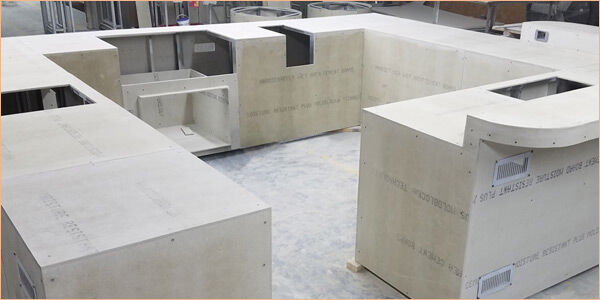 Stock solutions offer cost-effective options
While they may not be limitless, manufacturers offer plenty of options with their "off-the-shelf" outdoor kitchen islands. There's a huge range of different layout types and choices, so you're sure to find something you like. Thanks to the fact that they're easier to manufacture, stock islands are often more affordable than custom builds.
Don't forget the must-have appliances
Every kitchen island needs a grill, but if you have the space, you may also want to include a refrigerator, sink, and extra storage. Beyond that, consider additional side burners and possibly a bar or beverage center. If you're going to have a sitting and/or entertainment area, you'll want outdoor furniture and maybe an outdoor-rated TV, too.
High quality appliances endure the test of time
Appliances are possibly the most important part of your outdoor kitchen. While they might be expensive, we recommend not choosing low-end versions. You'll enjoy your outdoor kitchen for many years to come, so investing in quality appliances is worth the money. A high-end grill can last 10, 20, even 30 years or more.

Include enough storage—the more, the better
One mistake that a lot of people make is not including enough storage. If you want to have all your meals outside without making frequent trips into the house, you need space for utensils, glasses, plates, pots, pans, spices, and more. You'll also need cold storage for meats, fish, vegetables, fruit, and any other perishables.
Appliances should be outdoor-rated
Any appliance you purchase for your outdoor kitchen needs to be able to withstand the elements. A non-outdoor-rated refrigerator may not be able to keep things cold enough if it's in the hot sun. This can result in food safety issues. Check the manufacturer information—some appliances include "outdoor" in their names, but this doesn't always mean that they're rated for the outdoors.
Include 8 inches of space between any installed products
When planning out your appliances, keep in mind that safety regulations require 8 inches of space between any installed products. This helps to prevent them from overheating, but it also affects the overall amount of space your outdoor kitchen will require. Plan the number of appliances you want to include based on the amount of space you can use.
Make sure to include proper ventilation
Whenever you're working with gas, you always need to include proper ventilation. It's good to have vents placed every four to six feet along your kitchen island, but the most important factor is cross-ventilation. Air needs to be able to be exchanged in order for gases to escape.
Provide service access to your appliances
You never know when your appliances might need maintenance. Service doors are handy for this reason, and should be included in your plan. They're also helpful with built-in grills when needing to store a propane tank.
Plan everything at once
When you're designing your outdoor kitchen, plan your cooking area, sitting area, and entertainment areas at the same time. This will help ensure that they work together to create the best experience possible.
Don't create a fire hazard
Your local ordinances may specify exact distances, but it's best not to place your kitchen island right against combustible materials, such as the side of your house. You also can't install it underneath a covered patio without a vent hood for your grill, and never within an enclosed patio.
Consider foot traffic and backyard usage
How does foot traffic usually flow out of your house? Are there certain areas of your backyard that get more usage than others? You don't want the placement of your outdoor kitchen to impede typical backyard activities.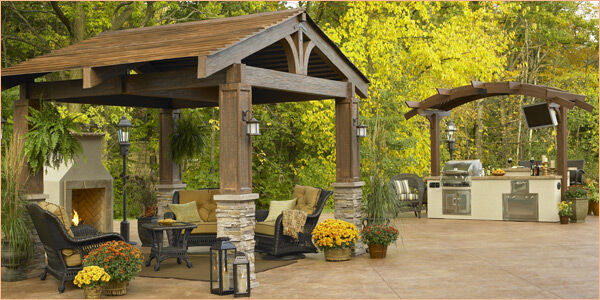 5. DELIVERY & INSTALLATION
How will you transport your kitchen island after delivery?
When you're planning your outdoor kitchen, begin with the end in mind. Unless it's built completely on site, your kitchen island will need to be moved from its delivery location to its installation location. You'll probably need a forklift. Check with your contractor—they might have one you can use. If not, call us. Our representatives have years of experience handling deliveries like these.
What utilities do you want your outdoor kitchen to have?
Do you need power for your appliances? How many electrical outlets do you want? Do you want to connect to your home's gas supply? What about hot water? These are questions you'll have to think about before installing everything. For electricity or gas, you'll need to hire a certified plumber to run hard lines from your home to your outdoor kitchen. For hot water, the best solution is to include a small water heater tank under the sink.
Ensure that your outdoor kitchen has enough gas supply
If you're connecting to your home's gas supply, consider the BTU ratings of your appliances. The higher total BTUs of your outdoor kitchen, the more gas you'll need. Discuss your requirements with your installer so they can plan accordingly.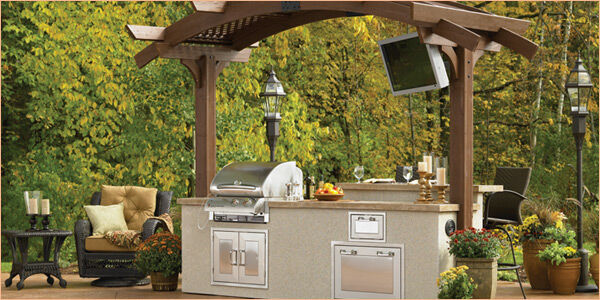 Use non-combustible materials in your custom build
If you're building a custom kitchen island, we recommend using non-combustible materials such as Hardiboard and steel studs. If you have combustible framing, you should also include an insulated grill jacket for your grill. Grill jackets are specific to certain brands, and not every brand offers them. This should be taken into account with your grill purchase.
Review grill safety features before purchase
Look at the safety features included with your grill before making a final decision. We highly recommend buying a grill with a built-in safety system. A safety system helps prevent gas buildup and uncontrolled combustion.
Consider high-end appliances if you live near saltwater
Seaside environments can be harsh on outdoor appliances due to salt in the air. If you live near the coast, you'll want to consider purchasing high-end appliances, which resist corrosion and last longer.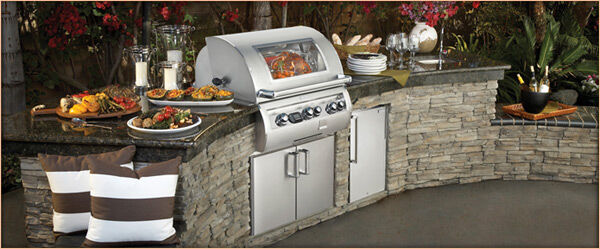 Cover your grill when not in use
Whenever you're not using your grill, make sure it's covered. This simple step will go a long way toward extending its life.
Winterize your outdoor kitchen
When fall ends and you've enjoyed your last meal outside, it's a good idea to winterize your outdoor kitchen. Bring your refrigerator into the garage, cover your grill for the last time, turn off your gas supply, and clear your gas lines. Taking these steps will help prevent any potential cold weather damage. You may also want to cover your entire kitchen island. If so, custom covers can be purchased from your local awning or outdoor fabric supply store.
Buying an outdoor kitchen doesn't have to be complicated. By following our guidelines above, you're well on your way to the outdoor kitchen of your dreams! If you have any questions or need further information, call one of our NFI certified experts at 800-919-1904.