Ready-to-finish (RTF) outdoor kitchens are in high demand from homeowners who are looking for a quick and cost-effective way to build a fully stocked outdoor kitchen.
An unfinished kitchen island can be taken from concept to design in under 10 days, which means you'll spend less time planning and more time reaping the benefits of your brand-new backyard kitchen. Plus, buying an outdoor kitchen island that's finished on-site, versus a model that's pre-finished by the manufacturer, will save you a significant amount of money on your project.
RTF outdoor kitchens are made of prefabricated aluminum or steel frames wrapped in cement board and come with cutouts for your appliances. Instead of building a frame for your outdoor kitchen from scratch, like you would with a custom-built layout, you'll simply select a ready-to-finish kitchen island that fits your space, choose the appliances you'd like to include, and finish your kitchen base and countertops with the non-combustible material of your choice.
With so many customization options available, selecting the right appliances and materials for your lifestyle can be challenging. We've listed the essential steps you'll need to follow to make sure your RTF outdoor kitchen includes all the features you'll need for the best barbecue season yet.
RTF, or prefab, outdoor kitchens can be customized to almost any shape and size. The shape you should go with will depend on how much space you have in your backyard and how you plan to use your outdoor kitchen.
Are you looking to socialize with your guests as you grill? Do you need maximum storage space for all your kitchen gadgets? As you shop for the best shape, consider the appliances and components you'll need to achieve your cooking and entertainment goals.
Three of the most common layouts include:
Ideal for large outdoor spaces, curved RTF islands put all your kitchen appliances in one convenient row, with a space for the main attraction in the center, your grill.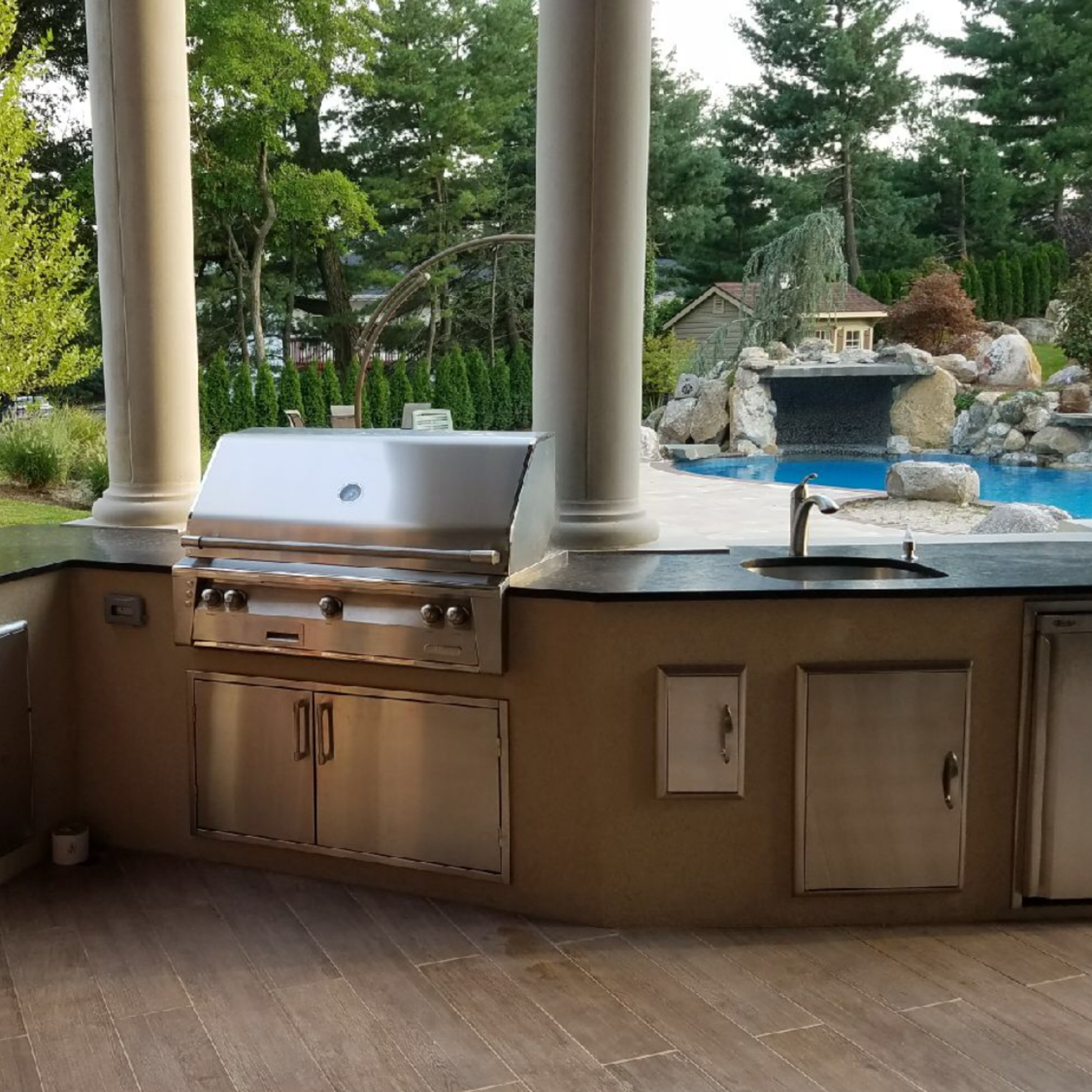 With a curved layout, you'll be able to turn your outdoor kitchen into a bar by placing stools around the counter, giving your guests more room to dine and chat. With your grilling space on one side of the island and a seating area on the other, you'll be able to enjoy some company while you cook.
L-shaped islands can be installed out in the open as the main focal point or tucked away in a corner of your backyard if you're short on walking space.
This kind of layout is perfect for those who want distinct "zones" in their outdoor kitchens. You'll be able to add a cooking zone on one side of the island, complete with a large grill head, side burners, and a warming drawer, and a beverage zone on the other side, with a sink, icemaker, and refrigerator.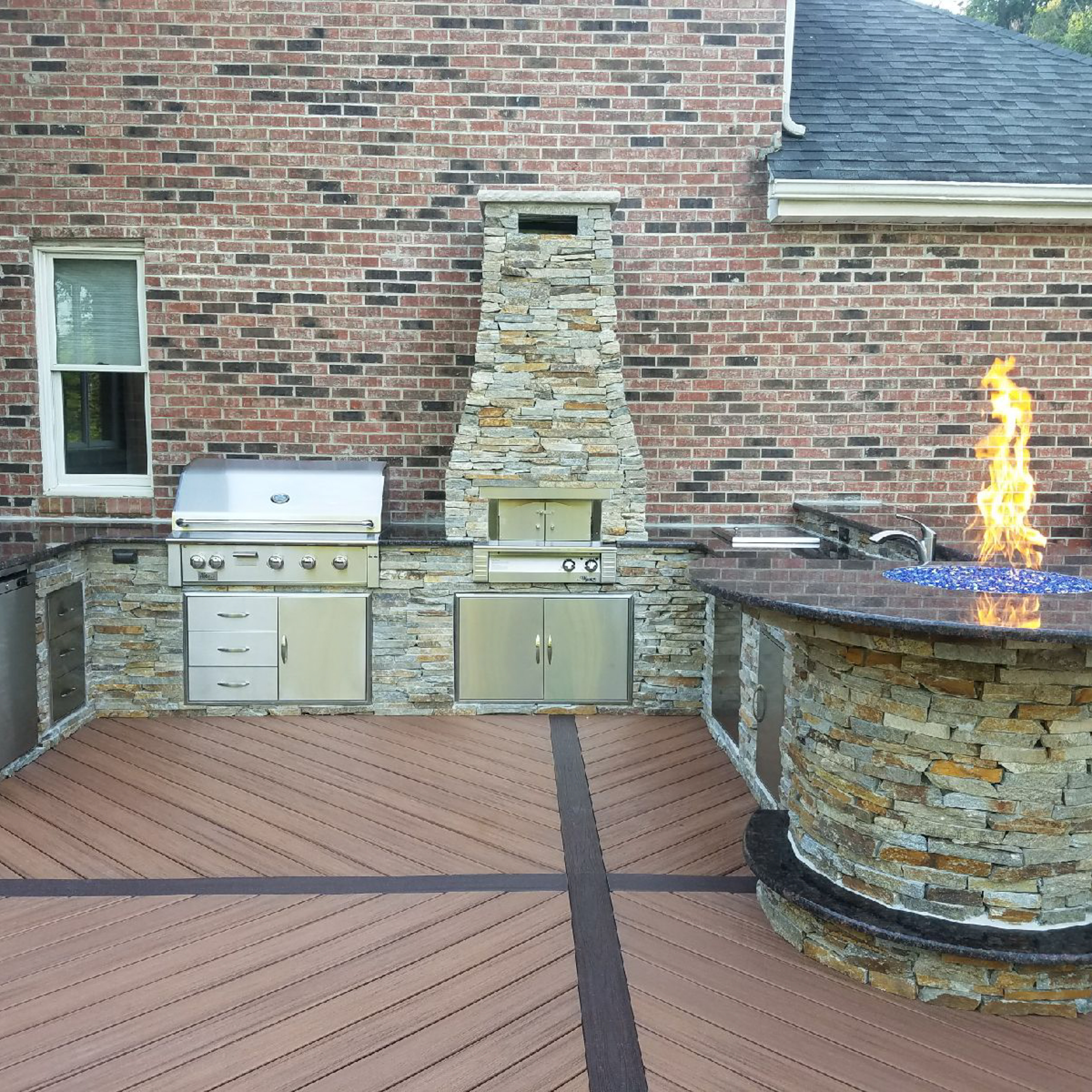 A separate beverage zone gives you more space to serve drinks and hors d'oeuvres, so you can grill up the main course without interruption.
If you don't have a large backyard, but dream of enjoying a fully functioning outdoor kitchen, consider a small, straight RTF island.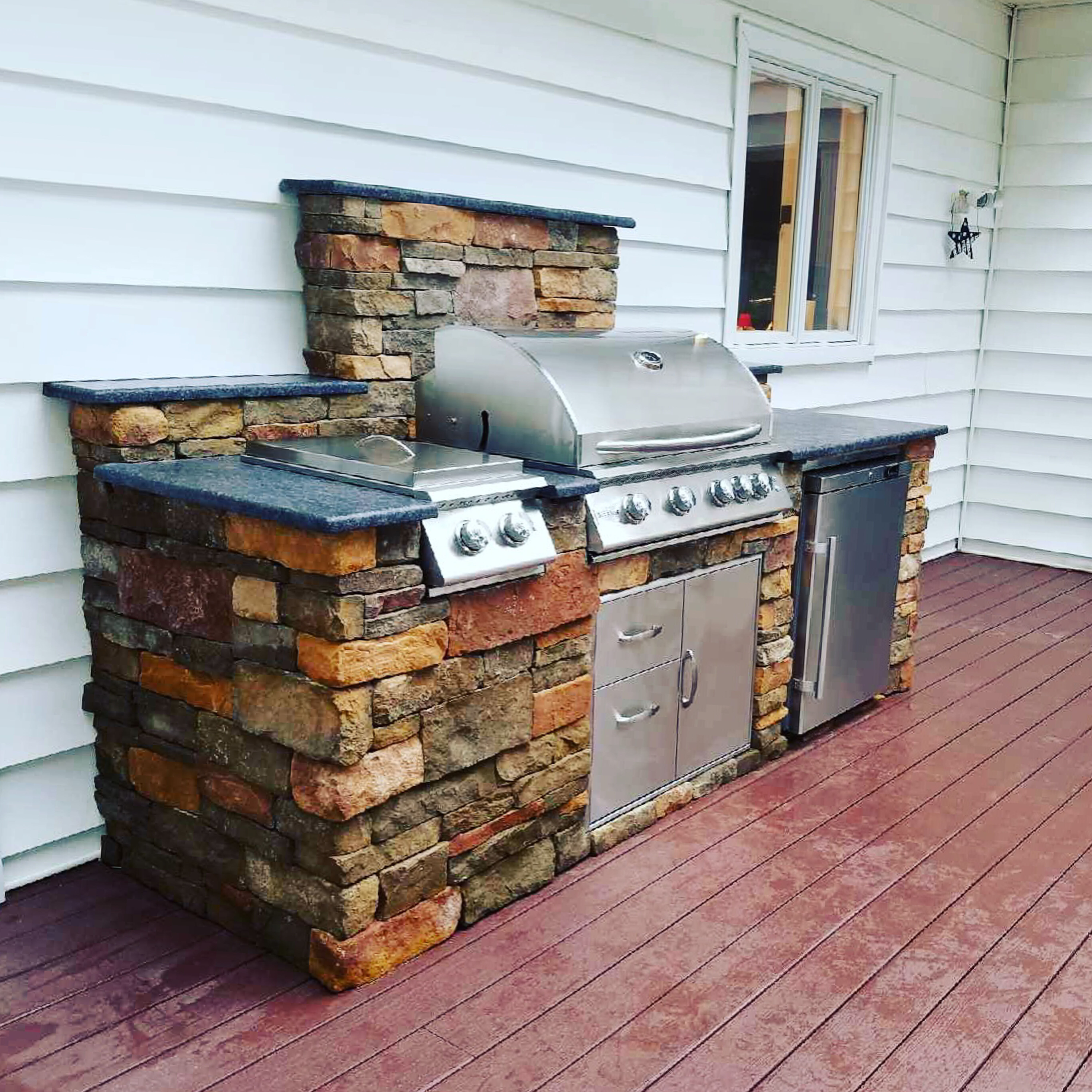 With its compact design, a straight island can be pushed up against a wall, so it won't disrupt the flow of your backyard space. While you'll have less room to prepare your meals, straight RTF islands can still accommodate an impressive built-in grill head and an extra side burner.
Once you've determined the shape of your RTF outdoor kitchen island, you'll need to decide which non-combustible material you'd like to finish it with.
Some of the most popular finishing materials include stone veneers, brick, concrete, stucco, and tile.
Stone veneers offer an ageless look that's easy to maintain and remarkably strong. There are two distinct types of stone veneers, natural and manufactured.
Natural stone veneers are very heavy and require concrete foundations, making them difficult to install properly without experience. If you choose to use natural stone veneers, we recommend hiring a professional to finish your outdoor kitchen island.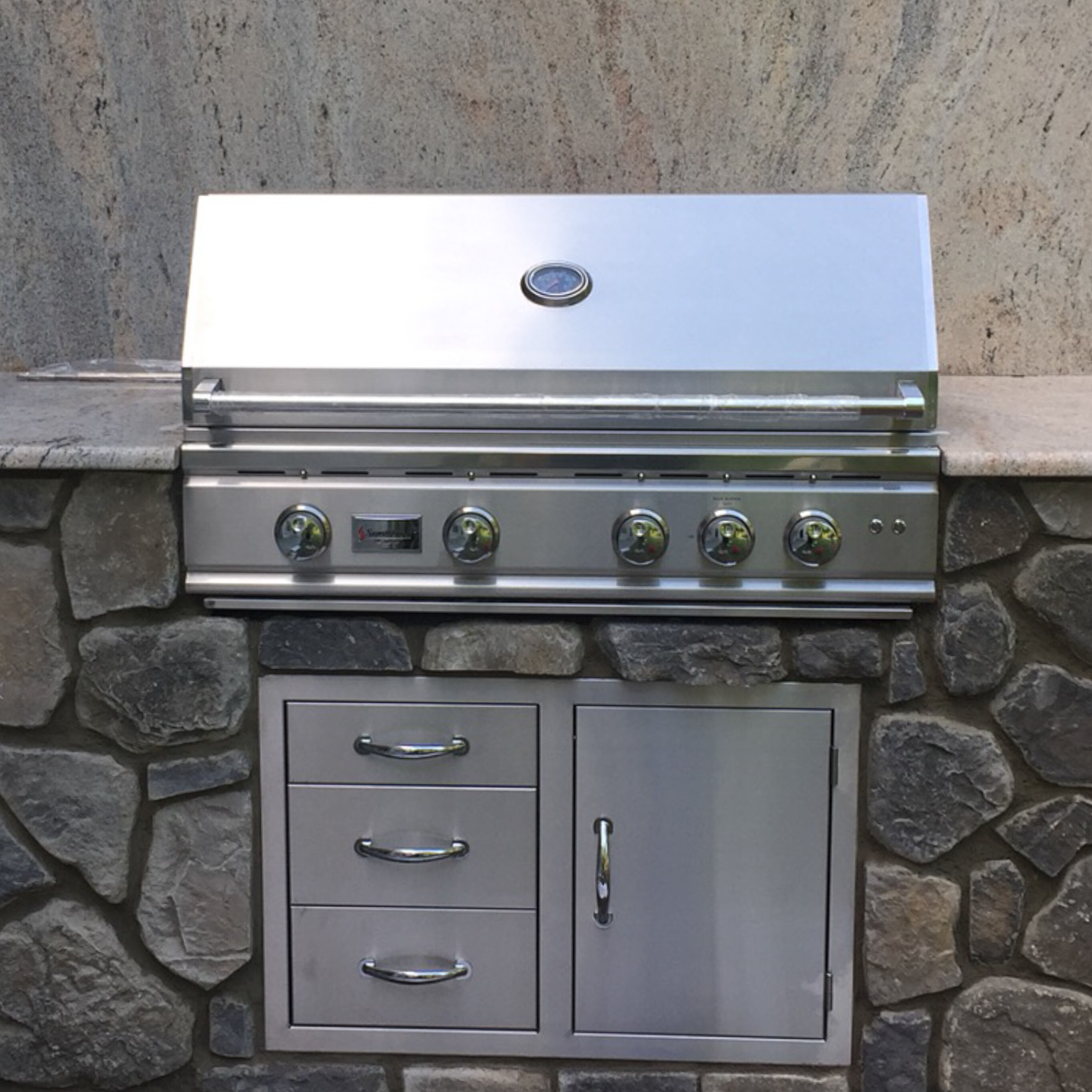 Manufactured stone veneers are cement mixtures formed from real stone molds. They're much lighter than real stone veneers and can be installed on wood or steel frames. Using manufactured stone veneers is an effortless way to achieve the look and feel of real stonework at half the price, and you'll be able to install it yourself.
Brick adds a rugged, traditional finish to your outdoor kitchen that will last for a lifetime. You can finish your kitchen island with whole bricks or purchase brick veneers.
If you go with whole bricks, you'll stack and mortar them directly onto your RTF kitchen base.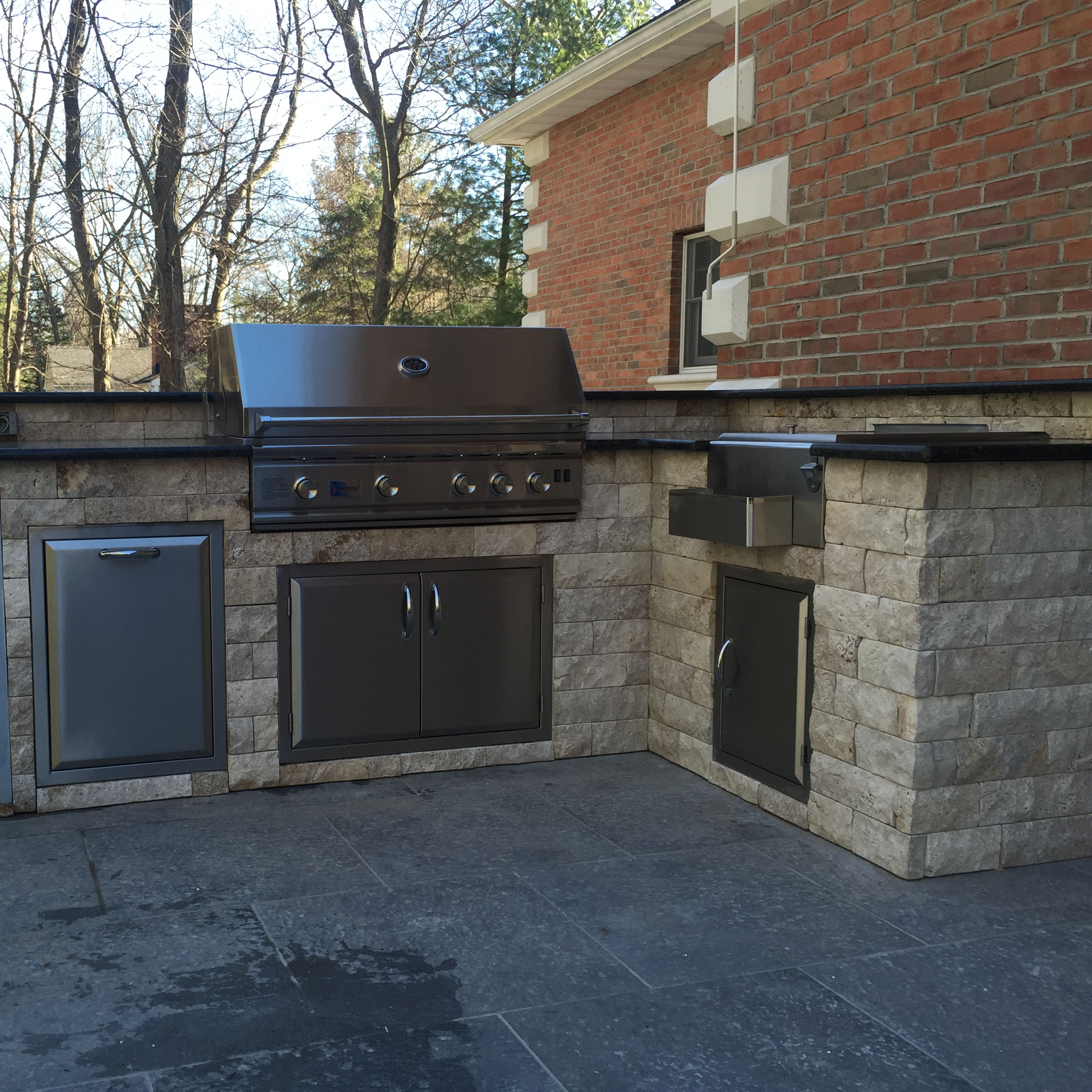 Brick veneers are much lighter than whole bricks, but instead of attaching them directly to your kitchen island base, you'll first need to mortar them onto a cement block or backboard.
Concrete creates a clean, modern design for your outdoor kitchen that can handle tough elements. Unlike natural stone, you can structurally reinforce concrete to hold up against severe weather conditions and ground movement.
Available in a variety of color options, cement can be coupled with additional decorative elements, such as small stones or glossy tiles, to give your outdoor kitchen a textured, eclectic look.
Stucco is a favorite among DIYers because it's incredibly affordable, lightweight, and simple to install. It offers a textured, transitional look that can be stained or pigmented to match the rest of your outdoor décor.
Stucco is ideal for coastal areas, like Florida and California, because it's susceptible to flaking or cracking off over time in freeze-thaw climates.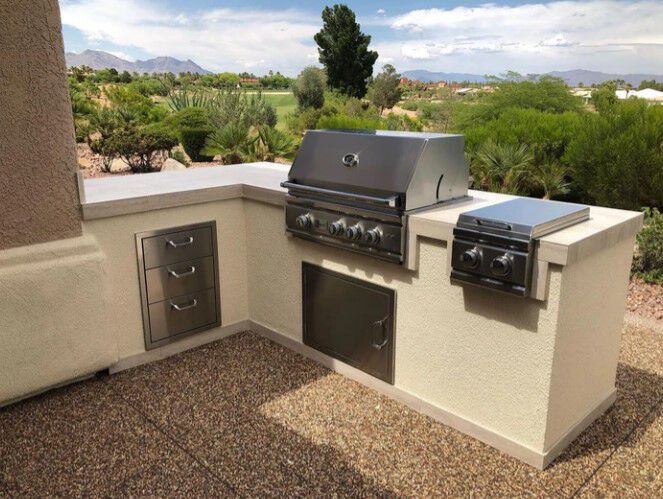 Tile is very cost-effective and easy to install, offering an excellent solution for more complex kitchen layouts.
There's a wide range of unique tile colors and textures to choose from, such as marble and porcelain. By mixing and matching tile patterns, you can design a functional work of art that wows your guests.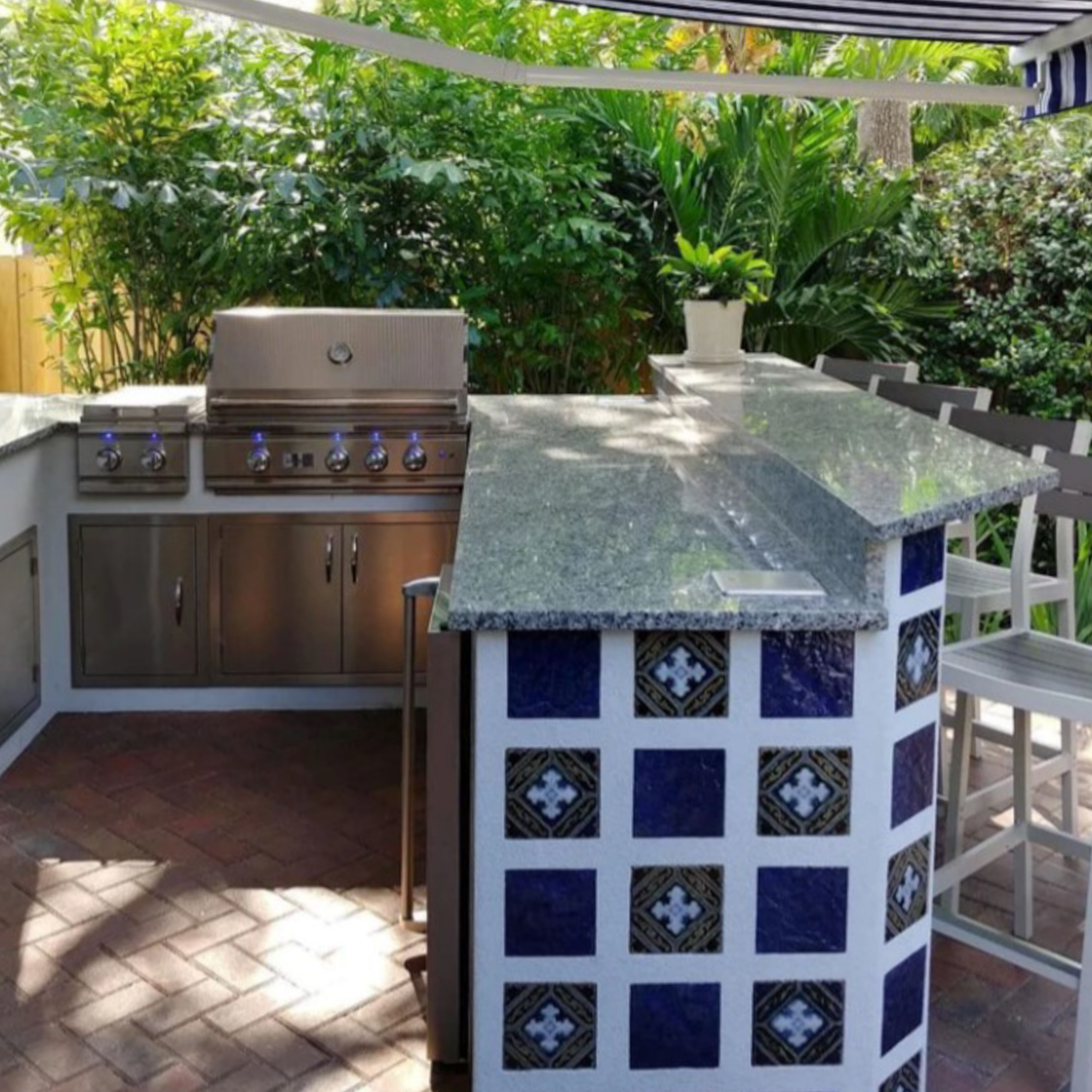 Like stucco, tile is recommended for even-keeled climates, as it may pop off the island base in frigid temperatures. If you use tile, you'll also need to grout and seal it.
When selecting your countertop material, think about how it will be used. Will you be setting hot pots and pans on the counter? Are you looking for a material that's resistant to stains? Are you planning to put heavy, stainless steel appliances on the counter and need a material that won't scratch easily?
The climate you live in plays a role, too. Some countertop materials can handle unpredictable weather, while others can crack, chip, or split in extreme conditions.
You'll also need to consider your budget. High-end materials, including stainless steel, quartz, and granite, will be more expensive than limestone, concrete, and tile. Keep in mind, investing in a material that costs more up front may save you time-consuming repairs in the future, especially if you live in an area that experiences harsh weather.
A few of the most common countertop materials include stainless steel, granite, quartz, tile, concrete, and bluestone/limestone.
Stainless steel is the most expensive countertop option, but it offers a clean, modern look that will complement the other stainless steel appliances you install in your RTF kitchen.
Since stainless steel isn't porous, you'll always have a hygienic cooking surface that's easy to clean. However, stainless steel countertops aren't recommended for outdoor kitchens that sit in direct sunlight, because they can heat up to scalding-hot temperatures, making your kitchen virtually unusable.
This natural stone is durable, resistant to mold, mildew, scratches, and stains, and requires little maintenance.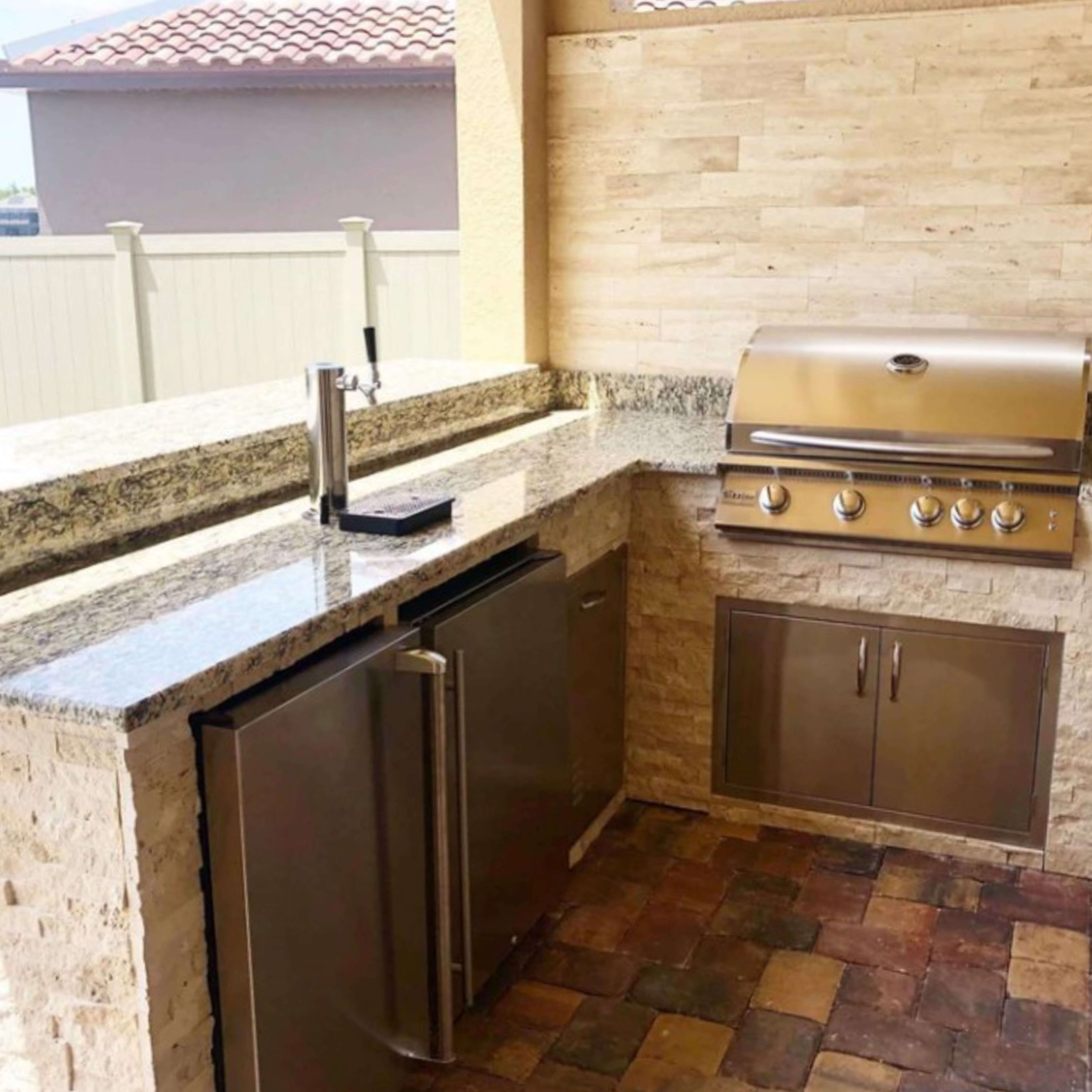 Available in a variety of shades and patterns, outdoor granite countertops come standard with a textured finish, instead of the polished finish you'll find on indoor granite countertops. You'll need to apply a sealant to keep your granite counter pristine.
Granite also heats up quickly. If you plan to install your outdoor kitchen in an area that receives direct sunlight, be sure to select a lighter color to prevent it from overheating.
Quartz is a dense, long-lasting material that offers a sophisticated look straight from Better Homes & Gardens magazine.
It's also resistant to stains and scratches, which is a plus if you anticipate preparing messy barbecue spreads this season.
Quartz is prone to yellowing over time in direct sunlight, so consider covering your outdoor kitchen when you aren't using it to preserve your bright, white countertop.
As we mentioned earlier, tile is a budget-friendly option that comes in a variety of colors, textures, and patterns. You can finish your kitchen island base and countertop in tile, or you can mix and match materials for a look that showcases your personal style.
While inexpensive, tile countertops require regular maintenance. The grout between your countertop tiles will need to be scrubbed frequently to prevent dirt buildup and staining.
Concrete countertops are a top choice for any kind of climate and can be structurally reinforced with non-corrosive materials, like metal rebar.
You can have a concrete countertop made in any color you'd like and leave the edges rough for modern-industrial style or level them off for a crisp, clean look.
Because of its porous nature, you'll need to seal your concrete countertop and re-seal it regularly to prevent stains and bacteria growth.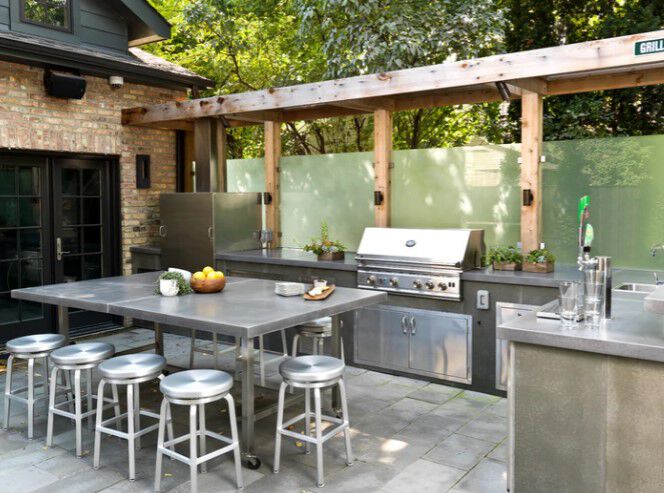 These organic-looking countertop materials are available in polished and unpolished finishes, appealing to modern and rustic styles alike.
Bluestone and limestone are incredibly sturdy, so they'll withstand any kind of weather with no issue, but they are porous, so you'll need to seal and re-seal your countertop every couple of months to prevent it from staining.
Pro Tip:

Bluestone and Limestone are natural stones and are very heavy. This is important to note if you plan to install your RTF outdoor kitchen on a wooden deck, as you'll need to make sure the weight of your kitchen island will be properly supported.
Your installation location needs to be able to safely support the weight of your RTF outdoor kitchen. We recommend installing your kitchen island on a concrete foundation, especially if you plan to use heavy construction materials, such as granite or stone.
If you'd like to install your RTF outdoor kitchen on a wooden deck, you'll need to consult a structural engineer to make sure your deck can support the kitchen's weight.
Pro Tip:

Safety regulations require at least eight inches of space between any installed appliances to prevent them from overheating. This may increase the amount of space your outdoor kitchen island will require and affect the number of appliances you can include.
Every outdoor kitchen needs a basic cooking zone, which includes a grill and prep space. However, if you know you'll be making most of your meals outside this season or love hosting large gatherings, consider adding appliances to your outdoor kitchen that will help you multi-task, such as a side burner, an infrared burner, a griddle, a pizza oven, and a warming drawer.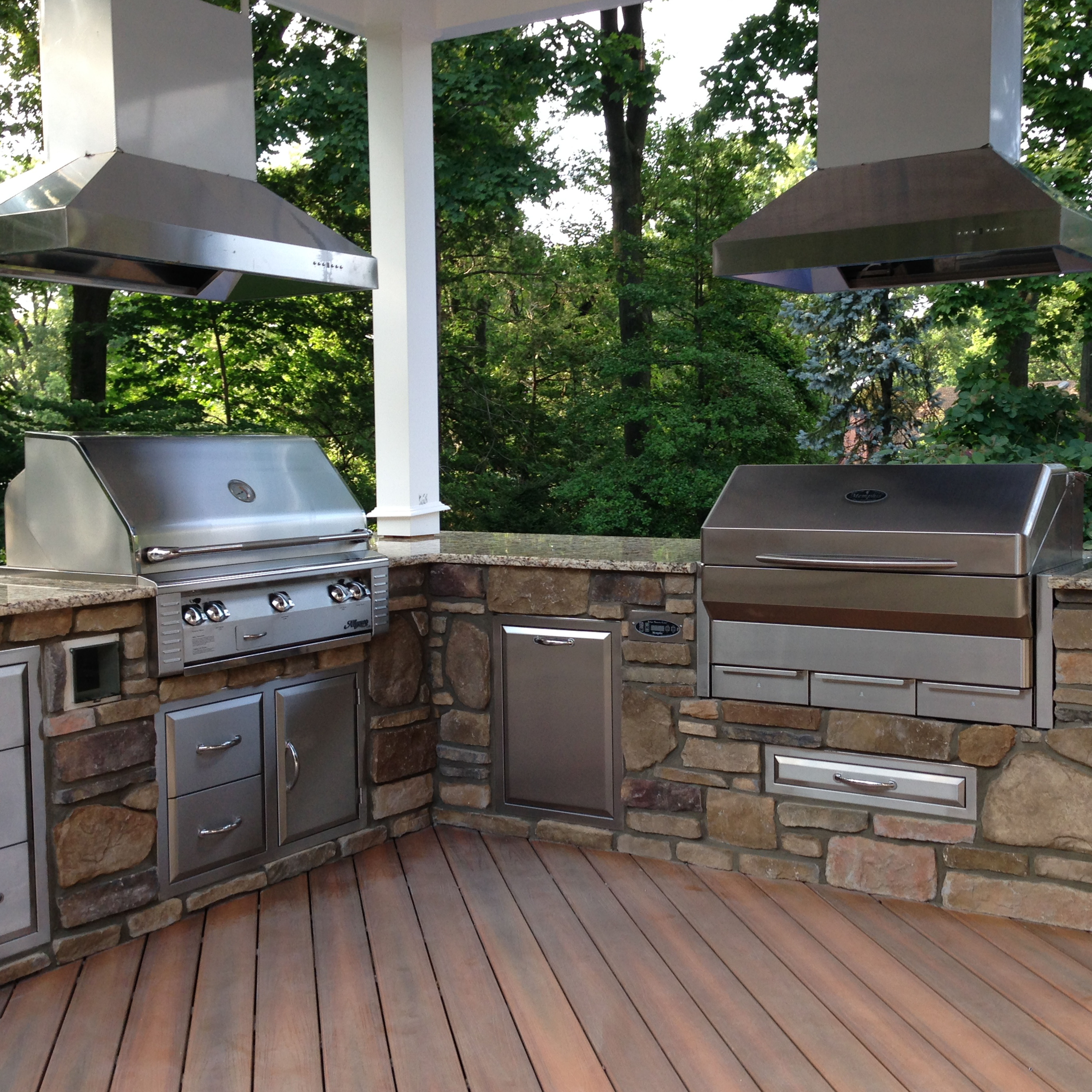 You can also incorporate a beverage zone with an outdoor-rated refrigerator to store your drinks and perishable ingredients, an icemaker, and sink for easy clean-up.
If your RTF outdoor kitchen layout is large enough, you can even create an elaborate bar center, complete with taps, a cooler, and garnish storage for cocktail-making.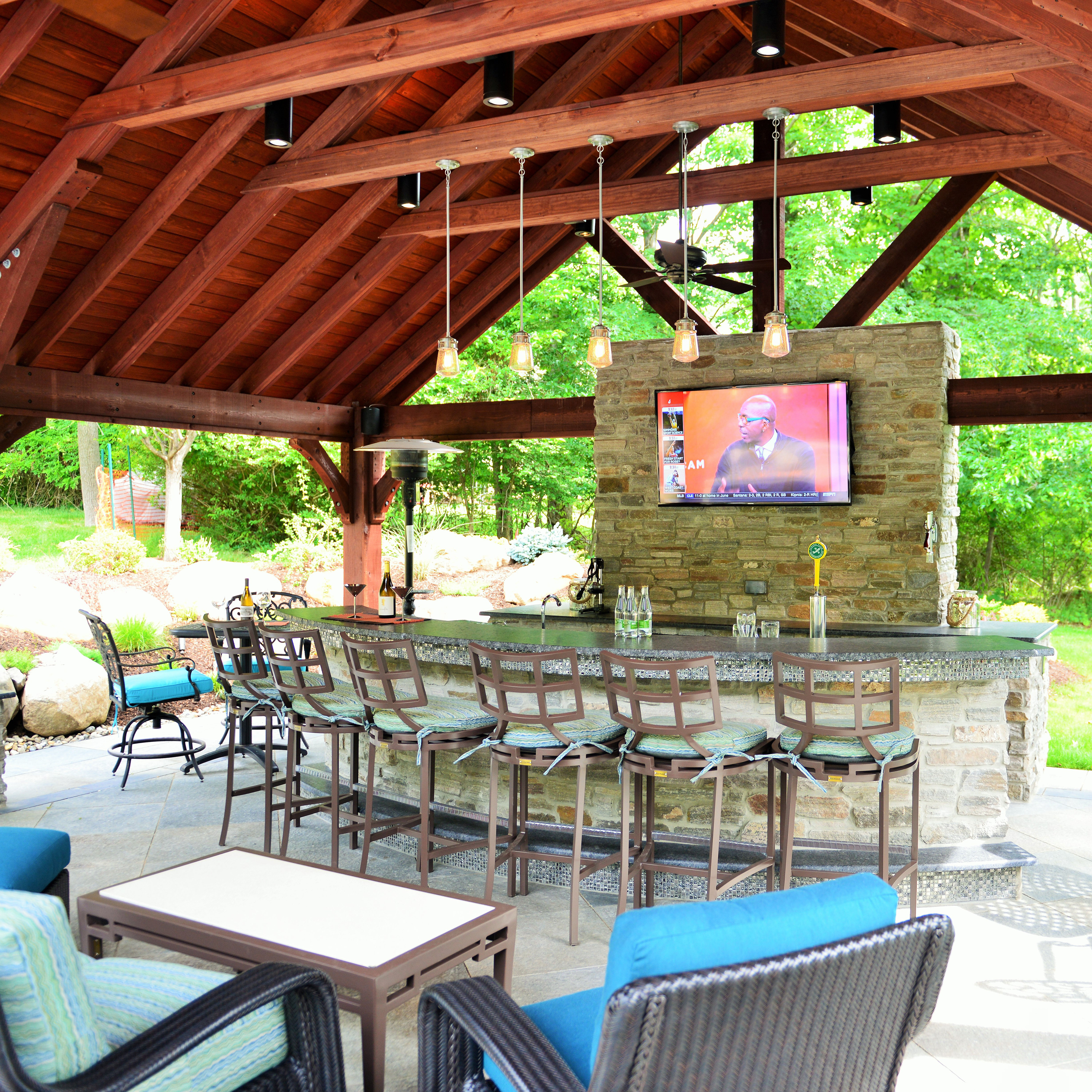 A common mistake that many homeowners make is not including enough storage in their outdoor kitchens. If you want the option to prepare all your meals outside, without running back into the house to grab ingredients, utensils, plates, and more, you'll need to maximize your outdoor kitchen space with handy storage options, such as access doors, pull-out drawers, and trash and recycling receptacles.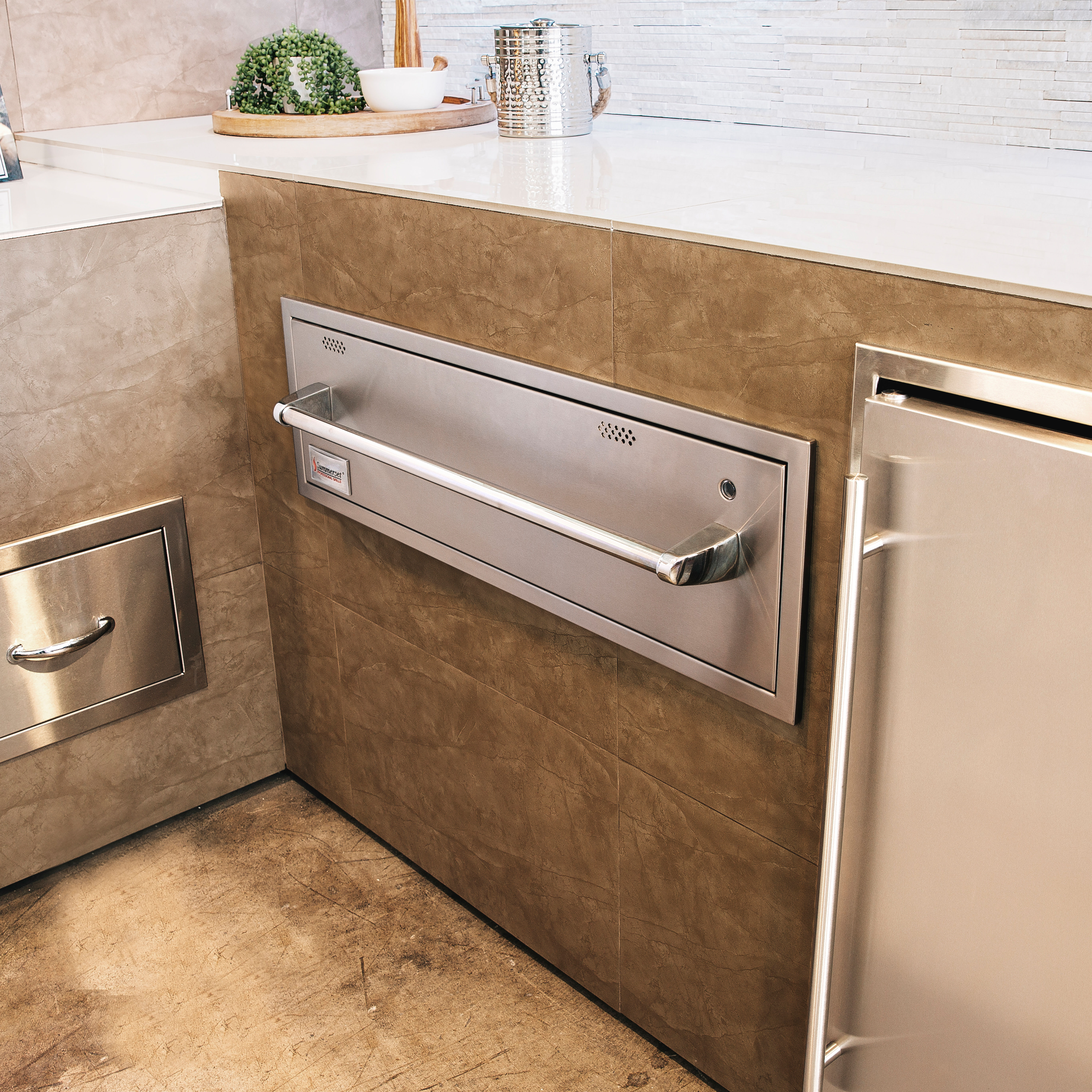 You never know when your outdoor kitchen will need maintenance, so make sure you install service doors for easy access to all your appliances.
You'll need to ensure all the appliances you purchase are outdoor rated, so they can withstand tough weather conditions and function properly. We also recommend looking for stainless steel appliances, which are resistant to rust and corrosion.
Pro Tip:

Be sure to check the manufacturer's requirements outlined in the manual that comes with your appliances, as some products may include "outdoor" in the name but aren't rated for outdoor use.
Depending on which appliances you purchase, you'll need to hire a professional to install utility lines in your outdoor space.
If you don't have access to Natural Gas, most grills can be operated with a standard, 20-lb. Propane tank.
You'll need to make sure your installer knows the total BTU rating of your outdoor appliances to ensure your gas supply can handle the output. The higher total BTU rating of your appliances, the more gas you'll need.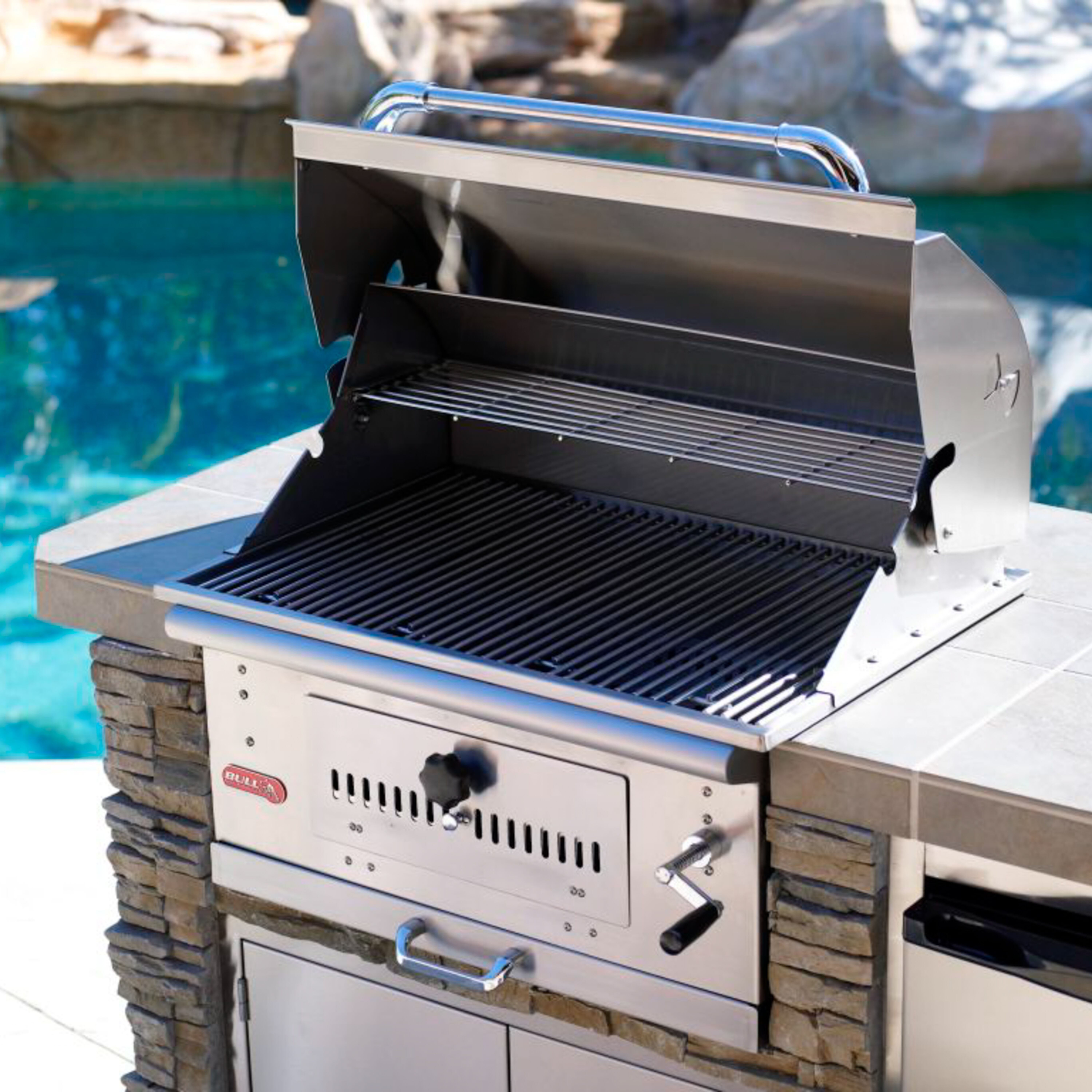 You can fuel your cooking appliances with Natural Gas or Liquid Propane. If you use Natural Gas, you'll need to hire a professional to install a gas line in your backyard and route it to your outdoor kitchen.
If you're building out a beverage center with a sink or icemaker, you'll need to have a water line installed and routed to your outdoor kitchen, as well as a designated drain that connects to a sewer system.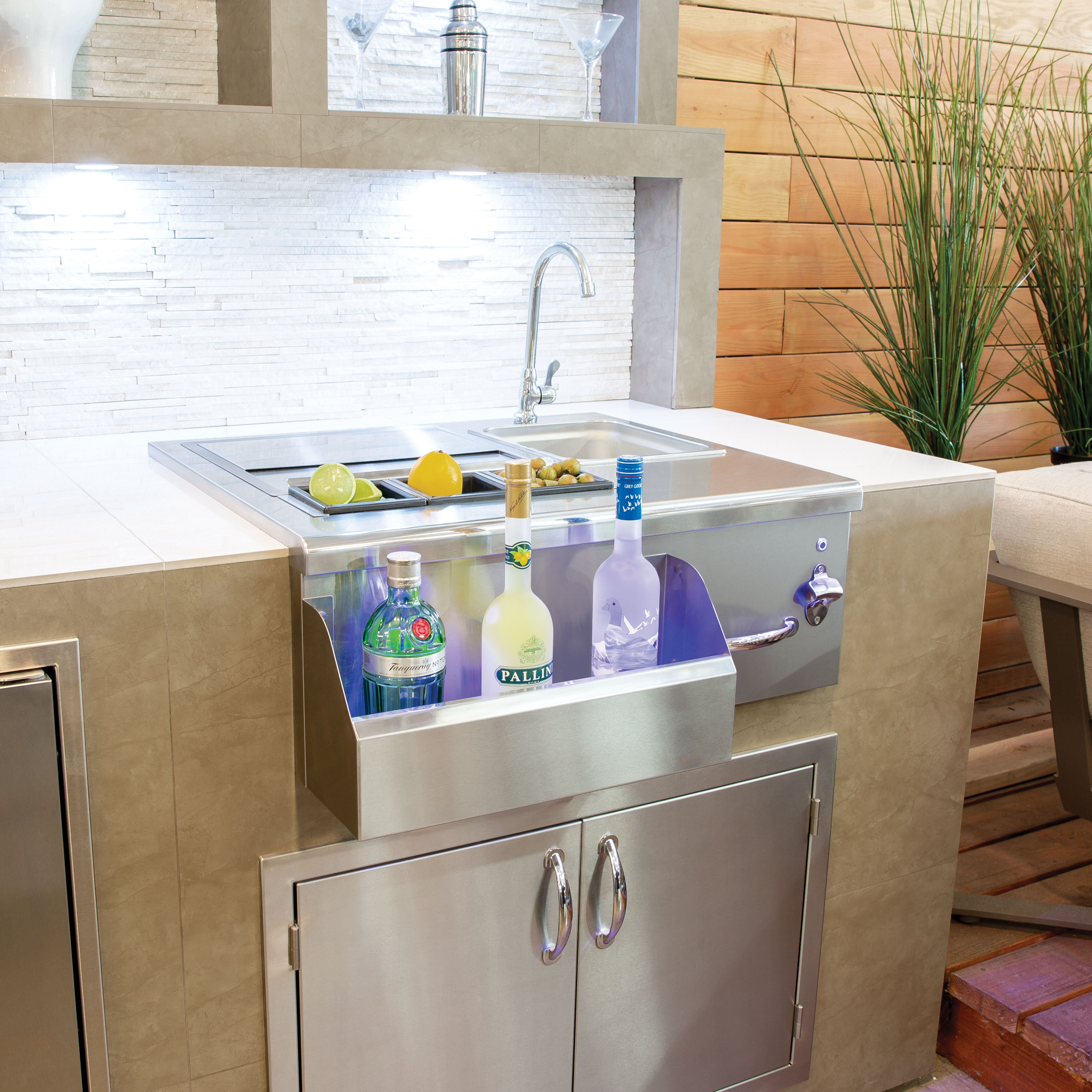 Hot and cold water lines can be run from your home to your outdoor kitchen, or you can hire a professional to install a separate water line with an in-line water heater.
You can also purchase a small water heater tank and install it underneath the sink in your outdoor kitchen.
Electrical connections are necessary for most outdoor kitchen islands as they provide the power for grill lights, electronic ignition systems, refrigerators, blenders, icemakers, and other electric appliances.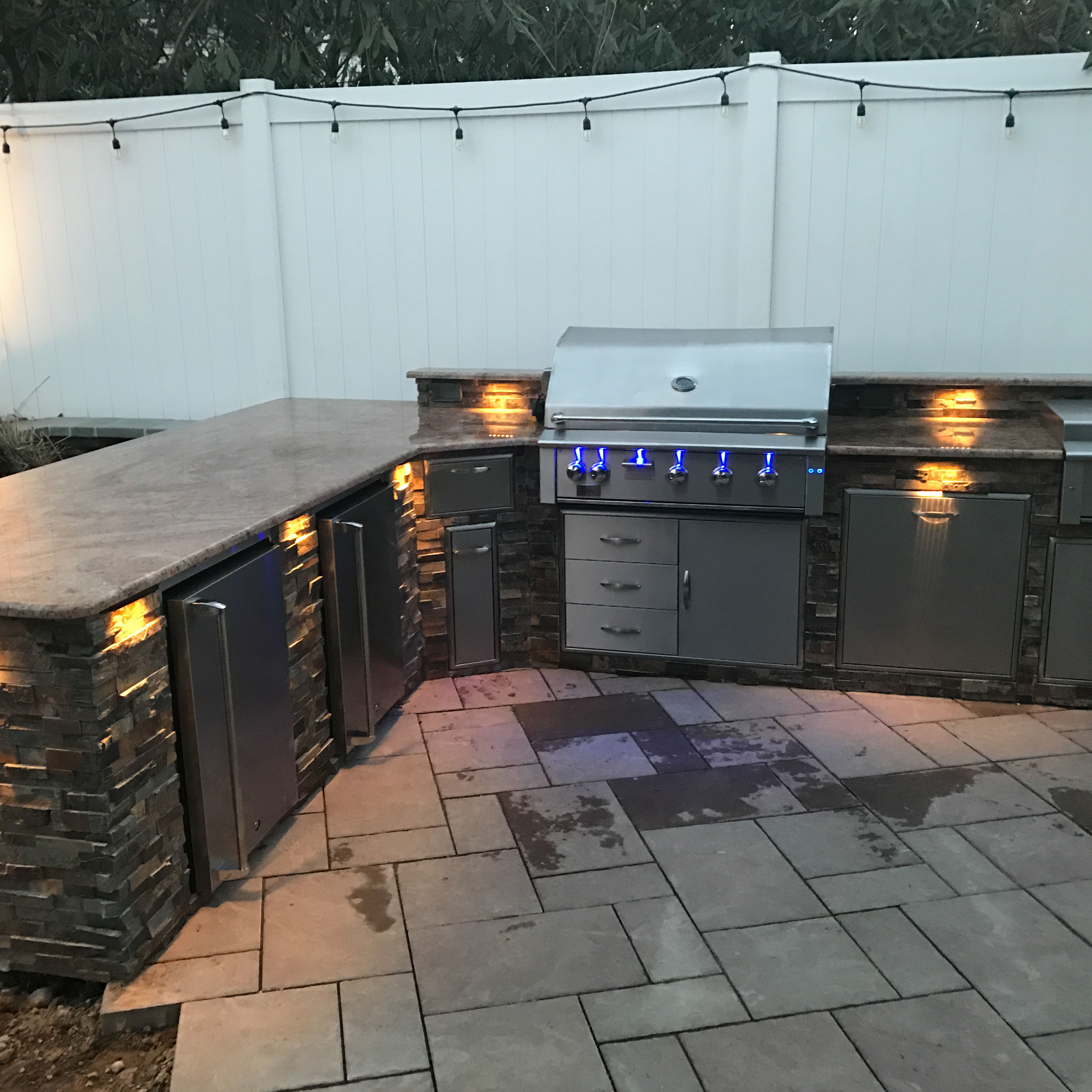 In addition to electrical lines, you'll need to hire a professional to install a ground fault circuit interrupter (GFCI) outlet to ensure your appliances operate safely.
CREATE A GAME PLAN FOR YOUR PROJECT